What to Expect: Ohio State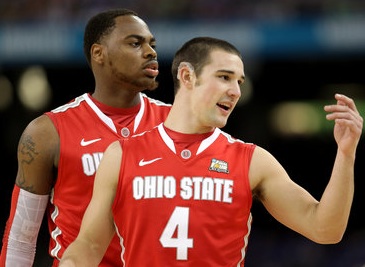 With just two regular season games remaining, Indiana has already clinched its first share of the Big Ten championship since 2002 and can capture its first outright title since 1993 with a win over Ohio State or Michigan. The Buckeyes, who have won three straight games, are up first at home for senior night in Assembly Hall.
The game will be broadcast on ESPN with Mike Tirico and Dan Dakich on the call at 9 p.m.:
When Indiana traveled to Columbus to play Ohio State on Feb. 10, the Hoosiers were staring at their biggest threat for back-to-back losses this season to-date. IU followed its first loss, to Butler, with an overmatched Mount St. Mary's team at home and its first conference loss to Wisconsin with a game at Northwestern. Those were bounce back games Indiana was supposed to win and the Hoosiers did just that. The trip to Ohio State, however, came on the heels of a late collapse at Illinois. How Indiana responded would go a long way in determining its fate in the Big Ten standings.
When the dust settled in Value City Arena on that Sunday afternoon, Indiana played well enough to not only beat the Buckeyes handily, but also retain its No. 1 ranking in the AP poll despite the aforementioned loss in Champaign just three days earlier. At that point, it was arguably IU's best effort of the season as three players notched 20 or more points as the Hoosiers weathered a tough road environment for a convincing win.
PERSONNEL
As has been the case for a good part of the season, Ohio State is still searching for a reliable second and third scoring option to pair with Deshaun Thomas, who is a good bet to earn All-Big Ten and All-American honors after a very productive junior season. The 6-foot-8 junior from Ft. Wayne uses 27.2 percent of Ohio State's possessions and averages a league-best 19.2 points. His effective field goal percentage has dropped about six percentage points from last season, primarily because he's now the focal point of every team's defensive scouting report, but he's still shooting close to 50 percent on twos and 36.2 percent on threes. In the first meeting, Thomas scored 26 points, but needed 20 shots and nine trips to the line to get there.
Joining Thomas in the frontcourt rotation are sophomore Amir Williams, who was saddled with foul trouble in IU's win in Columbus, senior Evan Ravenel, who fouled out, and sophomores Sam Thompson and LaQuinton Ross. Williams is very limited offensively, but is the Buckeyes best shot blocker (9.6 block percentage) and offensive rebounder (13.6 OR%). Ravenel is a big body who can back opponents down on the block and clean up the defensive glass (19.8 DR%). Thompson is a high flying wing player who finishes well around the basket and in transition, while Ross has the talent to put up points in a hurry, but has struggled to consistently earn minutes.
Aaron Craft is the leader of the Ohio State backcourt and is regarded as one of the nation's best defenders. Indiana was able to foul out Craft in Columbus and getting him into foul trouble really limited his ability to wreak havoc with ball pressure. His steal totals are down from a season ago from 2.5 per game to 1.9 as is his field goal percentage, which has dropped from 50 to 39.8. Forced to carry a heavier offensive load, Craft's efficiency has taken a hit.
Lenzelle Smith Jr. also starts in the backcourt and he's the team's leading 3-point shooter at 40 percent. He's heavily reliant on the three to score as 107 of his 221 field goal attempts have come from behind the arc. Shannon Scott is the backup point guard and he's eighth nationally in steal percentage, but shoots just 42 percent on twos and 36 percent on threes.
POMEROY PREVIEW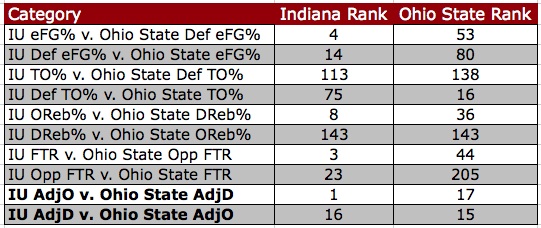 Free throws were a big key to Indiana's success in the first meeting with the Buckeyes as the Hoosiers posted a free throw rate (FTA/FGA) of 57.1. It's a key stat that again bears watching in the rematch as Ohio State ranks just seventh at getting to the line in league play while IU is setting the conference pace. Typically Ohio State does a good job keeping opponents off the line as IU's performance was the best in that category for a Buckeye league opponent.
Both teams are very good defensively, with Ohio State surrendering just .96 points per possession in conference play, good for second behind Wisconsin, and Indiana giving up just .97, which ranks third. From a pace perspective, the Buckeyes are in the lower half of the league and will probably look to keep the game in the halfcourt as much as possible.
WHAT IT COMES DOWN TO
With an electrified group of fans filling Assembly Hall hungry for an outright Big Ten championship, Indiana could have its best atmosphere of the season for its final home game. Senior night typically produces one of the more engaged crowds of the season, but this one has a chance to elevate to another level because of what's at stake. If the Hoosiers win, they can celebrate the program's first outright Big Ten championship in 20 years with over 17,000 fans.
What shouldn't be overlooked, however, is what's at stake for the Buckeyes. Not only are they playing for seeding in the Big Ten and NCAA Tournaments, Thad Matta's group still has an outside chance at a piece of the Big Ten title. Ohio State has been average on the road in league play with wins over Purdue, Penn State, Northwestern and Nebraska and losses to Illinois, Michigan State, Michigan and Wisconsin.
This game, like the first one, could come down to Indiana's ability to again get to the foul line and limit turnovers. In Columbus, the Hoosiers committed just 10 turnovers and Yogi Ferrell and Jordan Hulls combined for just two. Look for IU to again try to play through Cody Zeller and throw several guys at Deshaun Thomas to bring fatigue to the game and also force other players to step up offensively for the Buckeyes. Pomeroy likes the Hoosiers to prevail — 76-65 — with an 82 percent chance of the Hoosiers celebrating an outright Big Ten championship on Branch McCracken Court.
All tempo-free stats via KenPom.com.
Filed to: Ohio State Buckeyes