Recruit Roundup: Troy Williams posts triple-double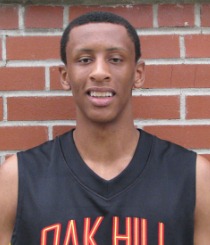 Throughout the season, Inside the Hall will keep you posted on how IU's six 2013 signees and James Blackmon Jr. are performing at their respective schools.

You can send us stats or results for this report to [email protected].
2013 SIGNEES
· Collin Hartman (Indianapolis Cathedral): Ten points in a 66-39 win at Center Grove on Feb. 21. Cathedral finished regular season with 13 straight wins and will play Lawrence North in the Warren Central sectional on Tuesday.
· Devin Davis Jr. (Warren Central): Did not play. Warren Central finished regular season 11-8 and will host Lawrence Central in sectionals on Tuesday.
· Luke Fischer (Germantown, WI): Twenty-five points in a 90-22 win over Waukesha South on Feb. 21 in the WIAA regional. Twenty points in a 70-44 win over Homestead on Feb. 22 in the WIAA regional. Germantown will play Arrowhead on Feb. 28 in WIAA sectional play.
· Noah Vonleh (New Hampton Prep, NH): Thirteen points in a 63-62 loss to Worcester Academy on Feb. 22 and 13 points and 14 rebounds in a 60-55 win over the Tilton School on Feb. 23.
· Stanford Robinson (Findlay Prep, NV): Sixteen points, nine rebounds and four assists in a 92-79 win over Westwind (Ariz.) on Feb. 21. Fifteen points, eight rebounds and two blocks in a 79-70 win over Westwind postgrad (Ariz.) on Feb. 22. Nine points, four rebounds in an 84-68 win over Future College Prep (Ca.) on Feb. 23. Findlay Prep is now 32-0 this season.
· Troy Williams (Oak Hill Academy, VA): Twenty-two points, 14 rebounds and 10 assists in a 93-58 win over Quality Education Academy on Feb. 19. Sixteen points and 10 assists in a 110-47 win over St. Ignacious Prep on Feb. 21. Eight points, five assists and five blocks in an 81-54 win over Covenant Christian (Ga.) on Feb. 22. Oak Hill is 31-5.
2014 COMMITMENT
· James Blackmon Jr. (Ft. Wayne Luers): Thirty-three points in an 89-72 win at Ft. Wayne South on Feb. 20. Bishop Luers finished the regular season 13-6 and will play the winner of Adams Central and Churubusco on Friday in the South Adams sectional.
Filed to: Luke Fischer, Noah Vonleh, Stanford Robinson, Troy Williams