Big Ten Power Rankings: February 25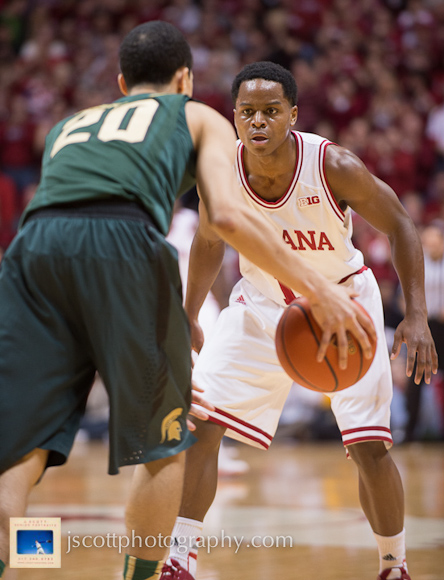 We're getting down to the wire now, and the Big Ten conference title will be decided in these next two weeks. Every game means even more now as teams battle for NCAA Tournament berths and seeding. Who will claim the crown?
12. Penn State (8-18, 0-14) (LAST WEEK: 12) … Well, it won't be the Nittany Lions, that's for sure. The only real question remaining for them is if they will win a game in the Big Ten. With home games against Michigan and Wisconsin and road games against Northwestern and Minnesota remaining, I'm guessing no.
11. Northwestern (13-15, 4-11) (LAST WEEK: 9) … Injuries have really hurt the Wildcats this year, and they have taken their toll in recent weeks. They scored just 41 points in each of their last two home games, losing by 21 to Illinois and 28 to Wisconsin, and then lost at Purdue by 31 on Sunday. Yikes.
10. Nebraska (13-14, 4-10 ) (LAST WEEK: 11) … Very good win for the Cornhuskers against Iowa on Saturday (and a very bad loss for Iowa). The Hawkeyes had a comfortable lead early, but Nebraska didn't quit, and earned the best win of its conference season.
9. Purdue (13-14, 6-8) (LAST WEEK: 10) … Purdue's win over Northwestern on Sunday ended a three-game losing streak, but the schedule the rest of the way is much less favorable for the Boilermakers.
8. Minnesota (18-9, 6-8) (LAST WEEK: 8) … What's going on with the Golden Gophers? This team was supposed to contend for the Big Ten title, and now they're getting blown out on a regular basis. Minnesota is coming off back-to-back road losses, falling at Iowa by 21 and at Ohio State by 26.
7. Iowa (17-10, 6-8) (LAST WEEK: 7) … The Hawkeyes suffered a bad loss at Nebraska on Saturday, but didn't fall in the power rankings because of another bad loss by Minnesota. But if we get to Selection Sunday and Iowa misses the tournament, the Hawkeyes can look back to their loss at Nebraska as a primary reason why.
6. Illinois (20-9, 7-8) (LAST WEEK: 6) … The five-game winning streak is over for the Fighting Illini, but this is still a team that will be dangerous come tournament time — both the conference tournament and the Big Dance.
5. Ohio State (20-7, 10-5) (LAST WEEK: 5) … I know the Buckeyes beat Michigan State on Sunday — a very impressive win — but it's hard for me to move them up in the power rankings. How do you put them ahead of Wisconsin when the Badgers just beat them down a week ago? They're not a better team than Michigan, either. And on a neutral court, Michigan State probably wins eight out of 10 times.
4. Wisconsin (19-8, 10-4) (LAST WEEK: 4) … People often forget about Wisconsin when talking about how good the Big Ten is, but the Badgers should not be forgotten. This is a team that continues to get better as the season goes along, and they could still potentially win the Big Ten title. Wisconsin's only difficult remaining game is at Michigan State.
3. Michigan (23-4, 10-4) (LAST WEEK: 3) … Man, Trey Burke is really good. But do the Wolverines rely too much on him? I think they do sometimes. When the ball's not in his hands, Michigan is a pretty average team. But when it is, the Wolverines are one of the best teams in the nation.
2. Michigan State (22-6, 11-4) (LAST WEEK: 2) … The Spartans slipped up at Ohio State on Sunday, but they are still the second best team in the conference at this point. Lose at Michigan, though, and that changes.
1. Indiana (24-3, 12-2) (LAST WEEK: 1) … For once this season, there's no doubt who's No. 1 in the nation — it's the Hoosiers. Their win at Michigan State on Tuesday was the most impressive of the season thus far and may have helped the Hoosiers secure the top overall seed in the tournament. Tuesday's game at Minnesota is very important, though.
Filed to: Big Ten Power Rankings