The Inside the Hall Mailbag: February 22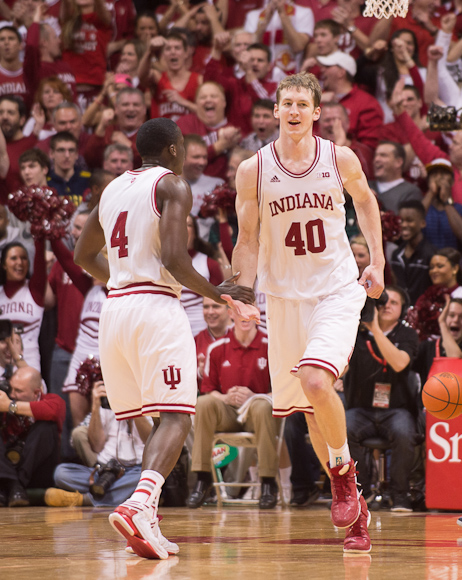 The Inside the Hall Mailbag is a collection of questions tweeted to us via Twitter (@insidethehall) and sent to us via our Facebook page. Submit your questions and we'll answer as many as we can.
@wmontgom447 writes: what's up with peter jurkin? There have been ample opportunities for him to come off the bench for late game minutes.
The latest on Peter Jurkin is that he's got some type of left foot injury, but details on the injury are not clear. Tom Crean mentioned that Jurkin had some "setbacks" a couple of weeks ago on his weekly radio show, but no further details have been provided beyond that.
Jurkin battled a shin injury for over a year during his prep career that forced him to miss a good portion of his junior season and the entire AAU season prior to his senior year. Now that we're in the home stretch of the season and Jurkin has played in three games for a total of seven minutes, it's unlikely we'll see him at all the rest of the way. — Alex Bozich
Shane Camp writes: Chances Vic and Cody come back next year? I'm dreaming of a starting five of Yogi, Sheehey, Oladipo, Vonleh, and Zeller.
Keep dreaming, Shane. I think this is the question we're getting most often recently given the fact that both guys are currently looking like lottery picks in June's NBA Draft. Obviously neither guy is focusing on the draft at this point because their current goals include winning the Big Ten and a national championship, but I don't see both players returning to school.
Oladipo will have his degree in May and is in the midst of a historic rise up the draft boards. His stock isn't going to get any higher. Zeller is well on his way to a business degree, could complete any remaining course work after he goes pro and is basically a lock to be a top ten pick. Of the two, he seems more likely to return, but I wouldn't count on it. It's also possible that one of them just loves the experience in Bloomington so much that it could sway them to return, but beyond that, why, exactly, would either guy come back? — Alex Bozich
@hoopstrainer writes: Does IU's performance in the Big Ten tourney secure a #1 seed more, or the regular season?
The performance in the regular season will mean more to the selection committee if the Hoosiers win the championship outright. If there's a shared regular season title, it's possible the tournament could be the deciding factor on who gets the top spot in the midwest, but if Indiana wins the regular season title (a share or outright), it will be a No. 1 seed. — Alex Bozich
@mattyork1941 writes: more deserving of poy zeller or oladipo?
Tough, tough question. The Pomeroy numbers, which I follow religiously, indicate Zeller has had the better year. Through Thursday's games, Zeller was first in the KenPom Player of the Year standings and Oladipo was fifth. But for now, I'm going with Oladipo for a couple of reasons.
The first is that he's been arguably the best defender in the country on a team that needed to improve its defense to win big. Oladipo is the driving force behind that improvement. That's not to take any of the credit away from the rest of IU's team because everyone else has gotten better defensively, too. But Oladipo has become an elite defender that can guard multiple positions, create havoc with ball pressure and even block shots. The other leading candidates for player of the year do not share those same credentials.
The second reason? Although his offensive numbers might not be on par with some past player of the year winners from a pure average perspective, they're good enough when you look at his efficiency and then consider how balanced Indiana is offensively as a team. He's second nationally in effective field goal percentage, is very good on the offensive glass and gets to the foul line at a healthy clip. — Alex Bozich
@thewisej writes: What are the chances Oladipo (or Zeller, for that matter) win National POY but not B10 POY? I've seen lots of Burke talk.
It's certainly possible. Trey Burke is clearly in the mix for both awards and there's always the chance that Oladipo and Zeller take votes away from one another because they're teammates. The latest ESPN.com straw poll for national player of the year still has Burke in the lead, but it's my understanding that many votes were turned in prior to the Indiana-Michigan State game on Tuesday. All three players still have ample opportunities to turn the tide in their favor, but as of today I believe the nod out of the trio would go to Oladipo for both awards. — Alex Bozich
@Chugustus writes: among elston, creek, hanner or anyone else–who do you see as the most likely to make a surge for minutes and add depth?
From the group you named, the answer is Derek Elston. But since you didn't name him, Jeremy Hollowell belongs on your list, too. If we're being honest, I'm not sure I see anyone "making a surge" for minutes. There are four regular season games left. If someone was going to emerge and take on a larger role, I think it would have happened by now.
The depth of this team has been debated for months now because it was cited as a potential strength coming into the season. The bench did play a key role in the non-conference schedule against some inferior teams, but that hasn't been the case in conference play. When you dig into the numbers from Big Ten play, Indiana is playing its starters and Will Sheehey roughly 170 of 200 available minutes per game (Overall, IU ranks 277th nationally in bench minutes). That means Elston, Remy Abell, Hollowell, Mosquera-Perea and Creek — five players — are splitting 30 minutes per game. That's hardly enough time to make much of an impact at all. At this point of the season, I think any drastic change in the current allocation of minutes would be shocking. — Alex Bozich
Filed to: Twitter Mailbag