March Watch: IU strengthens hold on No. 1 in Midwest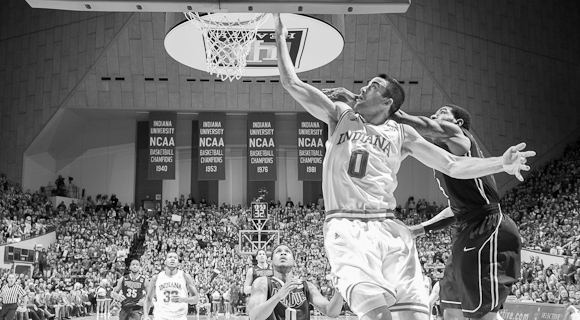 Only 24 days remain until Selection Sunday and Indiana continues to strengthen its position from a seed perspective for this year's tournament. The Hoosiers can clinch the outright Big Ten regular season championship with three more conference wins, which could lock up the top spot in the Midwest regional that will be played at Lucas Oil Stadium. As we wind down the regular season schedule, it's time for another edition of March Watch, a look at where Indiana stands in terms of the NCAA Tournament.
Overview
The Hoosiers had two wins since our last update that really didn't do much to bolster their overall profile in Nebraska and Purdue. But Tuesday night's win at Michigan State was one of the most impressive in college basketball this season and solidified the Hoosiers on the top of the heap on ESPN.com bracketologist Joe Lunardi's s-curve ($).
Nitty Gritty Profile
· Record: 24-3 (12-2 Big Ten)
· RPI: 7
· SOS: 25
· Home Record: 16-1
· Away Record: 6-1
· Neutral Court Record: 2-1
· vs. RPI Top 50: 7-3
· vs. RPI Top 51-100: 2-0
Indiana's RPI rose four spots since our last update and its strength of schedule figure dropped just one spot.
Bracket Projections
· ESPN Bracketology (Joe Lunardi): 1 seed (Midwest) vs. Norfolk State/Southern U in Dayton
· CBS Sports (Jerry Palm): 1 seed (Midwest) vs. Robert Morris/Charleston Southern in Dayton
· Sports Illustrated (Andy Glockner): 1 seed (Midwest) vs. Robert Morris in Dayton
For the first time in March Watch, all three of the brackets we track have the Hoosiers on the top line in the coveted Midwest regional at Lucas Oil Stadium. Michigan, a team that occupied that spot previously in several updates, has fallen to a No. 2 in most projections and Michigan State, which had a chance to make a play at the Midwest No. 1, took a step back in that quest with the loss to Indiana. While the Hoosiers still have plenty of work to do to lock up the right to play through Indianapolis, an outright Big Ten regular season championship would go a long way in accomplishing that goal. The Bracket Matrix, which aggregates nearly every bracket projection available, has the Hoosiers as the overall No. 1 seed and Crashing the Dance, which uses brackets from the past to predict what the selection committee will do, has IU as the second No. 1 seed.
Tournament Sites (distance in miles from Bloomington in parenthesis)
· First round: Dayton (139)
· Second, third round: Auburn Hills (295), Austin (881), Dayton (139), Kansas City (435), Lexington (133), Philadelphia (608), Salt Lake City (1343), San Jose (1908)
· Regional: Arlington (723), Indianapolis (45), Los Angeles (1791), Washington D.C. (515)
· Final Four: Atlanta
Filed to: NCAA Tournament