Around the Hall: Indiana-Michigan State reaction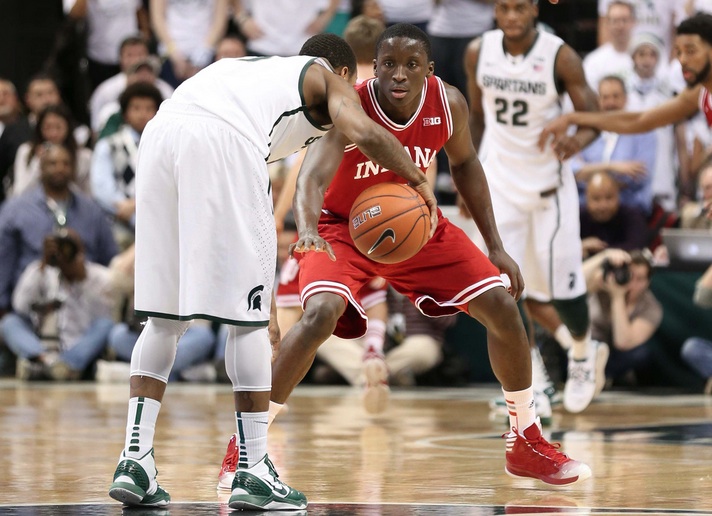 Around the Hall is recommended reading from the Inside the Hall staff. (Photo credit: Joe Eke/IU Athletics)
· Robert Mays of Grantland writes that he can't remember watching a player whose "activity is so consistently useful" as that of Victor Oladipo.
· Eamonn Brennan of ESPN.com writes that balance and depth and experience and leadership were all on full display for IU on Tuesday night.
· The Big Ten Geeks proclaim: "Say hello to your Big Ten champs."
· The Hoosiers once again reign supreme in Luke Winn's power rankings over at SI.com and in Mark Titus's over at Grantland.
· Mitch Albom of The Detroit Free-Press writes that Michigan State had no answer for Victor Oladipo.
· Could Oladipo rise all the way to No. 1 in June's NBA Draft? It's not out of the question according to ESPN.com's Chad Ford.
· Rick Bozich of WDRB.com borrowed a lyric from The Beatles to describe Oladipo's presence on Tuesday.
· Mike DeCourcy of The Sporting News believes that Oladipo's "can-do attitude" enhances his enormous talent.
· The Big Ten Network debates the race for Big Ten player of the year.

· Dick "Hoops" Weiss believes the Hoosiers are a team possibly on the verge of a national championship.
· Police in East Lansing are investigating fires set after Michigan State's loss to IU.
Filed to: Michigan State Spartans, Victor Oladipo