Hoosiers, Spartans expect "off the chain" environment for top-five matchup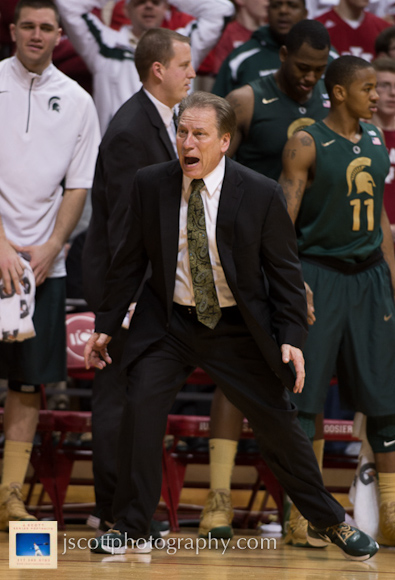 When Michigan State coach Tom Izzo addressed the media ahead of Tuesday night's game with No. 1 Indiana, he talked about the endless storylines involving the game. He wasn't kidding.
Two top five teams. First place in the Big Ten on the line. A Magic Johnson homecoming. Victor Oladipo's ankle. Mentor (Izzo) vs. student (Tom Crean). Indiana vs. Michigan State.
To summarize, this is sort of a big game.
"The environment is gonna be off the chain," Michigan State forward Adreian Payne said.
Added Izzo: "I'd be willing to bet this maybe could be the greatest crowd ever at this place."
The Hoosiers (23-3, 11-2) will certainly be tested Tuesday night at the Breslin Center in what will likely be their most difficult game of the regular season. Indiana hasn't won at Michigan State since 1991, and the Hoosiers are playing against a team as hot as any in the country. The Spartans dominated Michigan 75-52 last week.
"They're playing with tremendous confidence," Crean said. "They just keep getting better. Their young guys are better. I think they're one of the best teams in the country because they have so much."
The last time the Hoosiers visited the Breslin Center, they left with an 80-65 loss. It was the first game of the conference season last year — Dec. 28, 2011 — and one of the worst games in the young career of sophomore Cody Zeller. Hampered by foul trouble and bothered by the physical play, Zeller finished the game with just four points and three rebounds in 23 minutes.
Zeller said he watched the tape of that game many times last season, but he doesn't watch it much anymore.
"It was one of my rougher games," Zeller said. "I was in foul trouble and never got in the flow. That's just part of being a freshman in this league."
Zeller's no longer a freshman, and the Hoosiers are a much better team now than they were last season. When the two teams met earlier this season at Assembly Hall, Indiana got Keith Appling into foul trouble and won, 75-70. While it's easy to say the Spartans should be in good shape as long as Appling doesn't get in foul trouble this time around, Izzo also pointed out that Payne and Gary Harris played better than usual in the first meeting.
"That kind of balances itself out," he said. "Indiana's playing at a level like no other. They've sustained it the whole year, which is the most impressive thing you can do."
Oladipo's health is not only a popular storyline, but will also have a significant impact on the outcome of Tuesday night's game. Oladipo left Saturday's game against Purdue late in the first half after spraining his left ankle and did not play in the second half. The junior guard is expected to play Tuesday, but it remains to be seen how close he will be to 100 percent.
"He's better. He was good today," Crean said Monday. "We didn't push anything to an extreme level, but he's good, he's excited.  I think he's past the point of it really hurting. I don't think he's gonna tell anybody anyways."
In the first meeting, Oladipo turned in one of his best performances of the season. He had 21 points, seven rebounds, six steals and three blocked shots. After the game, Izzo called Oladipo the "Ray Lewis of basketball." When he met with the media this week, he compared him to former Michigan State guard Mateen Cleaves.
"He's got the highest motor I've seen in years," Izzo said, "He's got the ability to guard one through four, he's improved his jump shot so much, he's better at putting the ball on the floor. … He's a guy that, winning is the most important thing to him and I think that branches out to the rest of their guys."
Hoosiers aware of Nix's comments on Oladipo, Zeller
Last week, Michigan State center Derrick Nix made some comments to the media in which he suggested his team was disrespected. In the interview, Nix said that Oladipo can't do anything Spartans' forward Branden Dawson can't, and that Payne can do everything Zeller can.
"We win just like Indiana," Nix told reporters, "Oladipo's the man of the world and Dawson's not on draft boards. Tell me something Oladipo can do that (Dawson) can't."
Crean was asked Monday if he showed his team Nix's comments. Crean said he didn't have to.
"They're all on Twitter, they're all on Facebook and they read," Crean said. "There are no surprises there. They don't need any more of an edge to go into this game. They know who they are, they're starting to understand what they're capable of, meaning what we're capable of. They know the pageantry of it, most of them have been up there. They know the environment, and they're extremely locked in. I'm sure they're all aware of that — I know they are — but at the same time, that doesn't have anything to do with the drive for this game."
Filed to: Adreian Payne, Tom Crean, Tom Izzo, Victor Oladipo