What to Expect: Michigan State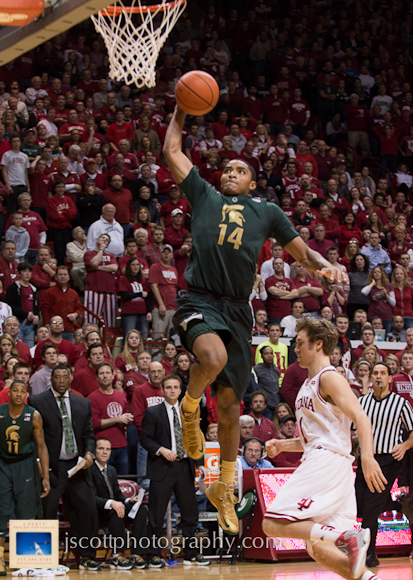 After finishing off a two-game homestand with an 83-55 win over rival Purdue, Indiana heads to East Lansing on Tuesday night for a meeting with Michigan State. The Hoosiers and Spartans are tied for first in the Big Ten standings at 11-2.
The game will be broadcast on ESPN at 7 p.m. with Mike Tirico, Dick Vitale and Magic Johnson on the call:
In a Big Ten season that's been full of meetings between highly ranked teams, the latest marquee matchup sends the Hoosiers north to face Michigan State at the Breslin Center. Michigan State is always tough to beat at home under Tom Izzo and this season is no different as the Spartans have amassed a 14-0 record.
While not a must-win for Indiana to remain in the race for the Big Ten title, a win would put the Hoosiers in good shape for the outright title as the Spartans still have trips to Michigan and Ohio State and a home date with Wisconsin remaining on their schedule.
PERSONNEL
As many expected before the season, Michigan State's Keith Appling and Gary Harris, a pair of McDonald's All-Americans, have formed one of the nation's best backcourts. Appling, who battled foul trouble for most of the game last month in Bloomington, leads the Spartans in scoring at 14.1 points per game. Appling isn't a great shooter, but he's adequate enough at 33.7 percent on threes and 45.7 percent on twos. Known as a hard-nosed defender, a lot of his value comes as a ball stopper on the perimeter and as a guy who can create turnovers (2.7 steal percentage) and get the ball going the other way.
Harris, who scored 21 points and single-handedly kept Michigan State in the game at Assembly Hall, has been on fire from the perimeter in Big Ten play. The Hamilton Southeastern product is shooting 53 percent on his 3-point attempts in league play. Like Appling, he can really cause havoc defensively with ball pressure. Backup Travis Trice, who has missed four straight games with a concussion, is unlikely to play, so Denzel Valentine will get the majority of the reserve minutes in the Spartan backcourt. Valentine is making close to 35 percent of his threes and does a nice job of distributing the ball (22.4 assist rate), but is also mistake prone (31.3 turnover percentage).
Yet another McDonald's All-American, Branden Dawson, occupies the three position in East Lansing and the Gary native is an elite athlete who is finishing 70 percent of his shots at the rim. Dawson is Michigan State's best offensive rebounder (10.4 OR%) and also has a team-high 46 steals, but struggles at the foul line where he hits just 54.4 percent of his attempts.
Up front, few teams in the country can match the size and physicality of the Spartans. Both Adreian Payne and Derrick Nix average 9.5 points per game and are setting the Michigan State rebounding pace as well. Payne averages a team-high 7.0 rebounds and Nix averages 6.5. Payne is the more versatile offensive option of the two as he's shown the ability to step out on the perimeter this season and knock down threes. Payne is also extremely efficient around the basket with a field goal percentage of 79 on shots at the rim. He's the Big Ten's best defensive rebounder and also has a team-high 32 blocks.
Nix has the size and strength to back opponents down in the post and his free throw rate (56.5) leads the team and is a major concern for IU as the Hoosiers must avoid foul trouble. The primary backup options in the frontcourt are redshirt sophomore Alex Gauna and freshman Matt Costello, but neither guy will get more than spot duty unless Payne or Nix have foul issues.
POMEROY PREVIEW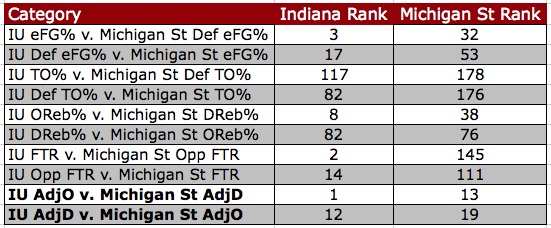 Through 13 league games, Michigan State ranks third in the Big Ten on both sides of the ball. The Spartans are scoring 1.07 points per possession while surrendering .96 per trip to opponents. By comparison, IU has the Big Ten's best offense at 1.16 points per possession and the second-best defense at .95 points per possession.
What's holding back the Spartans defense is a below average mark defending twos. Conference opponents are shooting 47.7 percent from inside the arc, which is a bit surprising for a group this athletic and talented up front. The Spartans do grade out well in other key areas like defensive turnover percentage (19.1) and grabbing defensive rebounds, but an opponent free throw percentage of just 62.8 percent also suggests that Michigan State has had some breaks go its way in league play.
Offensively, the Spartans have shot the ball well from the perimeter in Big Ten play (39.7 percent) and are also getting to the line at a healthy clip (38.5 free throw rate). In a departure from many of the Izzo-coached teams we've seen in the past, Michigan State is only rebounding 32.5 percent of its missed shots in conference play. That ranks just sixth in a category where the Spartans haven't ranked worse than 2nd since 2006.
WHAT IT COMES DOWN TO
Indiana is looking for its first win in East Lansing since Jan. 26, 1991 and the health of Victor Oladipo will play a critical role in the outcome of this game. All indications are that Oladipo will give it a go, but it's important for the Hoosiers to have him at or at least close to 100 percent. Also important is Indiana continuing to start strong away from Assembly Hall as it has in nearly every Big Ten game. The Hoosiers haven't always finished strong (see Illinois), but in an environment like the Breslin Center, it's easy to get down big early like opponents often do in Bloomington. Indiana avoided a poor start in Columbus and this will be an even stiffer test.
Turnovers are also important for both teams. The Hoosiers have basically been unbeatable when limiting turnovers and one of Michigan State's strengths is forcing turnovers. Indiana has done an even better job of forcing turnovers in Big Ten play (20.7 defensive turnover percentage), so this will be a key metric to monitor as the game goes along.
Free throws will also be critical to IU's success and while the Hoosiers shot just 13-of-20 in the first meeting, Michigan State only shot six free throws in that game. Establishing Cody Zeller early and playing inside-out like the Hoosiers did against Ohio State could open up the potential of foul trouble on Nix or Payne and could also free up IU's perimeter guys for easier looks.
Ken Pomeroy is bullish on the Hoosiers in this one with a predicted 71-69 Hoosier win and a 60 percent chance that IU moves to 12-2 in the Big Ten.
Filed to: Michigan State Spartans