Big Ten Power Rankings: February 18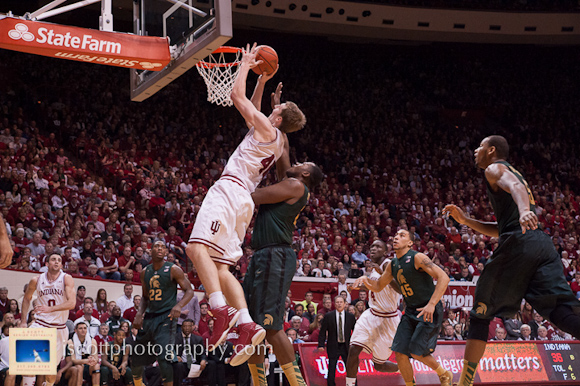 After a (somewhat) routine and unsurprising week in conference play, the Big Ten Power Rankings remain pretty much intact. But with perhaps the biggest game of the conference season looming Tuesday night in East Lansing, things could very well change in a hurry.
12. Penn State (8-17, 0-13) (LAST WEEK: 12) … There's no doubt the Nittany Lions are improving under coach Patrick Chambers. Last week, they lost a close home game to Iowa by two points and played Michigan tough on the road for more than a half. But at the end of the day, Penn State is still winless in conference play.
11. Nebraska (12-14, 3-10) (LAST WEEK: 11) … Tough week for the Cornhuskers playing against the conference's top two teams, but they gave Michigan State a bit of a test on Saturday night before a late run helped the Spartans win the game.
10. Purdue (12-14, 5-8) (LAST WEEK: 10) … After Saturday's 28-point loss at Indiana, Purdue coach Matt Painter said this is the most frustrated he's ever been with a team because he feels like the Boilermakers have the talent to compete. But the effort hasn't always been there at a high level, and Purdue is in the middle of a total free fall. Next Sunday's home game against Northwestern might be the Boilermakers' last chance for a win.
9. Northwestern (13-13, 4-9) (LAST WEEK: 9) … The Wildcats won their first two road games in conference play, but they're 0-4 away from home since then. It's been yet another tough season in Evanston.
8. Minnesota (18-8, 6-7) (LAST WEEK: 7) … The Golden Gophers have the talent to be an elite team, but they haven't always done a good job of taking care of the teams they are supposed to beat. Losses to Illinois, Northwestern and Iowa leave you scratching your head a bit.
7. Iowa (17-9, 6-7) (LAST WEEK: 8) … They squeaked out a road win at Penn State and dominated Minnesota at home. The Hawkeyes aren't quite ready to make a jump into the top half of the Big Ten, but they could still potentially make the tournament. Next year, though, they could be a team to be reckoned with.
6. Illinois (19-8, 6-7) (LAST WEEK: 6) … Don't look now, but the Fighting Illini have used their upset win of Indiana to get hot at just the right time. Illinois has won four straight games with a matchup against Penn State coming next.
5. Ohio State (18-7, 8-5) (LAST WEEK: 5) … There's just something missing from this Ohio State team. The Buckeyes don't have nearly enough offense to stay in the race, but they could be a dangerous team in March if they find a second and third scorer.
4. Wisconsin (18-8, 9-4) (LAST WEEK: 4) … Don't count out the Badgers. Even after losing at Minnesota, they are still very much a player in the Big Ten title chase. Wisconsin's only really tough remaining game is at Michigan State.
3. Michigan (22-4, 9-4) (LAST WEEK: 3) … Even after losing three of their last five games, the Wolverines are still one of the best teams in the conference and the country. They were dominated in East Lansing last week, but all of their difficult remaining games are at home.
2. Michigan State (22-4, 11-2) (LAST WEEK: 2) … Michigan State held serve with the Hoosiers by beating Michigan and Nebraska. The Spartans' dominating performance against Michigan was incredibly impressive and could give them the inside track to winning the Big Ten crown.
1. Indiana (23-3, 11-2) (LAST WEEK: 1) … The Hoosiers took care of business at home against Nebraska and Purdue, and now they prepare for a showdown with Michigan State in East Lansing Tuesday night. If Victor Oladipo (ankle) isn't healthy, it could be tough for the Hoosiers to knock off the Spartans.
Filed to: Big Ten Power Rankings