March Watch: IU makes a play for No. 1 overall seed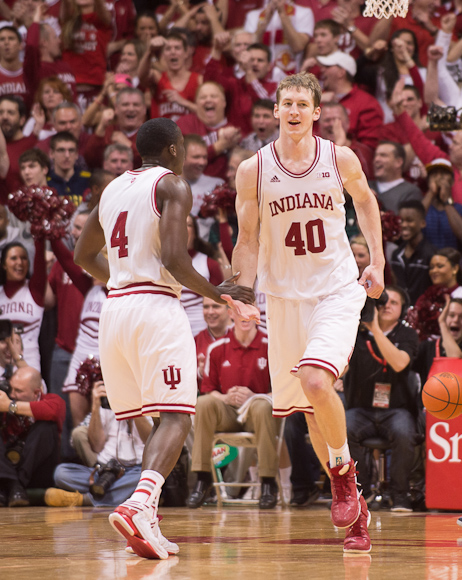 With just 32 days remaining until Selection Sunday, it's becoming peak season for bracketologists everywhere. Regular season conference champions will be determined over the next few weeks and teams will begin to either solidify their positions or fall out of favor with the selection committee. With that in mind, it's time for another edition of March Watch, a look at where Indiana stands in terms of the NCAA Tournament.
Overview
Since our last update, Indiana dropped a game at Illinois, but bounced back with an impressive 13-point win at Ohio State. That win was enough to move the Hoosiers into the top spot on ESPN.com bracketologist Joe Lunardi's s-curve ($) because teams like Florida and Michigan also lost last week.
Nitty Gritty Profile
· Record: 21-3 (9-2 Big Ten)
· RPI: 11
· SOS: 24
· Home Record: 14-1
· Away Record: 5-1
· Neutral Court Record: 2-1
· vs. RPI Top 50: 6-3
· vs. RPI Top 51-100: 2-0
Indiana's RPI and strength of schedule both held in the same positon from our last update. As noted in previous updates, the overall RPI number for Indiana is still lower than what you might expect because 13 of IU's 21 wins are over teams outside of the RPI top 100.
Bracket Projections
· ESPN Bracketology (Joe Lunardi): 1 seed (Midwest) vs. Southern/Bryant in Dayton
· CBS Sports (Jerry Palm): 1 seed (East) vs. Play-in game winner in Dayton
· Sports Illustrated (Andy Glockner): 1 seed (Midwest) vs. NC Central/Bryant in Lexington
All three of the brackets we track have the Hoosiers on the top line with Lunardi and Glockner sending the Hoosiers to the coveted Midwest regional in Indianapolis and Palm shipping Indiana east to Washington D.C. Palm's update was prior to Michigan's loss at Michigan State last night, so it's possible that the CBS bracketologist will also move IU into the No. 1 spot in the Midwest in his next update. Michigan State, which currently sits a half-game ahead of IU in the Big Ten standings, is a team on the rise and could also make a play for the top spot in the Midwest. The Bracket Matrix, which aggregates nearly every bracket projection available, has the Hoosiers as the second No. 1 seed. Crashing the Dance, which uses brackets from the past to predict what the selection committee will do, has IU as the third No. 1 seed.
Tournament Sites (distance in miles from Bloomington in parenthesis)
· First round: Dayton (139)
· Second, third round: Auburn Hills (295), Austin (881), Dayton (139), Kansas City (435), Lexington (133), Philadelphia (608), Salt Lake City (1343), San Jose (1908)
· Regional: Arlington (723), Indianapolis (45), Los Angeles (1791), Washington D.C. (515)
· Final Four: Atlanta
Filed to: NCAA Tournament