Glass: Alternate jerseys are 'highly unlikely'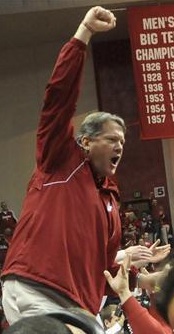 There has been some speculation in recent weeks that a number of college programs, including Indiana, may occasionally wear alternate jerseys with sleeves provided by Adidas. The NBA's Golden State Warriors will be the first to wear the new uniforms in their Feb. 22 game against the San Antonio Spurs.
But while Indiana Athletics Director Fred Glass admitted the school had been approached by Adidas about the jerseys, he said it is "highly unlikely" the Hoosiers will ever wear any form of an alternate uniform.
"What they like to do is make opportunities available to wear different kinds of uniforms," Glass told Inside the Hall, "and we've had multiple opportunities to wear alternative uniforms, and we've respectfully passed on that. … I would never say never, but I think it's highly unlikely that we'll be doing that."
A number of college and pro teams are trying the new jerseys out. We've seen schools such as Michigan State and Ohio State wear alternate uniforms in recent weeks.
So why not Indiana?
"The IU men's basketball uniform is iconic," Glass said. "I have a poster on my wall that is kind of like a fake group photo of all the All Americans that we've had in basketball, and the jerseys, whether its from the 50s, 60s, 70s, 80s, 90s or 2000s, pretty much look the same."
Filed to: adidas, Fred Glass