Five takeaways from Indiana's loss at Illinois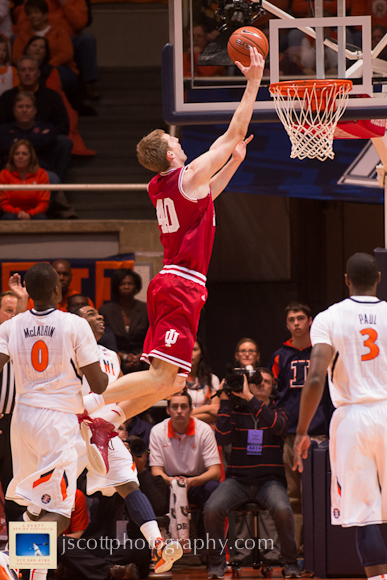 CHAMPAIGN, Ill. — After leading by 14 points on two separate occasions, Indiana couldn't hold on Thursday night at Assembly Hall and the No. 1 Hoosiers dropped their second conference game 74-72 to Illinois. The loss moved IU into a three-way tie with Michigan and Michigan State for the Big Ten lead.
Here's a look at five takeaways from IU's loss to the Fighting Illini:
· About that final play: Tyler Griffey's game-winning, wide-open layup will get all of the headlines, but Indiana's inability to put Illinois away when it had the chance is the real story of this loss. One particular sequence that stood out: The Hoosiers led 55-41 with 12:55 remaining following a Will Sheehey dunk. Hanner Mosquera-Perea was subbed in for Cody Zeller at the 12:45 mark and gave up a layup and then a 3-point play. The Hoosiers would extend the lead back to double digits on a couple more occasions, but when there's blood in the water on the road, allowing an opponent to quickly regain momentum can prove costly. "We didn't put them away when we had the opportunity," Tom Crean said postgame. "That's really the bottom line."
· Sheehey's technical was unnecessary and costly: It may have seemed harmless at the time because Indiana was beginning to open things up on Illinois late in the first half, but the technical foul on Sheehey ended up being a crucial mistake. Debating whether the technical was deserved is futile, but it's fair to wonder if Sheehey's antics on the bench and also in the win at Purdue have given him a reputation with officials. Playing with an edge is one thing, but when it leads to picking up an unnecessary technical foul, it may be time to dial it back and just play.
· Cody Zeller didn't get enough field goal attempts: Illinois had no one on its roster capable of guarding Cody Zeller and IU failed to take advantage of the foul trouble that plagued Nnanna Egwu all night. Zeller finished the night with just six field goal attempts. Christian Watford, Victor Oladipo, Yogi Ferrell and Sheehey all had more looks. Does Indiana need to do a better job of finding Zeller? Does Zeller need to do a better job of establishing position and calling for the ball? Probably a little bit of both, but when there's a clear mismatch, Indiana needs to exploit it. Zeller still finished with a team-high 14 points because he got to the foul line six times (all in the first half), but getting the ball inside as the lead was evaporating may have changed the outcome.
· Indiana shot better, rebounded better, had a better free throw rate and still lost: The Hoosiers came out on top of this game in effective field goal percentage, offensive rebounding percentage and free throw rate and still managed to come up short. The reason? Turnovers. The Hoosiers coughed up the ball 14 times in all, including eight in the second half. Six of the turnovers came from Watford, his highest total since his freshman season. In Big Ten play, Indiana is turning the ball over on 20.4 percent of its possessions, which is the second worst mark in the league. As effective and potent as Indiana is on offense, it simply can't afford to give opponents extra possessions and expect to get away with it.
· This loss changes the Big Ten race: Indiana was up just one game in the loss column, but the Hoosiers are now tied with Michigan and Michigan State. Those are two teams Indiana still has to play on the road and one glance at the remaining road slate shows that things won't get any easier from here. Trips to Ohio State, Michigan State, Minnesota and Michigan are on the horizon, which is the downside to IU's backloaded road schedule. Michigan's remaining road games: Wisconsin, Michigan State, Penn State and Purdue. Michigan State's remaining road games: Purdue, Nebraska, Ohio State, Michigan. It's likely that 14-4 will at least earn a share of the conference crown, but for IU to get there, the Hoosiers would need to hold serve and split the remaining road games.
Filed to: Illinois Fighting Illini