Draft watch: Oladipo continues rise toward lottery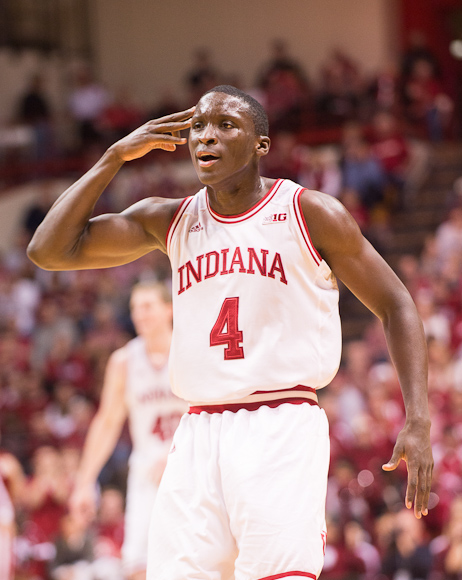 It's been a month since our last examination of the NBA Draft outlook for this year's Indiana team and the key takeaway from the last month is the steady rise of junior Victor Oladipo toward the lottery. Let's get to it:
Cody Zeller
ESPN: (7) Draft Express: (4) NBADraft.net: (3)
· Analysis: Zeller's stock has remained as a high lottery pick, but the talk of him going No. 1 overall has cooled considerably since the initial 2013 mock drafts were revealed. But when you take a closer look, it's hard to pinpoint a legitimate reason for much, if any, change in his stock. In one of the nation's most balanced and efficient offenses, Zeller is the key cog. His recent play has him right back in the thick of things in the national player of the year and Big Ten player of the year discussion. He won co-Big Ten player of the week honors after Indiana beat Purdue and Michigan last week and through nine conference games, Zeller is averaging 16.1 points and 8.8 rebounds. Perhaps NBA scouts want to see more Zeller dominant games more frequently, but on a team with six guys who are capable of going out and scoring 20, that's unlikely to happen.
· Expert opinion: "Zeller played with extraordinary energy and toughness against Michigan. When he plays like that, there isn't a better offensive big man in the country. He doesn't give that effort every night, but he does it enough that it's hard to argue that anyone else in college basketball is obviously better." – ESPN.com's Chad Ford
Victor Oladipo
ESPN: (15) Draft Express: (21) NBADraft.net: (32)
· Analysis: ESPN.com draft guru Chad Ford has been leading the charge to promote Oladipo's candidacy as a lottery pick and it's hard to argue his point. The major hole in Oladipo's game entering the season was his perimeter shot and he's shooting 51.4 percent on threes as a junior. He's also been ridiculously efficient on twos this season (67.8 percent) and his defense has also improved tremendously (5.1 steal percentage, 2.8 block percentage). His prowess as a lockdown defender was on full display Saturday night as Oladipo guarded four different Michigan players (Trey Burke, Nik Stauskas, Glenn Robinson III and Tim Hardaway Jr.) effectively in IU's 81-73 win. Oladipo has shined all season on the biggest stages and as a result, his draft stock has skyrocketed.
· Expert opinion: "Given his trajectory and Zeller's fall, I don't think it's out of the question that Oladipo goes ahead of Zeller on draft night." – ESPN.com's Chad Ford
Christian Watford
ESPN: (167) Draft Express: (No. 32 senior) NBADraft.net: (N/A)
· Analysis: Watford returned for his senior season for a chance to play for a Big Ten title and national championship and potentially improve his draft stock, but he's mostly off the radar at this point despite this fact: He's having the best season of his career. He's rebounding more effectively, particularly on the defensive glass, and getting to the line at a high rate (56.3 free throw rate). Maybe it's time to stop discussing Watford's stock and just appreciate him for what he is: A very good college player who will play somewhere professionally next season.
Yogi Ferrell
ESPN: (161) Draft Express: (No. 30 freshman) NBADraft.net: (N/A)
· Analysis: Ferrell will be back in Bloomington next season, but his continued development is certainly catching the eyes of NBA scouts who attend Indiana games. All freshman go through growing pains, but Ferrell's play as of late is a big reason why the Hoosiers have won five straight and are back at No. 1. He's averaging 11 points on 18-of-30 shooting in that span and his on-ball defense against guys like Burke, Keith Appling and D.J. Newbill is one of many reasons he was named to the midseason watch list for the Wayman Tisdale Award that honors the country's top freshman.
Filed to: Christian Watford, Cody Zeller, Victor Oladipo, Yogi Ferrell