Big Ten Power Rankings: February 4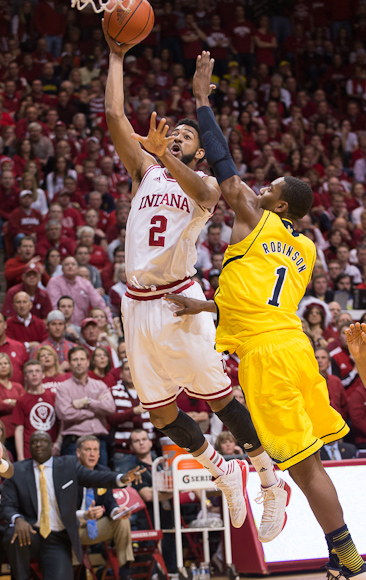 After a showdown between Michigan and Indiana on Saturday night in Bloomington, we have a new team on top in this week's Inside the Hall Power Rankings. The only question now is: How long can it remain there?
12. Penn State (8-13, 0-9) (LAST WEEK: 12) … The Nittany Lions may not win a single conference game this season. In fact, I don't think they will. Games against Purdue and at Nebraska this week may be their best two chances.
11. Nebraska (11-12, 2-8) (LAST WEEK: 11) … The Cornhuskers are in the midst of the toughest stretch of their conference schedule, and it hasn't started all that well. They lost at Minnesota by 19 points and at home against Ohio State by seven points, and they've got games at Indiana and against Michigan State looming after a meeting with Penn State.
10. Purdue (11-11, 4-5) (LAST WEEK: 7) … Terrible week for the Boilermakers, who lost at home to Indiana by 37 points on Wednesday and looked pretty bad in a 15-point loss at Northwestern on Saturday. A.J. Hammons is putting up bigger and bigger numbers, but they aren't helping Purdue win.
9. Illinois (15-8, 2-7) (LAST WEEK: 10) … The Fighting Illini actually jumped a spot thanks to a horrific week by Purdue, but they really didn't do much to deserve to. They stuck with Michigan State on the road, but then got beat again at home by Wisconsin. Illinois is 1-4 at home in Big Ten play and is in total free-fall mode right now.
8. Northwestern (13-10, 4-6) (LAST WEEK: 9) … They were beaten soundly as expected at Michigan, but the Wildcats salvaged the week with a home win against Purdue. Next up: trips to Iowa and Ohio State.
7. Iowa (14-8, 3-6) (LAST WEEK: 8) … Sure, the Hawkeyes still couldn't quite come away with a big road win, but they played very well at Minnesota, and deserve to be in this spot. Can they use their performance against the Gophers to help win at Wisconsin this week?
6. Minnesota (17-5, 5-4) (LAST WEEK: 6) … Home wins against Nebraska and Iowa have helped the Gophers right the ship after four straight losses, but they still have yet to prove themselves against the league's best teams, especially on the road. They'll get their chance Wednesday night when they visit Michigan State.
5. Wisconsin (15-7, 6-3) (LAST WEEK: 5) … This spot is kind of a toss up between Wisconsin and Minnesota, but the Badgers get the spot because their conference wins are more impressive. Wisconsin owns wins over Minnesota and at Indiana. Minnesota's only significant Big Ten win came in the opener against Michigan State.
4. Ohio State (17-4, 7-2) (LAST WEEK: 4) … Not the nation's best conference, Digger Phelps? Please. All four of these teams at the top could make a run through the NCAA Tournament. The Buckeyes got wins against Wisconsin and Nebraska this week and now must prepare for a road test with Michigan. Ohio State gave the Wolverines their first loss of the season.
3. Michigan State (18-4, 7-2) (LAST WEEK: 3) … The Spartans weren't all that impressive in an 80-75 home win against Illinois this week, but they are still the third-best team in this conference. And the good news for them? Their next three tough games — Minnesota, Michigan and Indiana — are all at home.
2. Michigan (20-2, 7-2) (LAST WEEK: 1) … Unfortunately for the Wolverines, Saturday's game in Bloomington was just the start of a very difficult stretch. They host Ohio State on Tuesday before facing road tests at Wisconsin and Michigan State. How will a young Michigan team respond?
1. Indiana (20-2, 8-1) (LAST WEEK: 2) … There really isn't much that separates Indiana and Michigan at this point in the season. When the teams meet in Ann Arbor, the Wolverines will likely earn a split. But for now, after the Hoosiers' impressive 81-73 win on Saturday night, they belong in the top spot this week. Plus, even though Purdue is struggling, Indiana's 37-point win at Mackey Arena on Wednesday night was also impressive.
Filed to: Big Ten Power Rankings