What to Expect: Michigan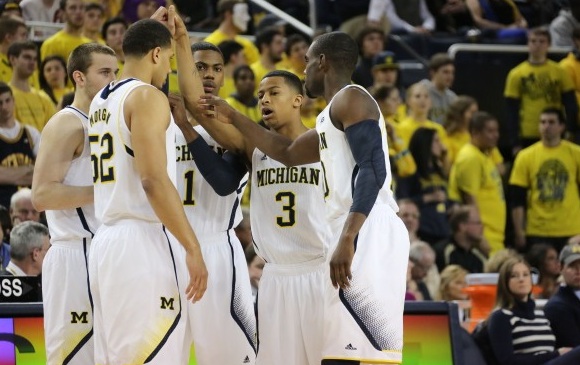 Photo by Dustin Johnson/UMHoops
Indiana returns to Assembly Hall on Saturday night fresh off a 97-60 romp of Purdue at Mackey Arena, the largest home loss ever for the Boilermakers. The No. 3 Hoosiers will take Branch McCracken Court opposite No. 1 Michigan and first place in the Big Ten will be on the line.
The game will be broadcast on ESPN at 9:00 p.m with Dan Shulman and Dick Vitale on the call.
When Indiana's schedule was released early last fall, this game was immediately circled on calendars across Hoosier nation. A big part of the hype was the Worldwide Leader bringing College GameDay to Bloomington for the first time since 2008, but there was also a sense that this matchup could have major implications in the race for the Big Ten title. It turns out those prognostications were accurate as John Beilein will bring the Wolverines, No. 1 in the country and 7-1 in the conference, to meet the Hoosiers, also 7-1 in the league and No. 3 in the country.
To this point in the season, this is the biggest game in all of college hoops. That's true not only because of the primetime national stage, but because the winner will get a leg up in the race to win the toughest conference.
PERSONNEL
Beilein has made a coaching career out of doing more with less, but this year in Ann Arbor, he's assembled a talented roster that you can stack up with any in the country. Gone are Indiana natives Stu Douglass and Zack Novak, but reinforcements have arrived in the form of a freshman class that's performed as well as any in the Big Ten. The Wolverines are the Big Ten's youngest team and only nine teams in the country have less experience. What the Wolverines do have in experience, though, is what separates this group from just a young team to a national title contender.
It starts with guard Trey Burke, the sophomore point guard who is receiving serious and warranted consideration for national player of the year. Burke flirted with the idea of jumping to the NBA last spring, but made a smart decision to return to Ann Arbor and it's paying major dividends for the Wolverines. One of the best ball screen guards in the land, Burke is most effective when he can penetrate to the middle of the floor and either finish plays or create opportunities for his teammates. He leads four Wolverines in double figures with 17.9 points per game and also averages a Big Ten best 7.1 assists. What sets Burke apart is the efficiency at which he operates. He's using more than 28 percent of Michigan's possessions (only two Big Ten players use more) and has an effective field goal percentage of 56.2 and an assist rate of 39.9.
Out on the wings are two more weapons for Michigan in junior Tim Hardaway Jr. and freshman Nik Stauskas. Hardaway Jr. is the team's second leading scorer at 15.5 points per game and is hitting 41.1 percent of his threes. While Hardaway can be streaky at times from distance, he's a guy that must be marked at all times because he can really carry Michigan if he gets going from deep. Stauskas is even more effective from distance (49.5 percent), but has cooled off in Big Ten play where he's been just 37.5 percent from deep. Like Burke, Stauskas is very effective at scoring off the ball screen with 1.46 points per possession in those situations. Both guys are large beneficiaries of Burke's prowess as a playmaker, but can also make plays off the dribble and get to the basket.
Beilein has long been a fan of utilizing an undersized four and this year that responsibility falls on Glenn Robinson III, a freshman from Lake Central and the son of former Purdue great Glenn Robinson. Robinson is shooting 66.9 percent on twos and is one of the more explosive players around the rim in the country, where he's finishing 77 percent of his attempts. He's also a 40 percent 3-point shooter and is another guy that IU can't afford to lose in the halfcourt.
The five position is essentially a platoon between junior Jordan Morgan, freshman Mitch McGary and junior Jon Horford. Morgan's status is somewhat up in the air as he suffered a sprained ankle in Michigan's win over Illinois and missed Wednesday's game with Northwestern. If Morgan can go, his ability to defend the post without fouling (2.6 fouls called per 40 minutes) and gobble up defensive rebounds (19.1 DR%) are key. Morgan isn't much of a scorer, but his blue collar work ethic down low is an underrated piece of Michigan's success. Horford, who has battled injuries, could be thrust into a larger role once again if Morgan can't play and he too is effective on the defensive glass. McGary has the most upside of the three. He averages a team-high 6.0 rebounds and boasts a 4.7 block percentage.
Two other guys you can expect to see for five to ten minutes are freshmen Caris Levert and Spike Albrecht. Levert will fill in for Hardaway Jr. or Stauskas on the wing and can knock down an occasional three (9-of-21). Albrecht, a little recruited point guard originally from Crown Point, will spell Burke in what little time he'll spend on the bench barring foul trouble.
POMEROY PREVIEW
The two best offenses in the Big Ten have a chance to produce what should be one of the most entertaining games of the season. Both teams shoot the ball at ridiculously efficient clips: The Wolverines are shooting 56.6 percent on twos and 39.7 percent on threes while the Hoosiers are 53.6 percent on twos and 43.2 percent on threes.
That said, here are a few key areas that will likely decide the outcome:
· Rebounding: Indiana's offensive rebounding has been pivotal when the Hoosiers are operating at peak efficiency on offense and one of Michigan's major strengths is keeping teams off the offensive glass. If shots aren't following from the outside for IU and Michigan limits second chance points, that could quickly swing the pendulum in favor of the Wolverines.
· Free throws: Indiana's ability to draw fouls and get to the line is a major reason why this team has a chance to go very deep into March and early April. The Wolverines draw very few fouls themselves, but their opponents are going to the line at a lower rate than any team in the country. Something has to give here, right?
· Can Indiana muster up stops? Tom Crean has easily his best defensive team in his tenure at Indiana, but this group has yet to defend an offensive juggernaut like Michigan. The Wolverines have some clear size advantages on the perimeter with Stauskas and Hardaway Jr., so it'll be interesting to see how Beilein tries to exploit IU's smaller backcourt of Jordan Hulls and Yogi Ferrell and how quickly Crean deploys Remy Abell and Will Sheehey off the bench. Perhaps IU's strategy of not doubling the post in West Lafayette was a foreshadowing of what we'll see on Saturday night.
WHAT IT COMES DOWN TO
All eyes will be on Bloomington on Saturday night and for good reason. Not only is the No. 1 team coming to town, this game, unlike the Kentucky meeting last season, actually has implications for the league title that both teams desperately covet.
These are two dynamic offenses with NBA talent clashing on the big stage, but Indiana's frontcourt play has a chance to give the Hoosiers a little bit of separation. As maligned as Christian Watford has been at times, he's got size and experience on Robinson III and typically plays very well against the Wolverines (25 points in last year's game at Assembly Hall). Cody Zeller also figures to get a steady diet of touches in the post and depending on Morgan's status, this is another matchup IU could look to exploit.
Defensively, expect Indiana to mix zone and man-to-man. As UMHoops points out, IU has actually been more effective in zone. The Hoosiers are playing zone roughly 18.8 percent of the time and allowing 0.69 points per possession compared to man-to-man at 81.20 percent/0.75 points per possession.
Pomeroy likes Indiana to win, 76-70, with a 68 percent chance of the Hoosiers sitting on top of the Big Ten standings come the final buzzer.
All tempo-free stats via KenPom.com.
Filed to: Michigan Wolverines