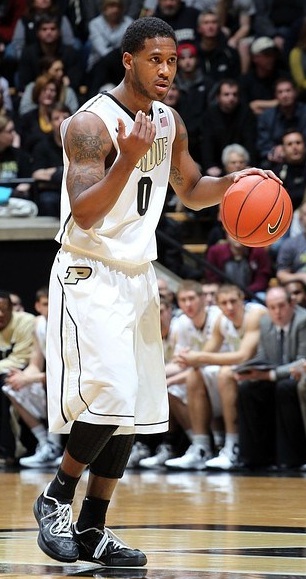 Following Sunday's win over Michigan State, the No. 3 Hoosiers hit the road for West Lafayette and a showdown with rival Purdue. The Boilermakers are 11-9 overall and 4-3 in the Big Ten. 
The game will be broadcast on BTN at 8:30 p.m with Dave Revsine and Jim Jackson on the call.
The second contest in a three-game stretch over six days sends Indiana north to Mackey Arena where Purdue, a club hovering around the .500 mark for much of the season, awaits. Matt Painter and the Boilermakers would like nothing more than to play spoiler and knock Indiana off track prior to Saturday's meeting with No. 1 Michigan on ESPN's College GameDay.
It's been a tough first half of the season for Purdue, which struggled early without Robbie Hummel, who graduated last spring. Some of the losses on the Purdue resume are head scratchers: at Eastern Michigan, Xavier at home and Oregon State on a neutral court. But the Boilermakers have started to play better in recent weeks and have won four of five coming into tonight.
PERSONNEL
Purdue's roster underwent a significant overhaul in the offseason with the graduations of Hummel, Lewis Jackson and Ryne Smith. There are reinforcements in place in the form of a freshman class that has shown promise, but the reality is that Purdue is 11th among Big Ten teams in terms of experience.
In recent weeks, Purdue has essentially started four guards with the Johnson brothers — Ronnie and Terone — along with D.J. Byrd and Raphael Davis. Byrd, a 6-foot-5 senior, would be a guard on most Big Ten rosters, but plays the role of undersized four for this group. He's a volume shooter from the perimeter with 131 of his 177 field goal attempts coming from behind the 3-point line. His percentage has dipped considerably from his junior season (35.9 percent compared to 43 percent), but he's certainly capable of filling it up if given space.
Junior Terone Johnson is the team's leading scorer and is most effective when using his strength in driving to the basket. But Johnson's efficiency isn't a strong suit as he shoots just 34.9 percent on threes, 41.1 percent on twos and 57.4 percent on free throws. Keeping Johnson out of the lane isn't always easy to do, but look for Indiana to use Victor Oladipo to slow him down. His younger brother Ronnie, a freshman, has stepped in as the starting point guard and is Purdue's most effective player at getting to the foul line. He's not shooting well on those attempts (60.2 percent) and has also struggled shooting from the field as he's just 39.4 percent on twos and 13.8 percent on threes.
Davis, another freshman, has shown promise in recent weeks and has replaced Anthony Johnson in the lineup because of his ability to score. Although it's a much smaller sample size, the Fort Wayne native boasts a 53.9 effective field goal percentage, the highest mark among starters.
The primary frontcourt piece is freshman A.J. Hammons, the team's third leading scorer and leading rebounder. One of the Big Ten's best shot blockers (8.7 block percentage), the Boilermakers will need Hammons to stay out of foul trouble while attempting to slow down Cody Zeller. Redshirt freshman Donnie Hale, sophomore Jacob Lawson and junior Travis Carroll could also see some backup frontcourt minutes. Hale, a New Albany native, scored 12 points and grabbed five rebounds in Purdue's overtime win over Iowa on Sunday.
POMEROY PREVIEW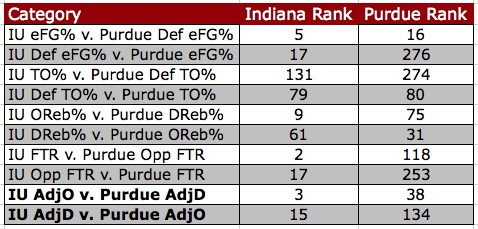 As you might expect with a team trying to integrate new pieces, Purdue's offense has struggled mightily this season. The Boilermakers rank 134th nationally in adjusted offensive efficiency and are scoring just .97 points per possession in league play, which ranks 7th in the league.
The problems on offense aren't concentrated in one area as Purdue is shooting just 62.6 percent on free throws, 31.4 percent on threes and 45.4 percent on twos. The free-throw percentage ranks 325th nationally, and Purdue has done a poor job getting to the line in conference play, ranking 10th in free throw rate.
For Purdue to play well offensively, offensive rebounding is key. That strategy, however, may not be a favorable one given how effective Indiana can be in transition. Defensively, the Boilermakers are limiting Big Ten opponents to .99 points per possession and are ranked in the top 40 nationally according to Pomeroy's defensive efficiency rating.
In league play, Purdue has the best two-point field goal percentage defense (39.7), but ranks just 11th in guarding the three at 37.7 percent. Guarding the perimeter will be a major point of emphasis made by the Purdue staff as Indiana knocking down better than 41 percent of its attempts from distance.
WHAT IT COMES DOWN TO
On paper, Indiana is clearly the superior team and this is a game the Hoosiers need to get to keep pace in the race for the Big Ten title. But as is often the case in rivalry games, it's foolish to count out the underdog, particularly when playing at home. As shaky as Purdue's start to the season was, winning on the road is a tall task, particularly in the nation's best conference.
While Purdue hasn't slowed its pace to a grinding halt, it can ill-afford to let Indiana get out on the break and play at its usual tempo. If the game becomes a shootout, the advantage is clearly on the side of the Hoosiers. Depth, experience and efficiency on offense are all on Indiana's side.
Pomeroy likes Indiana to win 73-63 with an 81% chance of moving to 7-1 in the Big Ten in advance of Saturday's showdown with Michigan.
HOOSIERS ON PURDUE
Tom Crean:  "D.J. Byrd, Terone Johnson, those guys are doing an excellent job of leading that team, just from watching the films. Then you have Ronnie Johnson, A.J. Hammons, Rapheal Davis, guys like that, that continue to get better and gain more confidence. Donnie Hale is a redshirt player that's gone in there and played better and better. Anthony Johnson is now a veteran in that program. Ronnie Johnson, end to end, is as fast as any guard in the country."
Will Sheehey: "They are a physical team. They rebound the ball well. They like to pressure you full court. Those are some of the things we have been working on (in practice). It is just a tough game."
Jordan Hulls: "Everybody is going to be psyched to play in this game, it is a big rivalry. It is a Big Ten game and it's the next game on the schedule so everyone is going to be pretty pumped up about it. Being from Indiana, once you put on the Indiana jersey, that's all that matters. You are a Hoosier for life when that happens."
Filed to: Purdue Boilermakers