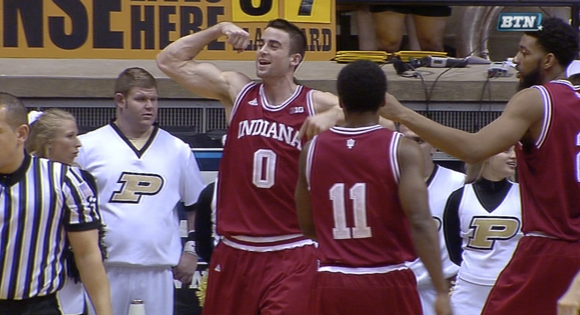 Thoughts on a 97-60 win against Purdue:
I. There was talk of the Hoosiers seeing beyond this one to their College Gameday matchup with the Michigan Wolverines on Saturday, that the Boilermakers may be overlooked. But such speculation was put to rest early tonight inside Mackey Arena. Indiana asserted itself as the agressor, as the better team. And there was little doubt the Boliermakers were in trouble from the tip. Cody Zeller went to work early on A.J. Hammons, saddling him with foul trouble. Will Sheehey got a a steal and a dunk. Victor Oladipo hit a corner 3 off a Sheehey offensive rebound. The lead was 10. And it would build from there. Sixteen after a Christian Watford 3-pointer. All the way to 20 by the time the halftime buzzer sounded.
We've seen the Hoosiers play a crisp first 20 in some Big Ten games, only to watch the opponent slow them down and outscore them in the second half. But not tonight. Not against this rival. The Hoosiers were not done. The lead continued to balloon. Twenty-five after a Yogi Ferrell 3-pointer. Up to 27 and then 28 after a Sheehey and-1, the theatrics were on full display as Sheehey flexed his right bicep to the Purdue crowd. The Hoosiers were smiling and having fun all the way to the bank tonight, and ended this one with a 37-point slaughter of this younger, inexperienced, little brother Purdue team after Derek Elston and Maurice Creek joined in the 3-parade late.
97-60, the statement made loud and clear: We're ready. Bring on the Wolverines.
II. This was a balanced attack; the Hoosiers had five players in double figures — Zeller (19 points), Watford (17 points), Oladipo (17 points), Ferrell (11 points) and Hulls (10 points). Sheehey added seven to go along with a career-high seven assists. Watford (4-of-5) and Ferrell (3-of-4) were hot from beyond the arc. The Hoosiers, after struggling at times from the line this season, were absolutely money in that department as well tonight, going 19-of-20 (95.0 percent). After Sunday's Michigan State game, Indiana was turning the ball over second most in the conference with only Minnesota being more careless with the ball. Tonight, Indiana excelled in that department, turning the ball over on just 12.3 percent of its possessions, while Purdue had some serious issues there (27.0 TO%), leading to 20 points for IU.
III. Good to see Tom Crean insert Derek Elston into the game. And even better to see Elston have an impact. He drew a near charge in the first half and ran some nice pick and roll action with Oladipo to get to the foul line and hit both free throws. And there was also the aforementioned 3-pointer. What we may find is this: Elston is going to play minutes in the frontcourt behind Zeller and Watford because he understands what Indiana is trying to do on both sides of the ball and he can provide a steady presence with limited mistakes. Hanner Mosquera-Perea just doesn't have the timesheet Elston does in this program and it can make him a liability on the court at times.
If Elston can stay healthy and give the solid reserve minutes he's capable of, Indiana's bench just got better.
IV. Can't leave with giving some love to Hammons. He pouted early after picking up some fouls, but man: What a performance. That dunk on the break was freakish and he scored half Purdue's points (30 on 10-14 shooting, 10-12 from the line). He also had five blocks. As just a freshman, this won't be the last Indiana sees of him.
Filed to: Purdue Boilermakers