Five takeaways from Indiana's win over Michigan State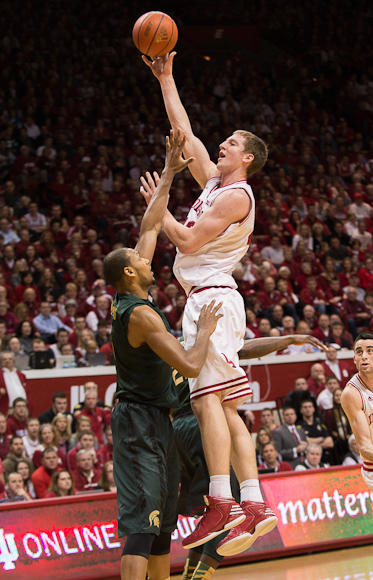 The Hoosiers won for the third time in eight days on Sunday afternoon with a 75-70 win over No. 13 Michigan State. The victory propelled IU into a first-place tie atop the Big Ten standings with Michigan.
Here's a look at five takeaways from Sunday's win over the Spartans:
· Victor Oladipo shines on national stage: Perhaps Sunday's performance will finally get Indiana's star junior the recognition he deserves in the discussion for national player of the year. Oladipo finished with a game-high 21 points on 8-of-12 shooting and also pulled down seven rebounds, but it was his perimeter defense that caused a major disruption for Michigan State. Oladipo tied a career-high with six steals which helped Indiana get out for some easy baskets in transition. "The explosiveness they showed the first five minutes was phenomenal," Michigan State coach Tom Izzo said. "You have to love the way Oladipo competes." From an under recruited freshman to a player of the year candidate, Oladipo's ascent is one of the better stories in all of college basketball this season.
· Cody Zeller came through when Indiana needed him most: For most of the afternoon, Michigan State's size and athleticism around the basket kept Cody Zeller from finding easy looks. But as we've seen with Zeller throughout his career at IU to-date, he doesn't necessarily need to score from the field to make a positive impact. When his looks weren't going down early, he still made his way to the free throw line and hit 5-of-6 attempts. He also tied a team-high with seven rebounds. After hitting just one of his first six field goal attempts, Zeller caught a pass near the top of the key, drove left and hit a layup over Derrick Nix with 1:38 remaining to push Indiana's lead to four at 74-70. He capped off the afternoon by taking a charge on Adreian Payne with 14 seconds to go that sealed the win. "It was winning time and Cody answered the bell," Indiana coach Tom Crean said. "To get that charge and then get that drive and make that play in the heat of the game, that's where his mental toughness is."
· Indiana dictated the pace: It was no secret that Michigan State wanted to avoid a track meet with Indiana, one of the nation's most effective transition teams. Not only did the Hoosiers dictate the pace (71 possessions), they wore down Michigan State. Several Spartans, including Payne, looked fatigued throughout the game and it showed in the closing minutes when Michigan State needed to make a play. After a Gary Harris dunk with 3:32 to play, Michigan State didn't score the rest of the way. "Down the stretch, we were really sucking air and that caused us not to jam or step up or switch," Izzo said. "Indiana's a good basketball team though. I still think top-to-bottom they're the best team because of depth."
· Better bench play: It wasn't the production we saw in some of IU's blowout wins in the non-conference, but the bench is slowly starting to regain some of its effectiveness after a slow start in Big Ten play. The standout on Sunday was Will Sheehey, who scored 12 points in a win over Penn State and followed it up with eight more on 3-of-4 shooting. Remy Abell only played six minutes, but was effective offensively in his brief stint with four points on 2-of-2 shooting. Abell's second basket, a layup at the 10:19 mark, pushed the IU lead back to five after a Gary Harris 3-pointer. The Hoosiers probably need another guy to step forward from the bench, but better play from Sheehey and Abell helped take some pressure off of the starters.
· Michigan State is a legitimate Big Ten title contender: No, the Spartans didn't walk out of Assembly Hall with a win. But with a 6-2 conference record and the resolve Michigan State exhibited, this is one of the top three teams in the league. Their frontcourt of Nix and Payne is one of the tougher covers in the country and the backcourt probably didn't show its complete potential as Keith Appling was saddled with foul trouble. Still, Michigan State took Indiana almost down to the wire and had a chance to win the game, which is all you can ask for on the road. "It was a high-level game, and they are a great team and that's why it's a great win for us," Crean said.
Filed to: Cody Zeller, Michigan State Spartans, Victor Oladipo