Big Ten Power Rankings: January 28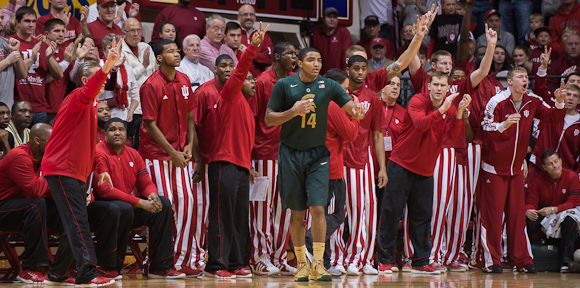 The Inside the Hall Big Ten Power Rankings are back for another week with a few shakeups in the middle of the conference. Among the topics addressed: Illinois' struggles at home, Purdue vs. Minnesota and which team is better and whether or not Michigan State is a contender for the conference crown.

12. Penn State (8-12, 0-8) (LAST WEEK: 12) … No surprise here. Losses to Indiana and Ohio State have the Nittany Lions in the Big Ten cellar for yet another week. Will Penn State win a conference game this season? It has games at Iowa and home against Purdue coming next.
11. Nebraska (11-10, 2-6) (LAST WEEK: 11) … Impressive 64-49 home win for the Cornhuskers over Northwestern on Saturday, but they aren't quite ready to move up in the power rankings. They had a great chance with a struggling Illinois team coming to Lincoln earlier in the week, and the Cornhuskers got dominated on their home floor. That's the definition of inconsistency.
10. Illinois (15-6, 2-5) (LAST WEEK: 10) … The Illini got a road win at Nebraska and hung fairly tough with Michigan for awhile, but the fact of the matter is, Illinois is 1-3 at home in Big Ten play. You have to protect your home court in a conference like this, and the Illini simply haven't done that to this point.
9. Northwestern (12-9, 3-5) (LAST WEEK: 9) … The Wildcats got a nice win against Minnesota at home but then laid an egg in a 15-point loss at Nebraska. Next up: A Wednesday night contest at Michigan.
8. Iowa (13-7, 2-5) (LAST WEEK: 7) … Challenging week for the Hawkeyes with back-to-back road losses at Ohio State and Purdue. They're tough at home, but the Hawkeyes are going to have to learn to win on the road if they want a chance to make the NCAA Tournament.
7. Purdue (11-9, 4-3) (LAST WEEK: 8) … There's no doubt about it: The Boilermakers are getting better. They looked exceptional for a half-plus at Michigan on Thursday, and they pulled out a much-needed home win against Iowa on Sunday. You better believe Matt Painter will have his guys ready to play Indiana on Wednesday night at Mackey Arena.
6. Minnesota (15-5, 3-4) (LAST WEEK: 6) … OK, so the Golden Gophers should probably drop in the rankings after losses to Northwestern and Wisconsin, but I refuse to believe that Purdue is a better team. The Northwestern loss is a head scratcher, but the Gophers looked fairly good at Wisconsin, and they are still a very good team. With home games coming against Nebraska and Iowa, they should right the ship.
5. Wisconsin (14-6, 5-2) (LAST WEEK: 4) … What you can say about the Badgers is this: They get their opponents to play their style. Both of their game's this week were played in the 40s, and the Badgers split them, losing to Michigan State and beating Minnesota. Now they face road tests at Ohio State and Illinois.
4. Ohio State (15-4, 5-2) (LAST WEEK: 5) … It wasn't really a challenging week for the Buckeyes with Penn State and Iowa on the schedule, but they got two wins, and that's not always easy to do in the Big Ten. Ohio State will be tested Tuesday against Wisconsin.
3. Michigan State (17-4, 6-2) (LAST WEEK: 3) … Even though they lost at Assembly Hall, the Spartans showed they are serious contenders for the Big Ten championship. They are incredibly talented, and Tom Izzo has a team that should continue to improve as the season goes along. I certainly wouldn't want to see Michigan State in March.
2. Indiana (18-2, 6-1) (LAST WEEK: 2) … Some seemed to jump off the Indiana bandwagon after a home loss to Wisconsin on Jan. 15, but the Hoosiers are tied for the Big Ten lead after a huge 75-70 victory over Michigan State on Sunday. Indiana still has some kinks to work out, but there is no doubt the Hoosiers will be a contender for the conference crown all the way to the end.
1. Michigan (19-1, 6-1) (LAST WEEK: 1) … Anybody ready for some Michigan-Indiana action yet? These are clearly the two best teams in the conference and, despite Michigan's first-half struggles against Purdue, the Wolverines are the Big Ten's best team at this point. They've got Northwestern at home on Wednesday before Saturday's College GameDay showdown in Bloomington.
Filed to: Big Ten Power Rankings