The Minute After: Michigan State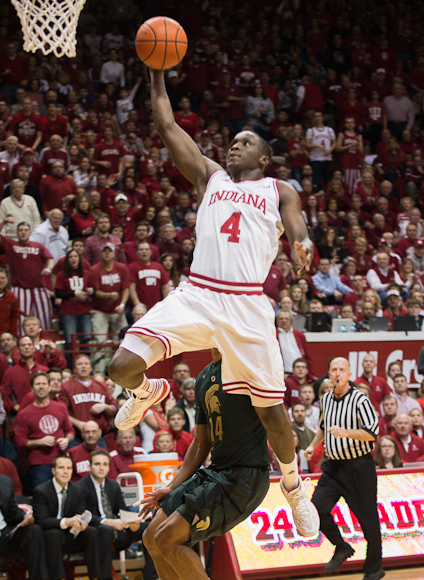 Thoughts on a 75-70 win against the Spartans:
I. Tom Izzo brought the histrionics; Victor Oladipo played his criminal defense; Gary Harris had his smooth stroke going amidst the student section's jeers. So this would be a fun one on a Sunday afternoon in late January where the Spartans and Hoosiers would dig deep for a full 40, neither relenting, neither backing down. Indiana led by six at the break because its offense operated at a high-level: Defense into offense (sixteen points off turnovers, 14 fast-break points), 50 percent shooting from beyond the arc (6-of-12) and high-percentage looks from the paint (18 points). But Michigan State found the cracks to keep within striking distance. It exploited the back line of Indiana's zone for a number of dunks and lobs (16 points in the paint). And Indiana coughed the ball up on 27.2 percent of its first half possessions, which the Spartans turned into 15 points of their own.
On three occasions, the Hoosiers turned the ball over inbounding after a made Michigan State basket. Indiana puts such a premium on immediately grabbing the ball, passing it in and getting up the court — so much so that the inbounder's momentum is often moving with the ball across the baseline as he looks up to pass — that it can be dangerous if a defense is looking for the steal. Twice the Spartans swiped it. A third time Indiana would turn it over as Christian Watford stepped over the baseline, his momentum carrying him forward on a pass to a covered Yogi Ferrell that he held back on. One wonders if Izzo and the Michigan State staff had this one circled on the scouting report. The Spartans were also hitting their 3-pointers (5-of-10), thanks to some inside-out play against Indiana's zone.
And Michigan State would continue to connect from distance in the final 20 minutes, hitting six more for 18 of its 32 points after halftime and ending up with its most makes from distance in a game this season (11-of-23). Harris had four of them. He finished with a game-high 21 points in the face of a student section that gave him hell. The Hoosiers' hot shooting cooled. They hit just 2-of-9 from distance and just 40 percent overall (10-of-25). Their free-throw shooting was also a little suspect (13-of-20, 65 percent) for the game.  So the Spartans, largely without their quarterback in Keith Appling who was saddled with foul trouble all afternoon and fouled out with 5:17 to go, were right where they wanted to be during winning time: within striking distance.
The Spartans trailed by just two (72-70) with 2:13 to go. Then Cody Zeller, who had problems with Michigan State's physicality up front on both ends of the floor at times this afternoon (nine points, seven boards, three fouls), came up big. He blocked a Derrick Nix shot after Nix had made some nice moves around him for scores earlier in the contest. And with the shot clock winding down on Indiana's ensuing possession, he drove from the free-throw line to the rim with his left hand and put it in for two. 74-70 Hoosiers. He would then rebound a missed Harris 3-pointer with 1:10 to go and take a charge on Adreian Payne with 14 seconds left. The Spartans never scored again.
Indiana, for this very moment, now stands at the top of the Big Ten standings (6-1), though a Michigan win this afternoon against the Illini means the Hoosiers will be tied for first with the Wolverines less than a week before their College Gameday showdown inside Assembly Hall this coming Saturday.
February promises to bring more challenge than January's Big Ten slate for the Hoosiers. But, by and large, the tests have been passed and they look to be ready for it.
II. Oladipo was absolutely sensational this afternoon (21 points, seven rebounds, six steals, two blocks) and he continues to cement himself as one of the top wing defenders in the country with a hyper-efficient offensive game to boot (8-of-12). He is always making smart, heady decisions and generally is a player that brings it when it needs to be brought. Oladipo set the tone early with a strip of Branden Dawson followed by a dunk on the first possession of the game. According to Crean, Oladipo had 15 deflections in the first half, the most ever charted for a player of his in one half. His six steals were a career-high.
Filed to: Michigan State Spartans, Victor Oladipo