Hoosiers ready for physical game with No. 13 Michigan State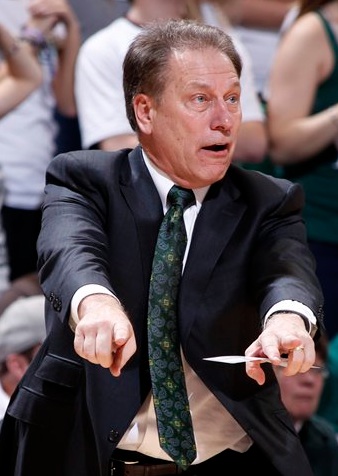 After last season, you figured maybe Michigan State would take a step back in the Big Ten. The Spartans lost the heart and soul of their team in Draymond Green, a guy who tortured Big Ten teams and fans for four years.
But here come the Spartans, sitting atop the conference rankings with a 6-1 league record and a No. 13 ranking as they prepare to enter Assembly Hall for Sunday afternoon's showdown with No. 7 Indiana. On paper, it's the same old competitive Michigan State team.
"I'm used to the Tom Izzo that's gloom and doom and 'the sky is falling' and he's only happy when he's miserable," Indiana coach Tom Crean said Saturday. "And reading some of the comments coming out of Michigan, those guys are really excited to play. That's nerve-wracking."
Green is gone, but almost everyone else is back, including explosive point guard Keith Appling. The 6-foot-1 Appling nearly single-handedly beat the Hoosiers (17-2, 5-1) in the teams' first meeting a year ago in East Lansing, going for a season-high 25 points, seven assists and six rebounds.
In his only career game at Assembly Hall, though, Appling scored only six points on 2-of-6 shooting.
"He's the guy who beat us a year ago," Crean said. "He's tremendous. He can turn it on at any point in time. He's excellent in transition, he wants to get to the foul line for his pull-up jumper. He's delivering the ball, he's getting to the rim, he's just creating a lot of havoc."
Added senior guard Jordan Hulls: "Lot better shooter. He's added that to his game and he's very explosive in transition, just getting to the rim or pulling up. We know we have to try and contain him."
The problem for Indiana is, Appling is not the Spartans' only weapon. Not even close. He's joined in the backcourt by Indiana native and 2012 Indiana Mr. Basketball, Gary Harris, who is averaging 12.3 points per game in his freshman campaign. He's also shooting nearly 39 percent from 3-point range.
"He's very athletic, likes to get to the rim," Hulls said. "We just have to do a good job of keeping him outside and not letting him get penetration. He's a very capable 3-point shooter and he can play different areas on the floor. You just have to be aware of him."
The backcourt matchup should be interesting considering the Hoosiers usually start Hulls and Yogi Ferrell, two guys right around 6-foot. Either Appling or Harris is going to be a difficult matchup for Hulls, so whoever he guards could dictate who Michigan State (17-3, 6-1) runs its offense around.
But while people like to focus on Michigan State's backcourt, this game very well could be decided by which team wins the battle of the front lines. The Spartans are exceptionally big inside — they start Branden Dawson (6-foot-6, 230 pounds), Adreian Payne (6-foot-10, 240 pounds) and Derrick Nix (6-foot-9, 270 pounds).
"We just have to do our work early on em, make catches tough and try to deny them as much as possible," senior forward Christian Watford said. "Just make everything difficult for them."
The Spartans often force their opponent to match up with them on the interior, but they could also have a real problem matching up with Indiana's front line of Victor Oladipo, Watford and Cody Zeller. All three have the ability to play on the perimeter, which could force the Michigan State bigs to move away from the basket.
"We just gotta get movement," Watford said. "I think our offense is designed with movement, and once we get out, we plan to wear them down a little bit."
The Spartans certainly plan to play very physical, especially with Zeller. Nix and Payne effectively roughed Zeller up a little bit in his first career Big Ten game last year, and that will likely again be Izzo's goal.
"That game was really his indoctrination into physical, high-level basketball, and I think he handled it really well," Crean said. "It's gonna be that kind of week. The key for him is movement and spacing. It's up to us to put him in some different situations, but it's up to him to be very aggressive and just keep building on what he's doing."
Notes
· More games, less practice: With many games upcoming for the Hoosiers in a relatively short period of time, Crean has started to shorten the team's daily practice times. He said he did the same thing in February last season, but has started to do it even earlier this year in an effort to keep his team fresh.
· Free-throw issues: Points at the foul line have not always come free for Indiana this season. The Hoosiers have struggled from the line at various times, including their last game against Penn State in which they made just 21-of-37 attempts.
"I think there's times we get undisciplined with our technique," Crean said." That's what it is. To me, that's really all it is. It seems like it's contagious and sometimes it is. Sometimes we've gotten undisciplined and lazy in our technique, and that's what we've worked to correct. I'd be way more concerned if we weren't getting the attempts, but we are."
Crean on Michigan State:
"Gary Harris is playing like a true veteran. He seems to have an excellent understanding of it. Dawson seems to be very healthy and can just be a dominating factor on the boards. Adreian Payne is as improved as anybody in our league. We have some guys that would be up for that award too, there's no doubt about that, but so would Adreian Payne. He's tremendous. The second half he had against Penn State, I could just only hope everything goes well over in that hotel tonight and that he doesn't get that fire lit under him (joking). And Derrick Nix is a mainstay."
"This still to me is maybe the most complete team. Some maybe have better guards, some have better this. They have depth, guards, bigs, well coached, tough place to play. I still think this might be definitely one of the best teams in the league, no question about it.
"What Tom has done is he's kind of taken the approach we did. Now those freshman and sophomores that got their brains beat in, are juniors and seniors and they added one freshman in with it. But it's a pretty experienced team. He's got a lot of guys that have started a lot of games. Their bench is very deep, although it hasn't been as productive lately, but still very deep. He's got guys that started last year that aren't even playing right now."
Filed to: Christian Watford, Jordan Hulls, Michigan State Spartans, Tom Crean