What to Expect: Michigan State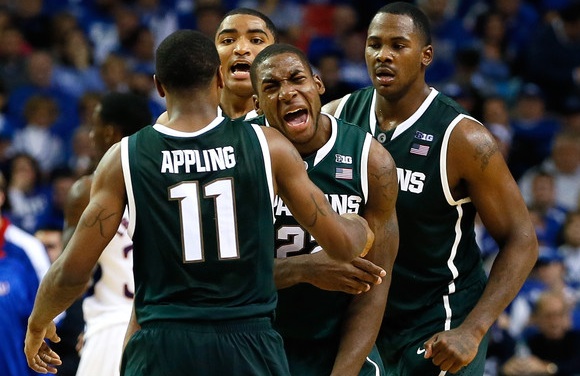 (Photo credit: Kevin C. Cox/Getty Images)

After starting the Big Ten schedule with a 5-1 mark, Indiana continues conference play on Sunday at Assembly Hall against No. 13 Michigan State. The Spartans (17-3, 6-1) have won five straight games, including a 49-47 win at Wisconsin on Jan. 22.

The game will be broadcast on CBS at 1 p.m with Kevin Harlan and Greg Anthony on the call.

While most of the national chatter centers around Indiana and Michigan as the favorites to win the Big Ten, Tom Izzo and the Michigan State Spartans arrive in Bloomington for a Sunday matinee with sole possession of first place in the conference.

The departure of Draymond Green, last year's Big Ten player of the year and now a member of the Golden State Warriors, was a difficult loss for the Spartans, but as we've seen for more than a decade now, Izzo has his program right back in contention. Michigan State owns perhaps the most impressive non-conference win in all of college basketball this season over Kansas and has shown a penchant for winning close games as of late. Their last five wins have all come by less than ten points.

PERSONNEL

Like many of the Michigan State teams we've seen over Izzo's tenure in East Lansing, this group of Spartans is built with a strong footprint on defense. It starts in the backcourt with Keith Appling, the junior point guard who was recently added as a captain and was called "RG3 reincarnated" by Izzo. Quarterback comparisons aside, Appling, a former McDonald's All-American, has emerged as this team's leader on the floor. While not particularly efficient as a scorer — 46.4 percent on twos and 31.7 percent on threes — Appling gets to the foul line at a high rate (5.2 attempts per game) and boasts a healthy assist rate of 25.6 percent, good for ninth in the Big Ten. He's also one of the more disruptive perimeter defenders in the conference with the ability to disrupt ball-handlers and create turnovers.

Joining in Appling in the backcourt is Gary Harris, a one-time recruiting target for Indiana and also the state's Mr. Basketball last season. Harris has been slowed down by a pair of shoulder injuries, but is still putting together a solid freshman campaign. He's second on the roster in scoring behind Appling at 12.3 points per game. The Hamilton Southeastern product is connecting on close to 39 percent of his threes and has the lowest turnover rate among Spartans regulars. As IU fans are familiar with, Harris is an explosive athlete who can get into the lane and thanks to a very good football career as a wide receiver in high school, he arrived in East Lansing with a Big Ten ready physique.

Two other backcourt regulars with potential to make an impact are freshman Denzel Valentine and sophomore Travis Trice. Valentine has started 15 of 20 games, but recently began coming off the bench. The 6-foot-5 Valentine has nearly identical assist and steal rate numbers to Appling and isn't much of a threat to score. Trice is more of a 3-point specialist and his success from distance (nearly 42 percent) suggests he should be marked at all times.

Even with Green moving on to a reserve role with the Warriors, Michigan State's frontcourt prowess is among the league's best. Branden Dawson, who suffered a torn ACL near the end of his freshman season, has fully recovered and is making his presence felt as an athletic wing who can score around the basket and off of offensive rebounds. Dawson's offensive rebounding percentage ranks 10th among Big Ten players.

Senior Derrick Nix is a back to the basket scoring threat who does a tremendous job getting to the line and also is a big reason that Michigan State is one of the better defensive rebounding teams in the country. Nix's free throw rate of 61.2 is a team-best and he's connecting on close to 72 percent of his attempts, nearly a 20 percent improvement over a season ago.

Junior Adreian Payne, the best shot blocker of the group, is also the Big Ten's most effective defensive rebounder (25.8 DR%). Payne is long and athletic and getting him into foul trouble in last season's meeting in Bloomington was a major plus for IU. It'll be interesting to see how IU defends Payne and Nix with Cody Zeller and Christian Watford. Little used sophomore Alex Gauna or freshman Matt Costello could also be thrust into action if foul trouble arises for Payne or Nix.

POMEROY PREVIEW

As solid as Michigan State is defensively, to this point, Indiana has been better. In Big Ten play, the Spartans have surrendered .94 points per possession in league play compared to .938 for the Hoosiers. Small gap, but still, it shows just how far Indiana has come defensively this year. This is no longer just an elite offense, it's a well-balanced group that can play on both ends of the floor.
Free throws have to be a major concern for Izzo entering Sunday's game. Indiana has only connected on 67.6 of its attempts in Big Ten play, but no team is getting to the line at a higher rate (59.7 percent free throw rate in league play). At some point, it stands to reason that IU will start knocking its free throws down at a higher rate.
Finally, can Michigan State either 1) slow down Indiana down enough to make it a halfcourt game or 2) score enough to keep up if they try to run? Option one is far more logical as the Spartans have been successful in grinding out wins against the likes of Wisconsin and Ohio State.
WHAT IT COMES DOWN TO
Pomeroy's numbers like Indiana by a final score of 83-73, giving the Hoosiers an 83% chance of a sixth Big Ten win. This is an important game for the Hoosiers to get at home because of the implications it could have in the conference title race. Indiana can't afford another slip up at home in league play with road games still looming at Michigan State, Minnesota, Michigan, Illinois and Purdue.
While Zeller's impact offensively against Penn State isn't what we've grown accustomed to seeing, Sunday's matchups show that he has a chance to substantially impact the game. Neither Nix nor Payne run the floor particularly well and in last year's game in Bloomington, Zeller quickly put Payne on the bench with foul trouble. Look for Indiana to attempt to establish both Zeller and Watford early with the hopes of getting to the line and then softening up the Spartans on the perimeter.
For Michigan State, if the Spartans can't at least somewhat control the pace and grind out some baskets late in possessions to demoralize IU's defense, it's tough to see them succeed in an environment of trading baskets. Simply put, Indiana is clearly the superior offense of the two and at home, the crowd stands to play a major role in favor of the Hoosiers.
Filed to: Michigan State Spartans