The Minute After: Penn State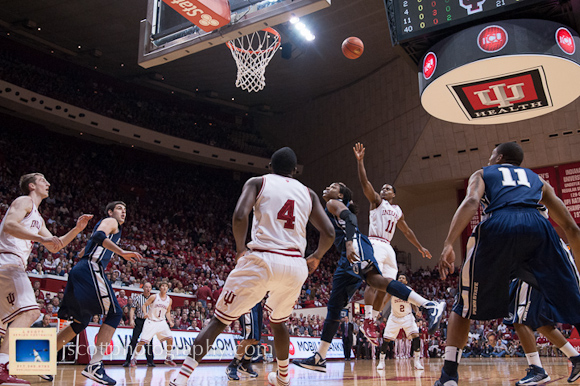 Thoughts on a 72-49 win over the Nittany Lions:
I. When Indiana is making 3-pointers like it did on Wednesday night, few teams in the country, if any, are beating the Hoosiers. Especially at Assembly Hall. After connecting on 5-of-12 attempts from distance in the first half, Indiana came out firing on all cylinders in the second half. The Hoosiers hit their first six 3-point attempts and hit eight in a row in total if you go back to the first half.
The perimeter barrage came from a variety of sources. Will Sheehey was back in mid-season form. The junior from Stuart, Fla., led IU with eight first-half points. And after his first few looks went in, Sheehey looked like the guy capable of carrying this team in stretches with his scoring and energy off the bench.
Yogi Ferrell knocked in a few in what was perhaps his best shooting display this season. He finished with a career-high 15 points. Victor Oladipo and Jordan Hulls were on target, too. Oladipo's improved perimeter game continues to blossom and he's now shooting 55.1 percent on threes this season. He finished with a game-high 19 points, six rebounds and five assists.
II. The defense was another storyline worth noting. Penn State, fresh off of totals of 71 in a loss to Michigan State and 64 in a loss to Nebraska, could only muster up 49 points against a defense that was ranked in the top 20 nationally in terms of efficiency entering the game. As the Big Ten schedule moves along and the Hoosiers enter a brutal stretch of games in February, defense is going to have to be the calling card, particularly on the road.
In total, the Nittany Lions shot 17-of-50 from the field and Indiana never really allowed them to establish any flow or momentum. After an 8-of-27 first-half shooting performance by Penn State, the Hoosiers kept the intensity dialed up for the second half and finished the game strong, which hasn't always been the case in recent games. With a major battle looming Sunday at Assembly Hall with the Spartans, it was important for Indiana to put together a solid 40 minutes. For the most part, that happened.
III. Other observations:
· The bench: A better night overall than we've seen of late for Indiana's bench. Maurice Creek returned from a foot injury and while he didn't contribute much offensively, he's back and could give this team a lift as a spot up shooter. Hanner Mosquera-Perea had an impressive first-half block, but is still a work in progress in the halfcourt game. Still no Derek Elston, who again sat out with a nagging knee injury. Sheehey, who we already mentioned, put together a performance that IU fans grew accustomed to seeing during the non-conference portion of the schedule. Remy Abell, however, continues to struggle and finished with two points and three turnovers.
· Guests inside the hall: Jack and Jackie Harbaugh, the mother and father of Tom Crean's wife Joani, Ravens coach John Harbaugh and 49ers coach Jim Harbaugh were in attendance, as was former St. Louis Cardinals manager Tony LaRussa. Also in the house: A pair of 2014 recruiting targets in Park Tudor wing Trevon Bluiett and JaQuan Lyle.
Filed to: Penn State Nittany Lions