March Watch: A No. 2 seed for Indiana?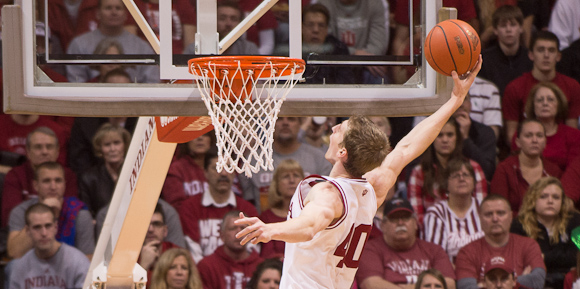 Selection Sunday is a little more than seven weeks away and Indiana is nearly one-third of the way through the Big Ten slate, so it's time for another edition of March Watch, a look at where the Hoosiers stand in terms of the NCAA Tournament.
Overview
Indiana's overall resume is quite strong with a 16-2 record and 4-1 mark in the Big Ten, the nation's toughest conference. The surprising home loss to Wisconsin probably knocked them down two to three spots on Joe Lunardi's s-curve. As of Monday morning, the ESPN bracketologist has IU at No. 7 on his s-curve. In our last update, IU was No. 6 with Lunardi.
Nitty Gritty Profile
· Record: 16-2 (4-1 Big Ten)
· RPI: 14
· SOS: 21
· Home Record: 11-1
· Away Record: 3-0
· Neutral Court Record: 2-1
· vs. RPI Top 50: 3-1
· vs. RPI Top 51-100: 3-1
As the Big Ten season continues to move along, Indiana's tournament profile should continue to gain strength in a couple of key areas. In our update 13 days ago, IU's strength of schedule was 43. It's now up to 21 and on the rise with a backloaded conference schedule. The RPI number is also up two spots.
Still, when looking at resumes for seeding purposes at this point in time, it's impossible to ignore that 10 of IU's wins are over teams outside of the RPI top 100.
Bracket Projections
· ESPN Bracketology (Joe Lunardi): 2 seed (South) vs. Long Beach State in Lexington
· CBS Sports (Jerry Palm): 2 seed (South) vs. College of Charleston in Lexington
· Sports Illustrated (Andy Glockner): 3 seed (Midwest) vs. Stephen F. Austin in Dayton
Two of the three brackets we track have IU as a No. 2 seed with Andy Glockner of SI with the Hoosiers as a No. 3. However, Glockner's placement of the Hoosiers may be the most favorable as he placed them in the Midwest region which plays through Indianapolis. The South region is in Arlington, Texas, which is obviously favorable for Indiana fans to travel. What's interesting is that the Bracket Matrix, which aggregates just about every projection available on the Web, has the Hoosiers as the last No. 2 seed. Crashing the Dance, which uses a seeding model similar to the selection committee, has IU as the top No. 3 seed.
Tournament Sites
· First round: Dayton
· Second, third round: Auburn Hills, Austin, Dayton, Kansas City, Lexington, Philadelphia, Salt Lake City, San Jose
· Regional: Arlington, Indianapolis, Los Angeles, Washington D.C.
· Final Four: Atlanta
Filed to: NCAA Tournament