Vonleh takes on nation's top player on ESPN showcase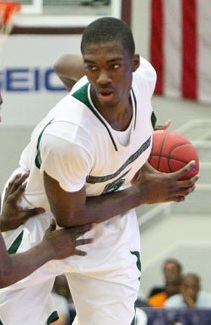 It wasn't quite the showing 2013 Indiana commit Noah Vonleh had hoped for against the nation's top player in Andrew Wiggins, but even so, he showed plenty of signs of the player he can eventually be on Sunday evening.
Vonleh fouled out in only 16 minutes of action in New Hampton's 56-47 loss to Huntington Prep (West Virginia) at the Spalding Hoop Hall Classic in Springfield, Massachusetts.
The 6-foot-8 Vonleh finished with nine points on 3-of-9 shooting, five rebounds, one steal, one assist and one turnover in the contest.
Even though Vonleh's minutes were limited due to several questionable early foul calls, it was evident from the outset that nerves were a bit of a factor for Vonleh. He forced a few shots early on, missing three consecutive field-goal attempts without hitting the rim in the first half. Vonleh even airballed a 3-pointer that never got anywhere near the rim.
But once Vonleh got comfortable, he did some positive things on the offensive end.
He got on the board with a 3-pointer from the right wing early in the second quarter and made a nice post move on Wiggins for an and-one just over a minute later. He pump faked, got Wiggins up in the air, and drew the foul.
Vonleh then picked up his third foul just before the half and was never able to be nearly as aggressive. He drilled a deep 3-pointer with 5:09 to go in the game to bring New Hampton within two points, but he missed his final shot attempt and fouled out shortly thereafter.
On the defensive end, Vonleh started out on Wiggins, the 6-foot-7 forward who remains unsigned. The officials didn't give Vonleh much of a fair opportunity to guard the nation's top-rated recruit, though, calling what appeared to be two bogus fouls on him early. On the first, the official bailed out Wiggins on a poor 3-point shot attempt with the shot clock winding down. Wiggins went to the floor, but Vonleh didn't appear to touch him.
The way in which the game was called undoubtedly influenced Vonleh's production, but he wasn't exactly a disappointment on the big stage. While nerves were a factor early and foul trouble was an issue throughout, Vonleh still showed enough to validate his top-10 national ranking.
(Photo credit: Lonnie Webb/MaxPreps)
Filed to: Noah Vonleh