Recruiting Notebook: Exum recaps Indiana visit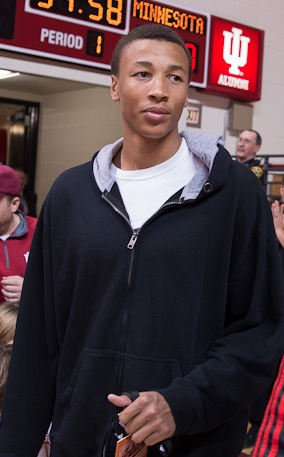 2014 Australian five-star guard Dante Exum, who visited Bloomington last weekend on his first official visit, talked to Inside the Hall earlier in the week about his trip.
"The facilities are great and Assembly Hall on Saturday was on another level," Exum said. "I have never seen anything like it before and enjoyed it very much."
Exum, who is now drawing interest from Louisville, Kentucky and Ohio State, said he has no timetable for additional visits or for when he might make a decision.
"It will be decided after my U19 World Championship commitments in July [for Australia] when I can take my other visits, because that would be the best time in my schedule to visit," he said.
Indiana watches Richardson again
Tom Crean and assistant coach and recruiting coordinator Kenny Johnson traveled to Roselle, New Jersey on Thursday night for another look at 2015 wing Malachi Richardson.
The Hoosiers offered the 6-foot-6, 175-pound Richardson in December and last night, he scored eight points, grabbed eight rebounds and dished out five assists in Roselle Catholic's 55-53 win over Linden.
Richardson, who is considered one of the best shooters nationally in the 2015 class, said recently he's hoping to visit Bloomington soon. The Hoosiers are believed to be one of Richardson's top schools.
"They were always high on his list when he transferred to my school," Roselle Catholic coach Dave Boff told Inside the Hall in December. "He's pretty in touch with what Indiana's program is all about. I know he spent some time talking to Coach [Crean] over the past few weeks, so I think he has a pretty feel for what Indiana is doing out there and the things that are happening with the program."
McDonald's All-American nominees
Four of Indiana's six 2013 signees were announced as nominees for the 2013 McDonald's All-American game on Wednesday.
Luke Fischer, Noah Vonleh, Stanford Robinson and Troy Williams were among the list of more than 800 nominated players from around the country.
Collin Hartman and Devin Davis were not nominated as Clay Yeo, Bryson Scott, Demetrius Jackson, V.J. Beachem, Zak Irvin, Torren Jones, and Tony Willis made the cut for the state of Indiana.
The McDonald's game, the most prestigious high school All-American game, is April 3 at the United Center in Chicago. Rosters will be announced on Feb. 14 at 5 p.m. on an ESPNU special.
The complete list of nominees can be accessed here.
Morgan visit pushed back
2014 St. Frances Academy (Md.) forward Dwayne Morgan will not be making an official visit to Bloomington for IU's College GameDay appearance against Michigan, according to his AAU coach Dwayne Wise.
Morgan was scheduled to take his first official visit to UNLV on Jan. 12, but St. Frances was invited to play in the Brandon Jennings Invitational in Milwaukee that weekend, forcing Morgan to push his UNLV visit back to Feb. 9.
Wise told Inside the Hall that Indiana will still be Morgan's second visit, and it will likely take place "in the third week of February or somewhere around there."
Filed to: Dante Exum, Dwayne Morgan, Malachi Richardson