Wisconsin loss is alarming, but no reason to overreact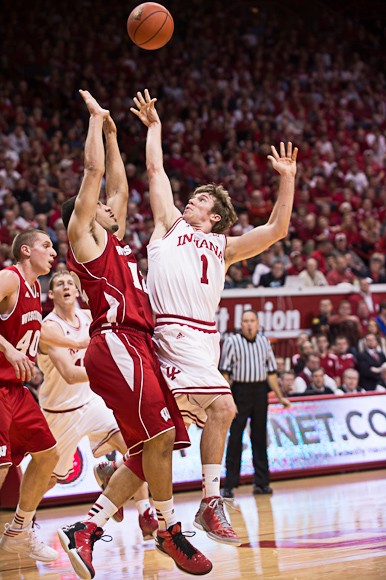 Let's begin with what matters the most: This is not the end of the world.
There will undoubtedly be people that overreact to No. 2 Indiana's 64-59 home loss to Wisconsin on Tuesday night. It was an unranked Wisconsin team, after all, and the Hoosiers were playing at home. This isn't the same Indiana team that had lost 10 consecutive games to the Badgers. This team was supposed to be different.
But when the Hoosiers wake up this morning, they will still be an incredibly talented team. They will still have a good shot to win a Big Ten title and make a run in March's NCAA Tournament. This mid-January loss doesn't change any of that.
What it does do, though, is raise a number of critical issues with this team. If the Hoosiers are to make a run and play like a top-five team, they must correct most, if not all, of these issues, and quickly.
One: Indiana must learn to play in the half court. This is not the Hoosiers' preference, of course, considering their roster is made up of athletic, high-flyers who love to get up and down the floor and get easy baskets. How many times have we heard this season that their defense feeds their offense?
Well, they didn't have that option on Tuesday night. Wisconsin (13-4, 4-0) slowed the pace, refused to allow the Hoosiers (15-2, 3-1) to run, and forced them to run half-court sets and score that way. Indiana struggled to do so.
"We didn't make shots like we normally do, and it affected us," said Indiana coach Tom Crean. "We weren't moving the ball like we should have, like we do. I think when we see the film, it's not as much them as it was us. We missed shots, especially the open ones. You've got to shoot the ball well against Wisconsin. When teams play well against them, they shoot the ball well against them. And we didn't."
Look, Crean is a great recruiter, a great motivator, and a very good coach. But his teams sometimes struggle in the half court, and that was again the case against Wisconsin. The offense gets stagnant, the Hoosiers rely on screening more than legitimate set plays, and they really struggle. Adjustments just didn't seem to be there in the second half.
Now the good thing for the Hoosiers is that they won't play many teams like Wisconsin. Most teams on their schedule are either more willing to run with them or less able to keep them from running. Either way, those matchups favor the Hoosiers much more than this one did.
Two: Will Sheehey and the bench must do something. That's something many didn't expect would be a problem when this season began, but it has been lately. The Hoosiers aren't as deep as Crean expected them to be — Hanner Mosquera-Perea is virtually unplayable at this point in his development — and they aren't getting the kind of production they need from their experienced bench players.
That means Sheehey and Remy Abell, who did so many good things during the non-conference season. In the last two games, though, both have vanished. The two have combined for just one point on 0-of-12 shooting against Minnesota and Wisconsin. Sheehey's struggles have been particularly troubling considering he had scored in double figures in eight of his last 10 games entering this two-game stretch.
"I'm not as concerned about the lack of offense from the bench," Crean said. "I'm concerned about the lack of creating pace of the game with deflections, defense. You need guys to come in and make plays.
"We've got to have more talk and more energy from Remy. And Will's got to get more involved. Will's an active, engaged player. Will's the last guy we need when the shot's not going for him to not be at the same place defensively. He's got to be way better than that."
Three: This team has to find its clutch gene. Yes, I know that's a Skip Bayless term and it hurts me to use it, but it is perfect for this situation. As Wisconsin hit tough shots down the stretch and Indiana wasted key possessions, it just became so clear: the Hoosiers aren't there yet.
They don't have that clutch gene. They don't have that go-to guy that can consistently provide a huge basket in a key situation. When Indiana needed to score late, it didn't know who to go to. Jordan Hulls had a bad night. Cody Zeller didn't make a field goal in the second half. Christian Watford missed a shot off the side of the backboard.
Wisconsin has been there time and again, especially against the Hoosiers. Their less-talented players know what it takes to win at the end of close games. Indiana doesn't yet, but that is something that will come in time. It's something that will come from playing in more close games.
There are concerns with this team, there's no doubt about it. Maybe this team's a bit overrated at No. 2. But if you're an Indiana fan, this is not the time to overreact. Tuesday's loss to Wisconsin was a bit alarming, sure. But at the same time, the Badgers have had Indiana's number during Crean's tenure.
This loss isn't any more significant than just that — one loss. If these issues continue to be a problem for multiple games going forward, well, that's a different story entirely.
Filed to: Bo Ryan, Tom Crean, Wisconsin Badgers