What to Expect: Wisconsin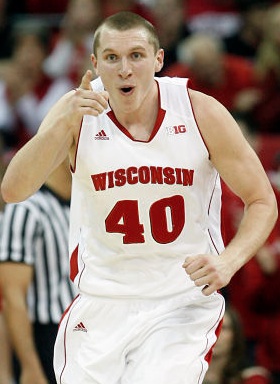 Outright first place in the Big Ten will be on the line tonight in Assembly Hall as No. 2 Indiana hosts Wisconsin. The Badgers have won 10 in a row against the Hoosiers, including four in a row in Bloomington. 
The game will be broadcast on ESPN at 9 p.m. with Mike Tirico and Dan Dakich on the call.
2,176 days. That's how long it's been since Indiana last beat Wisconsin. The Badgers have completely dominated the series of late, dating back to Kelvin Sampson's second (and final) season when Brian Butch banked in a 3-pointer to lift Wisconsin past IU.
Indiana hopes to reverse the recent string of hard luck, and get a lead on the rest of the Big Ten pack, later tonight as Bo Ryan and Wisconsin come to Bloomington. The Badgers have won six straight, including three Big Ten games, but two of those wins are over Penn State and Nebraska. The lack of a true test thus far has Wisconsin scoring 1.03 points per possession in league play while only giving up 0.82 per possession, good for a 0.21 efficiency margin. That figure ranks second in conference play behind Michigan. Tonight's game should also be an interesting chess match in terms of pace as Wisconsin is averaging just 58.5 possessions in Big Ten play compared to 72.2 for the Hoosiers.
PERSONNEL
Jordan Taylor graduated and moved on to a professional career in Italy, but Ryan returns plenty of experience from a group that advanced to the Sweet 16. The centerpiece is big man Jared Berggren, who has improved steadily over his career and is having his best season thus far. Berggren leads the team in scoring at 13.4 points per game, is second in rebounding at 6.4 per contest (11.6 OR%) and has a team-high 33 blocks. He's also being whistled for just 1.5 fouls per 40 minutes and his effective field goal percentage of 59.3 is in the top 100 nationally.
Ryan Evans also returns and despite being undersized at 6-foot-6, he's one of the Big Ten's best rebounders. The senior is averaging a team-best 7.8 rebounds and is third in the conference in defensive rebounding percentage. Evans is the second of three Badgers in double figures at 11.4 points per game, but is shooting a woeful 38 percent from the free throw line in 76 attempts. Mike Bruesewitz also returns in the Wisconsin front court and does a little bit of everything. Bruesewitz is shooting close to 67 percent on twos and is also effective on the defensive glass (16.4 DR%).
The new dimension on the wing for Wisconsin is freshman Sam Dekker, who has started three games, a bit of a rarity in Madison and is coming off Big Ten freshman of the week honors. He's the team's most accurate 3-point shooter at 41.8 percent, but Ryan would probably like to see a better rebounding presence out of Dekker, who is pulling down just 3.5 per game. Reserve Frank Kaminsky, a 6-foot-11 sophomore, will likely see some time when Berggren takes a break.
With Taylor gone and Josh Gasser out for the season with a torn ACL, Wisconsin's guard play is still very much a work in progress. Ben Brust is the team's third leading scorer (11.1) and rebounder (6.3). Brust has connected on a team-high 34 shots from beyond the 3-point line and figures to draw the assignment from Victor Oladipo. George Marshall, who many had pegged as the fill-in for Taylor, has been a bit of a disappointment and has given way to Traevon Jackson, the son of former Ohio State guard and BTN announcer Jim Jackson.
Jackson boasts a team-high 3.4 steal percentage, but also has 26 turnovers which is a high figure when you consider the pace Wisconsin plays at. Marshall's value has been primarily as a 3-point shooter, where he's connected on 22 of 53 attempts. Zak Showalter, a freshman walk-on and former high school teammate of Luke Fischer, has played in 14 of the team's 16 games and provides backup minutes where necessary.
POMEROY PREVIEW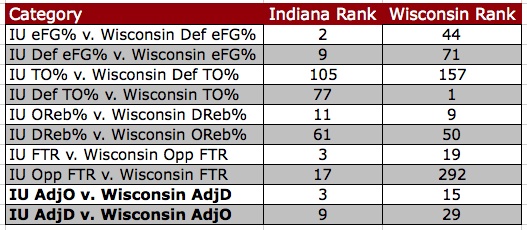 The aforementioned differential in pace will be the most interesting thing to watch as Wisconsin's livelihood in this game totally depends on controlling the tempo. If the Badgers can't make this into a half court game, they're unlikely to keep within striking distance.
Wisconsin's strengths lie in being able to defend in the half court and not turn the ball over (14.2 turnover percentage, first in the country). The Badgers are a slightly above average 3-point shooting team (35.3 percent), but they lack the arsenal of weapons to keep up with Indiana offensively if the Hoosiers are operating at anywhere close to their norm. The key for Indiana will be staying patient defensively as Wisconsin attempts to melt the shot clock and suck the energy out of the building by making shots late in possessions.
WHAT IT COMES DOWN TO
Both Vegas and Pomeroy like Indiana to win by double figures and that's probably a fair assessment, at least on paper, given the Assembly Hall advantage and the personnel for both clubs. If the Hoosiers are able to build a lead and dictate pace early on, Wisconsin will be forced to play out of its comfort zone and deviate from the game plan that leads to outcomes like winning 47-41 at Nebraska.
Second chance points will likely be at a premium as Berggren, Evans and Brust are all very effective on the defensive glass, which makes it important for IU to make shots early and put some pressure on Wisconsin. Ultimately, if the Hoosiers are making shots from the perimeter, they're capable of destroying a top 15 defense (see Minnesota coming into Saturday's game). We should learn even more about how far this group has come defensively as guarding Wisconsin requires discipline and patience that few other teams can command.
Filed to: Wisconsin Badgers