Notes on Creek/Elston injuries, Crean on Wisconsin, more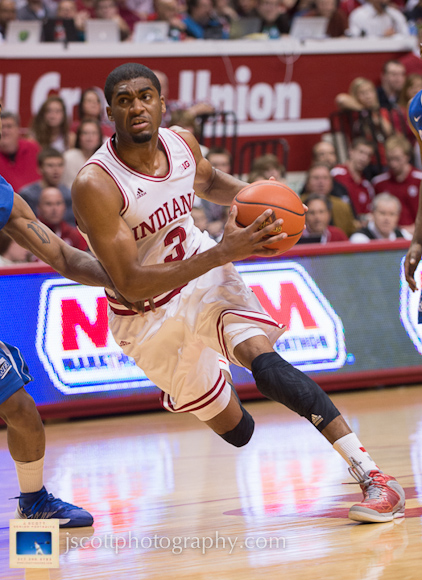 There were a few different media availability opportunities involving Indiana on Monday, including the Big Ten teleconference, availability with assistant coach Tim Buckley and a couple players, and Tom Crean's weekly radio show. Here are some of the highlights.
· Injury updates: There really weren't any, at least as far as they concern Maurice Creek and Derek Elston. Crean said on his radio show that both are practicing and Creek has participated in more 5-on-0 drills, but there is still not timetable for his return from a foot injury. Elston was expected to be ready to play Saturday against Minnesota, but he never entered the game and Crean has kind of been vague when talking about him. It's unclear whether Elston is sitting out due to a lingering injury or because of performance-based concerns.
· How bad was Indiana's second half on Saturday?: Not very, if you're asking Crean.
"We didn't play as bad as we were led to believe in the second half," Crean said on his radio show.
Crean did admit he was disappointed in the team's lack of focus in the final 20 minutes against the Golden Gophers, but he didn't think his team played that poor of a half. Maybe that's true and a lot of the credit should be given to Minnesota, but the Hoosiers did have 11 turnovers and made a ton of mistakes they don't normally make.
· Crean talks reasoning behind zone: If you haven't noticed, Indiana has played quite a bit of zone defense during its first three conference games. That's something we didn't see a ton during the non-conference schedule, but Crean has been mixing defenses much more lately. Here's his reasoning behind it:
"It really doesn't have anything to do with fatigue … some of it's through scouting," Crean said on his radio show. Some of it's through what we want to do on certain plays. And some of it's through the feel of the game."
· Respect for Wisconsin: It's the only Big Ten team Crean hasn't beaten during his tenure at Indiana, so he has good reason to respect the Badgers. He spoke very highly of Wisconsin during Monday's Big Ten teleconference.
"We're not surprised as well as they're playing," he said. "I think people forget that when they had a few struggles, Mike Bruesewitz wasn't in. He is just an absolute energy source of their team. There's no doubt about it. He's one of the more active, hard-working, aggressive players not only in the league, but in the country.
"[Josh] Gasser was going to be a tremendous, tremendous point guard for them this year, but obviously it has taken them a little time with him out to get acclimated, but they have. [Traevon] Jackson is playing at an extremely high level.
"I think [Jared] Berggren is a pro center. A guy like that who can score in the post the way he can, can move his feet, can shoot the ball the way that he does, we feel that we've got a really tough matchup there. And Ryan Evans is a little bit like Trevor Mbakwe."
· Oladipo … off the court: We posted extensive comments from Crean on Victor Oladipo in the forum, and a lot of it is really good stuff. Like this:
"The more you get to know him, the personality, the charisma, things like that come out pretty quick when you're just getting to know him," Crean said on the Big Ten teleconference. "But when you really see the depth of him and you see what he's capable of and you're around him on a day-to-day basis … I'm inspired by him. I get energy from him. If I can notice it, I think a lot of other people can, too."
· Cody Zeller wins Big Ten player of the week: IU's star sophomore picked up Big Ten player of the week honors for his play (16.5 points, 5.5 rebounds, 3.0 blocks, 3.0 steals and 1.5 assists per game) in wins over Penn State and Minnesota. Zeller shared the award with Ohio State's Deshaun Thomas. It was the first conference honor for IU since Yogi Ferrell took freshman of the week honors back on Nov. 12.
· Indiana rises back to No. 2: The Hoosiers moved up three spots to No. 2 in both the Associated Press and USA Today/ESPN Coaches polls released Monday. The top eight in both polls are identical: 1. Louisville; 2. Indiana; 3. Duke; 4. Kansas; 5. Michigan; 6. Syracuse; 7. Arizona; 8. Gonzaga.
Filed to: Cody Zeller, Derek Elston, Maurice Creek, Victor Oladipo