Big Ten Power Rankings: January 14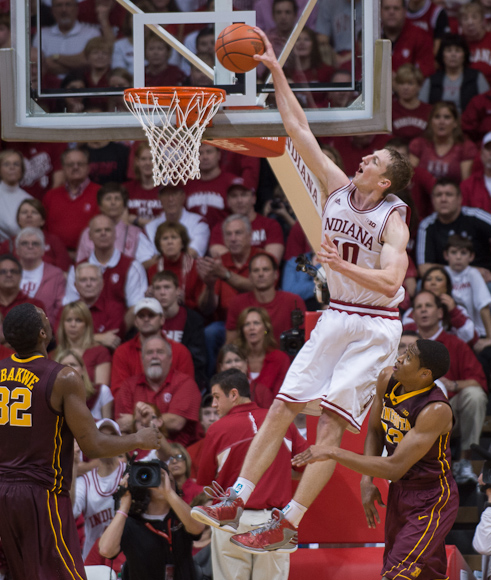 It was quite the interesting week in the Big Ten, but a week we should probably come to expect going forward given the remarkable depth of the conference. Here are this week's Power Rankings:
12. Penn State (8-8, 0-4) (LAST WEEK: 10) … No doubt about it, the Nittany Lions are the worst team in the conference right now. They looked like they were steadying themselves after losing Tim Frazier as they entered Big Ten play, but for the most part they haven't even competed thus far. A 16-point home loss to Northwestern was particularly alarming.
11. Nebraska (9-8, 0-4) (LAST WEEK: 11) … After an ugly 70-44 loss at Ohio State to open the conference season, the Cornhuskers have actually played much better. They lost by only six points against Wisconsin, fell by a respectable 15 at Michigan, and 10 against Michigan State on Sunday. At the end of the day, though, all three are still losses.
10. Northwestern (10-7, 1-3) (LAST WEEK: 12) … The Wildcats did earn a win at Penn State, but it looks like it's going to be a long season in Evanston. They rely heavily on Reggie Hearn, who just returned from injury, but they really don't have many other capable scorers. Upcoming games against Illinois, Indiana and Minnesota won't help much, either.
9. Iowa (12-5, 1-3) (LAST WEEK: 8) … After the showing the Hawkeyes had against Indiana on Dec. 31, we all thought they would be much improved. And while they have looked good at times, they didn't get their first conference win until Sunday at Northwestern. Iowa let one get away against Michigan State, and got absolutely blasted in the second half at Michigan.
8. Illinois (14-4, 1-3) (LAST WEEK: 5) … It was a disappointing week for the Fighting Illini as they looked much more like they used to under Bruce Weber than they have for much of this season. Illinois wasn't competitive in games against Minnesota and Wisconsin, losing by 17 and 23 points, respectively. The Illini will have a chance to regain confidence, though, with games against Northwestern and at Nebraska coming next.
7. Purdue (8-8, 2-2) (LAST WEEK: 9) … Are the Boilermakers really better than Illinois? That's hard to say. What we do know is neither team has been able to win on the road, and Purdue beat Illinois head to head. So, for now, the Boilermakers look like a better team.
6. Michigan State (14-3, 3-1) (LAST WEEK: 4) … Kind of a ho-hum week for the Spartans, and that's kind of surprising. I expected them to get better and better as the season goes along, and it doesn't always look like they are. Sure, Iowa is tough at home so any win is good. But a 10-point home win against Nebraska that was close the whole way? Scratching my head.
5. Wisconsin (12-4, 3-0) (LAST WEEK: 7) … Typical Wisconsin team, no? Even though the Badgers don't have the talent of other teams in the conference, they just keep winning. They haven't played anybody ahead of them in the power rankings to this point, but that will change when they visit Assembly Hall on Tuesday night.
4. Ohio State (13-3, 3-1) (LAST WEEK: 6) … Huge win for the Buckeyes on Sunday against Michigan, a team I don't see losing more than two or three games all season. Ohio State certainly has its flaws — Deshaun Thomas shoots too much, for one — but it is an incredibly talented club that should continue to get better.
3. Minnesota (15-2, 3-1) (LAST WEEK: 3) … I think we learned the Golden Gophers are for real in the second half of Saturday's game at Indiana. They didn't fold, they just kept fighting, and they almost entirely erased a 23-point halftime deficit. We'll learn even more about Minnesota when it hosts Michigan on Thursday, but I expect the Gophers to be right in the race for the remainder of the season.
2. Michigan (16-1, 3-1) (LAST WEEK: 1) … Up until Sunday, the Wolverines hadn't looked the least bit vulnerable. But winning at Ohio State has never been easy, and it certainly wasn't for even a very complete Michigan team. Now, the Wolverines visit Minnesota on Thursday.
1. Indiana (15-1, 3-0) (LAST WEEK: 2) … You could make the case for either Indiana or Michigan in the top spot, but here's why I went with the Hoosiers: their second half against Minnesota. They made endless mistakes and didn't look like the same team as the first half, and yet they still beat a top-10 team. The Hoosiers have already accomplished great things, but they can still get so much better.
Filed to: Big Ten Power Rankings