It wasn't pretty, but Hoosiers earn important conference win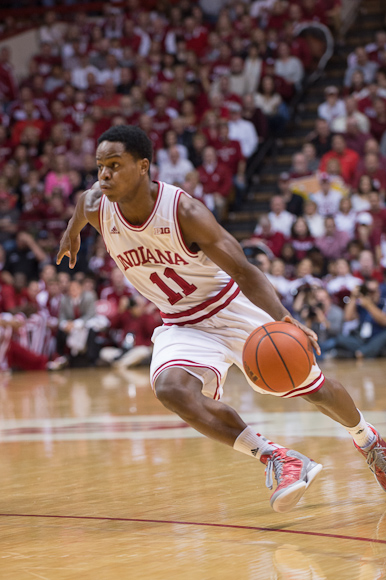 On Friday afternoon, Tom Crean talked about the challenge his team was going to face against a physically-imposing Minnesota team. The Hoosiers have seen tough, physical teams before, but the Gophers were on another level than Indiana's other opponents thus far.
In the first half, though, No. 5 Indiana had few problems. The Hoosiers (15-1, 3-0) beat No. 8 Minnesota at its own game, and were incredibly effective on the offensive end. They couldn't have played much better in the first 20 minutes.
"We knew the things we had to do were take care of the basketball, we had to guard the 3s, and we did none of it in the first half," said a frustrated Minnesota coach Tubby Smith afterward.
But little did the Hoosiers know, they would be in a fight for their lives in the second half. Indiana lacked some of the intensity it showed to start of the game, and the Gophers (15-2, 3-1) looked like an entirely different team. They played like a team with nothing to lose, guarding Indiana all over the court and playing every bit as physical as Crean expected.
You wouldn't have known the Hoosiers were prepared for it. At times in the second half, it they looked like they had never seen a press before. They turned the ball over, they stood around, and they failed to match Minnesota's physicality.
"We didn't attack it correctly. We just didn't," Crean said. "We got caught up in getting it down the court rather than how we were going to get it down the court. We didn't do a great job with our spacing, we didn't do a great job with the in-bounds. I'll blame myself for not having enough screening. They were very, very physical. A couple times, it was hard to get open."
It was more than just a couple times. The Gophers almost entirely erased a 23-point halftime deficit, cutting Indiana's lead to just three with 19 seconds remaining. It was closer than it ever should have been, and it looked like the Hoosiers were melting down on their home floor.
At the end of the day, though, Indiana got a win against at top-10 team at home, and that cannot be forgotten. Sure, the Hoosiers have plenty of areas in which they must improve in the next two months, but that's part of the beauty of what they were able to accomplish on Saturday. Even with their second half struggled and absolutely no production for their bench, the Hoosiers beat a very good Minnesota team.
And because of their unimpressive performance in the second half, you better believe the Hoosiers will come out with a chip on their shoulder Tuesday night against Wisconsin.
"A year ago, we'd have been ecstatic with that victory, and I want them to enjoy it," Crean said. "But we have different expectation levels now."
Those expectation levels also apply to the individual players, which makes it hard to celebrate another offensive explosion from Victor Oladipo and a display of continued growth from Yogi Ferrell. While we've come to expect the type of numbers we saw from Oladipo (20 points, six rebounds) and Ferrell (13 points, eight assists), it's still fascinating to see how far each player has come.
"He's hard to guard," Smith said of Ferrell. "I thought we did a poor job of forcing him back to the help like we should, but he's so quick he can make you think he's going that way and get a guy off balance."
As for Oladipo, he was his usual energetic self, though he did commit three costly fouls on 3-point shots in the second half. The junior guard has developed into quite the offensive weapon, but his defense wasn't always strong on Saturday. And he knew it.
"As a leader on defense, I cannot make those mistakes," he said. "To be honest, I felt like I almost blew the game away."
But he didn't, and that's all that matters in the end. Sometimes in Big Ten basketball, it's just good to escape with an ugly 'W', and that's what this will probably be remembered as being.
Indiana can still get much better, and that is the scary thing.
Etc.
· #BenchMob struggles: The Hoosiers got only three points from their bench against Minnesota on Saturday, including zero points from sixth man Will Sheehey. Crean said afterward that Remy Abell didn't practice until Thursday after getting "banged up" in Monday night's win at Penn State.
· Free-throw woes continue: Indiana got to the foul line at will in the second half as Minnesota started to playing even more aggressive, but the Hoosiers failed to take full advantage of their opportunities. They were just 25-of-39 from the charity stripe in the game, which allowed the Gophers to climb back in. Jordan Hulls missed three straight free throws late, but managed to get his own rebound on one of the misses to put the game away.
"That's when you're living right," Crean said of Hulls. "I think he needs a haircut, though. Great Clips must have been closed last night. He may have to have that cut by the Wisconsin game. He's carrying around too much weight."
· Watford plays well again: Christian Watford shot just 4-of-11 from the field, but he was solid for the Hoosiers yet again. He played one of his best defensive games of his career, while also contributing 14 points and nine boards.
"He battled," Crean said. "Christian's tough, he's got an excellent spirit. When he plays well, it's always like 'hunt' offense, don't search for it. Sometimes when you're searching, you make your mind up. When you're hunting, he plays really well."
Filed to: Christian Watford, Jordan Hulls, Victor Oladipo, Yogi Ferrell