It's a consensus: Minnesota is really good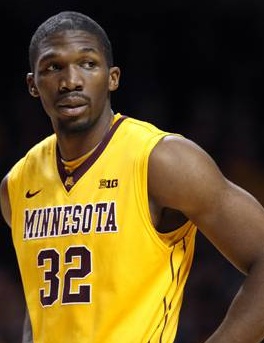 If you asked college basketball experts before the season about Minnesota, some may have predicted the Gophers would improve. Getting a player like Trevor Mbakwe back can do that for a team. But few would have believed they could be a top 10 team and a legitimate Big Ten title contender, especially this early in the season.
But Indiana coach Tom Crean isn't surprised that Minnesota has risen all the way to No. 8 in the latest Associated Press top 25 poll. He actually cited the Gophers prior to the season as a team to watch this year.
"But not like I'm a prophet, you could just tell," Crean said Friday. "Trevor's just too good. Trevor Mbakwe is too good a player."
As Crean and the Indiana players met with the media on Friday afternoon, it was clear they have a great respect for a Minnesota club that enters Saturday's game riding an 11-game winning streak.
The game between the two games from last year at Assembly Hall was being played in the Indiana locker room on Friday.
"It's gonna be one of the toughest games we've had all year," sophomore Cody Zeller said. "They've already proved themselves. They're a very tough team. We've got our work cut out for us."
"They've gotten a lot better," junior Victor Oladipo added. "Andre Hollins is doing a great job. They're all capable of scoring and scoring at a high level."
While the Gophers (15-1, 3-0) have improved across the board, they have benefited greatly by the return of Mbakwe, who missed most of last season after suffering a torn ACL. Mbakwe is a sixth-year senior who Crean recruited and coached when both were at Marquette.
Mbakwe's numbers are down a bit — he's averaging 9.3 points and 7.9 rebounds in 20.1 minutes per game — but Crean has seen considerable improvement in the veteran's game.
"He's really patient in the post. We've really seen that this year," Crean said. "He's a difference maker, and we knew that in high school. He's got a real maturity on the court that's there with his patience. He's playing extremely hard and adding things to his game, especially with the pick and roll game. But he has always been a very tough-minded, physical player, and now he's just that much more so after the year off. … He's as hard a matchup as there is in the league."
Mbakwe's physicality and athleticism are a big reason why Minnesota leads the nation in offensive rebounding. The Gophers got several huge offensive boards in their win at Assembly Hall a year ago, and they've done the same thing time and again through the first 16 games.
When asked about the Gophers' work on the glass, Zeller and Crean used the same word: "relentless."
"They're relentless, they're very, very aggressive," Crean said. "They do it off transition, they do it off the regular half-court offense, and then they are incredible off the free-throw line. We've just got to be locked in full tilt to all those aspects. If you don't meet them first, they're gonna push you under out of bounds. It is a complete fist fight when the shot goes up when they're playing."
Injury update
· Crean said Maurice Creek (foot) participated in practice for the first time on Friday, but he did not do any contact drills and he has not been cleared to play. Crean said Creek will likely be back next week, though he said Tuesday's game against Wisconsin is likely a long shot.
· Derek Elston, who missed Monday's game at Penn State, is feeling better and is expected to play on Saturday, according to Crean.
Filed to: Minnesota, Tom Crean, Trevor Mbakwe