March Watch: It's never too early to talk seeding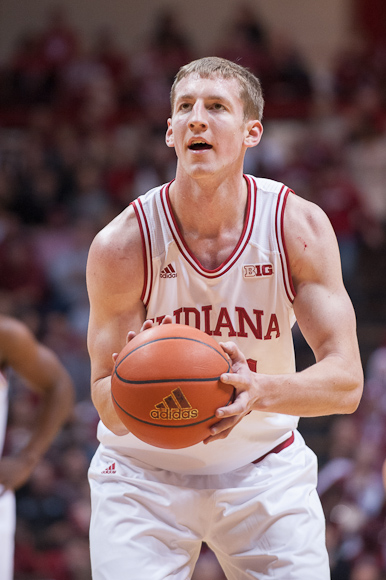 Selection Sunday is a little more than nine weeks away and Indiana is roughly at the midway point of their schedule, so it's time for our first 2013 edition of March Watch and a look at where the Hoosiers stand in terms of the NCAA Tournament.
Overview
Indiana's lone blemish is an 88-86 overtime loss to Butler at Bankers Life Fieldhouse and their RPI and strength of schedule numbers should both begin to trend upward as Big Ten play rolls along. With a strong pool of favorable 2nd and 3rd round venues in terms of proximity, the Hoosiers will likely be able to take advantage of the pod system and land at a site like Dayton or Lexington.
IU currently sits at No. 6 on ESPN bracketologist Joe Lunardi's s-curve, trailing Duke, Michigan, Arizona, Louisville and Kansas.
Nitty Gritty Profile
· Record: 14-1 (2-0 Big Ten)
· RPI: 16
· SOS: 43
· Home Record: 10-0
· Away Record: 2-0
· Neutral Court Record: 2-1
· vs. RPI Top 50: 3-1
· vs. RPI Top 51-100: 1-0
As Lunardi wrote Tuesday at ESPN Insider ($), IU's non-conference schedule is currently working against the Hoosiers in seeding exercises. The overall strength of schedule is still respectable, but eight guarantee games could be viewed as a bit on the heavy side by the selection committee. Of course that nitpicking of the schedule will be totally irrelevant if Indiana wins the Big Ten, as a No. 1 seed would become a lock.
Bracket Projections
· ESPN Bracketology (Joe Lunardi): 2 seed vs. Vermont in Lexington
· CBS Sports (Jerry Palm): 2 seed vs. College of Charleston in Lexington
· Sports Illustrated (Andy Glockner): 2 seed vs. Detroit in Lexington
Indiana may get a game at Rupp Arena after all, it just won't be against Kentucky. Right now, all three of the brackets we're tracking have the Hoosiers in Lexington for 2nd and 3rd round games. But after that, getting a chance to play through the midwest regional in Indianapolis could prove tougher than originally expected. Michigan and Louisville are currently the primary competition for the No. 1 seed in the midwest and both are currently ahead of IU in all three projections. Again, it's super early, but winning the Big Ten likely puts Indiana as the No. 1 in the midwest ahead of both the Cardinals and Wolverines. Indiana could even play through Indianapolis as a No. 2 if Louisville grabs the No. 1, but it seems unlikely that Indiana and Michigan would both land in the midwest as the No. 1 and No. 2 seed. Bottom line: The head-to-head games with Michigan could be crucial.
Tournament Sites
· First round: Dayton
· Second, third round: Auburn Hills, Austin, Dayton, Kansas City, Lexington, Philadelphia, Salt Lake City, San Jose
· Regional: Arlington, Indianapolis, Los Angeles, Washington D.C.
· Final Four: Atlanta
Filed to: NCAA Tournament