Big Ten Power Rankings: January 7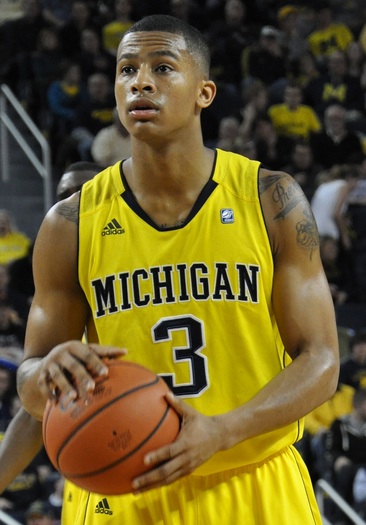 Today we begin our weekly Big Ten power rankings for the 2012-13 conference season.
These power rankings will appear on this site each Monday and will be determined by Inside the Hall reporter Justin Albers. So, without further ado, this week's edition.
12. Northwestern (9-6, 0-2) … The Wildcats found themselves at No. 9 in Alex Bozich's non-conference edition of these power rankings, but that was before their pathetic showing in the Big Ten opener against Michigan. Sure, they were playing the best team in the conference (oops!) and the No. 2 team in the country, but the Wildcats lost by 28 points on their home floor. Many teams in the Big Ten are dealing with injuries, but it's clear losing Drew Crawford has hurt Northwestern more than injuries have hurt other teams.
11. Nebraska (9-6, 0-2) … It's still sort of hard for me to consider the Cornhuskers part of the Big Ten. It just doesn't seem right. But anyway, it's going to be another rough season in Lincoln. Nebraska was blown out in its first conference game, losing at Ohio State by 26, and then it fell to Wisconsin on Sunday afternoon. Oh, and next up for the Cornhuskers: a Wednesday night meeting with Michigan.
10. Penn State (8-5, 0-1) … The Nittany Lions, last in Bozich's earlier power rankings, opened my eyes with a good showing at Wisconsin in their conference opener. When they lost Tim Frazier (ruptured Achilles) for the season, the Nittany Lions were expected to go to the cellar and stay there. But after a respectable nine-point loss at the Kohl Center, maybe Penn State will offer a little more fight than we thought. The Nittany Lions welcome Indiana to town tonight.
9. Purdue (7-7, 1-1) … This is a tough one because of Purdue's impressive home win against Illinois, but I believe the Boilermakers belong in this spot. They may be a tough out at home this season, but they are absolutely dreadful on the road, something they proved again in an 84-61 loss at Michigan State on Saturday.
8. Iowa (11-4, 0-2) … You could have made the argument the Hawkeyes belong in the No. 9 spot, but after seeing them in person on New Year's Eve, I believe they are for real. They took a highly-ranked Indiana team right down to the wire and lost by only four points. They will likely struggle on the road this season because of their many freshmen, but which Big Ten team won't?
7. Wisconsin (11-4, 2-0) … This is a spot Wisconsin figures to remain for a good part of the season. It's hard to really know what to expect from the Badgers yet. They lost Josh Gasser and that's significant, but how much will it really hurt them? Wisconsin has yet to play anybody in the conference, beating Penn State and Nebraska to open the Big Ten season. But tests against Illinois and Indiana are coming up.
6. Ohio State (11-3, 1-1) … Maybe the Buckeyes were just a little bit overrated in the preseason. Ohio State got destroyed at Illinois on Saturday, losing by 19 points to a team that had just been upset by Purdue days earlier. It's still not clear how good the Buckeyes are, but a Jan. 13 home game against Michigan should tell us a lot.
5. Illinois (14-2, 1-1) … Man, what an interesting week for the Fighting Illini. Illinois lost to a bad Purdue team on Wednesday, and then beat up Ohio State on Saturday. Like in previous seasons, it doesn't appear that Brandon Paul's game will travel on the road. Luckily for the Illini, two of their next three games are at home.
4. Michigan State (12-3, 1-1) … The thing you can't help but notice about the Spartans is they continue to get better and better as the season goes along. They were right there and had a chance to win at Minnesota on Monday, but couldn't quite get it done on the road. But the Spartans responded with a 23-point home win against Purdue. With a fairly young team, don't be surprised to see Tom Izzo's club to be near the top come March.
3. Minnesota (14-1, 2-0) … Has there been a more surprising team in the conference thus far? Minnesota is extremely talented, and that talent has fit together well to this point in the season. The Golden Gophers earned an impressive home win against Michigan State and a victory over Northwestern, but they will be tested when they visit Assembly Hall next Saturday. Then again, they did win in Bloomington a year ago with a much less-talented group.
2. Indiana (13-1, 1-0) … The Hoosiers have been off since Monday, but they get back at it tonight at Penn State. Even though their win at Iowa was closer than expected, the Hoosiers escaped with a road victory, something that has proven to be difficult in this conference (See: Illinois, Ohio State). Indiana will face a major test on Saturday when Minnesota visits for a noon game.
1. Michigan (14-0, 1-0) … There's no doubt about it, Michigan has been the best team in the conference so far. The Wolverines haven't really been tested, their closest game a five-point win against Pittsburgh in November. They beat the roar out of Northwestern in the conference opener, and then took care of Iowa at home in a 28-point win on Sunday. The Wolverines' first real test comes next Sunday at Ohio State.
Filed to: Big Ten Power Rankings