Oladipo's late rebound basket helps Hoosiers escape on road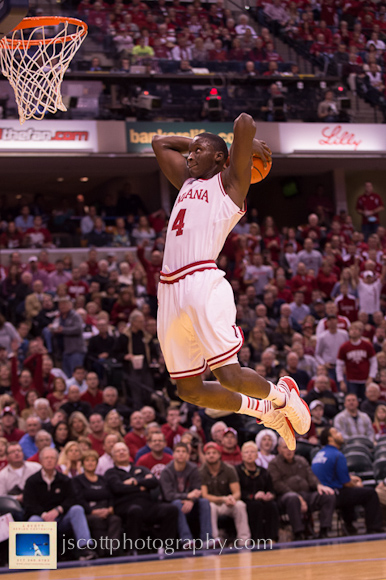 IOWA CITY, Iowa — Time and again, No. 5 Indiana built a reasonably comfortable lead, and then let Iowa back in the game. And time and again, Victor Oladipo was there to bail the Hoosiers out.
So it was only fitting that when they needed a huge bucket late to put the pesky Hawkeyes away on the road, Oladipo was the one to get it. With 1:03 remaining and Indiana ahead just 63-60 inside a sold-out and raucous Carver-Hawkeye Arena, Oladipo grabbed a missed shot from Cody Zeller and laid it in to break the spirits of the Iowa players.
"Rebounding is one of my strengths," Oladipo said. "I just saw Cody shooting it and I saw how it was coming off the rim, and I was in the right place at the right time."
And then, after a miss by the Hawkeyes (11-3, 0-1 Big Ten) on the other end, Oladipo grabbed another big rebound, his 10th of the game, to go along with 14 points in 34 minutes.
Ballgame. Indiana 69, Iowa 65.
"That's the exclamation point for our team in that situation," said Indiana coach Tom Crean. "That's just a 'finding a way to make a play to win a game' type of situation. I wouldn't trade [Oladipo] for anybody on finding a way to win with anybody in the country."
Oladipo has improved in so many areas over the last two years on both ends of the court. But during crunch time on Monday afternoon, it wasn't his jump shot, his ball handling or his athleticism that helped the Hoosiers (13-1, 1-0) escape with their first win at Iowa during the Crean era. It was Oladipo's heart and hustle that ultimately pushed Indiana over the top, something he has always brought to the table for this team, even as a raw freshman two seasons ago.
"They've been kind of punking us the last couple years, especially here," Oladipo said. "They've been outrebounding us and, basically, just outplaying us. This year, it was kind of the mentality going in here that we were going to take the first punch and play hard."
Vocal Zeller comes alive in second half
Crean knew he was going to get a productive performance out of Zeller before the team even arrived at the arena. Zeller was much more vocal than normal during the Hoosiers' walkthrough at the team hotel on Monday morning, and it caught Crean's attention.
"Some guys, we hear 'em constantly when we're going through the other team's stuff, but he was very vocal," Crean said. "So we knew he was gonna be a great leader today and I thought that he was."
Added Zeller: "That's what you have to do to win on the road in the Big Ten. That's definitely one of the things I've had to get better at, and I tried to make that an emphasis tonight."
Zeller was vocal on the court, and he was also very aggressive. It was clear from the start of the game that he was going to try to take advantage of Iowa's freshman center Adam Woodbury. But Zeller wasn't always effective early.
The sophomore center had two quick turnovers and two missed shots early in the first half, and he had just four points at halftime.
But Zeller remained aggressive in the second half, and his teammates made more of an effort to find him in spots to score. Zeller scored five points in the first 92 seconds of the second half, and he had 15 points in the final 20 minutes overall. He finished the game with a game-high 19 points and 10 rebounds.
"He just kept playing the game. He didn't get rattled," Crean said. "It's easy to drop your head a little bit when you're missing close shots and you're not getting to the line like you think you should, but that's not Cody. His mental toughness is so strong it just doesn't affect him."
Crean not worried by Hulls' struggles
It was a sight Indiana fans aren't used to seeing: open shots from Jordan Hulls that don't go in, and lots of them.
Hulls, who entered the game shooting 55 percent from beyond the arc on the season, was 0-of-10 from the field and 0-of-4 from 3-point range against Iowa. He had plenty of good looks and had several rim out, but he just couldn't get a shot to go in.
Crean, though, was not the least bit concerned about the performance from his star shooter. In fact, he didn't think Hulls shot enough.
"The 0-for-10 is meaningless," Crean said. "I thought he passed up about five or six other opportunities that he needed to shoot the ball with. He could go 0-for-10 the next three games and if he doesn't take the first open shot in the fourth, we're gonna sit him down. That's how good of a shooter he is."
To be fair, Hulls didn't let his poor shooting impact other aspects of his game. Despite dealing with some foul trouble, Hulls finished with six assists and zero turnovers.
Etc.
· Hoosiers hold down Marble: Iowa guard Roy Devyn Marble entered Monday's game as the team's leading scorer at more than 16 points per game. And while he finished just two points below his season average, Marble shot just 1-of-14 from the field. Marble, who was mostly defended by Oladipo, was 12-of-13 from the foul line.
"We're well aware of what Devyn Marble is doing, we're well aware what his numbers are like," Crean said. "No question, we know what he's capable of. We had a game plan, and our guys did an excellent job with it."
· Lots of Zellers in attendance: Zeller said his dad's side of the family had a family reunion in Iowa on Sunday night so many members of his family were in attendance for Monday's game.
"My uncle bought like 50 tickets," Zeller said. "My dad is the youngest of 12 so I've got a lot of cousins."
· Sheehey hears chants: At multiple times during the game, the Iowa students began chanting, "Sheehey sucks" when Indiana forward Will Sheehey was involved in a play. He was asked after the game if he heard the chants and whether he enjoys hearing them.
"Yeah, I did. They were classy," he said. "I don't mind being the team's most hated player."
· Quote to note: "We feel very good about the win. We feel very good about our toughness inside of this game. This was truly one of those 15-round heavyweight-fight games that the Big Ten is full of where you can't necessarily land the knockout punch and you just want to make sure it doesn't get landed on you."
— Indiana coach Tom Crean
Filed to: Cody Zeller, Jordan Hulls, Victor Oladipo, Will Sheehey