What we learned from the non-conference season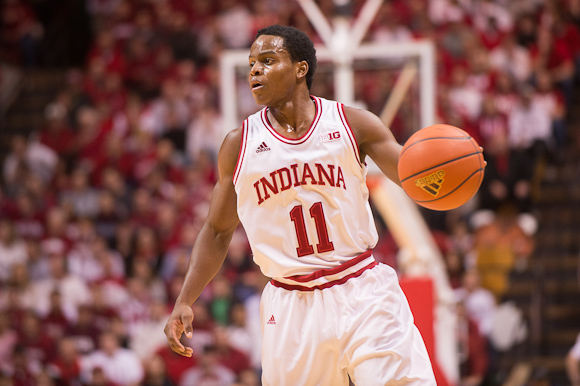 The Big Ten season tips off tomorrow in Iowa City, but the Hoosiers have already been through a ton since November. Here are five things we learned about the preseason-No. 1 team in the first 13 games of the season.
1. Jordy + Yogi works: One of the top questions leading up to the regular season was whether or not guards Jordan Hulls and Yogi Ferrell could play together in the same backcourt. Some suggested Ferrell would push Hulls aside and steal the majority of his minutes, many believed the two guards were too small to be on the court at the same time.
But so far, Hulls and Ferrell have proven those doubters wrong. They have thrived together during the non-conference schedule because each player has stuck to his own strengths. Ferrell, who has 71 assists and just 27 turnovers, has spent the majority of his minutes finding open teammates and playing tight defense on the other end. Hulls, with much of the ball-handling responsibility now in Ferrell's hands, has been able to do more of what he's great at — spot up and shoot. Hulls is shooting 55 percent from beyond the arc this season.
There will be some games during the conference season that test Hulls and Ferrell, but Indiana has plenty of depth off the bench to help with that. And Hulls already has experience defending players much bigger than he is (See: Georgetown).
2. The talent is there: The Hoosiers have the talent to win a national championship. There's no doubt about that. We knew they would be deep in the preseason, but the scary thing is they haven't had certain pieces at various times. Hanner Mosquera-Perea is just four games into his college career, Derek Elston missed time with a knee injury, Jeremy Hollowell is currently out due to an NCAA compliance issue, Cody Zeller has dealt with illness, Maurice Creek is out indefinitely with a foot injury, and Austin Etherington is out for the year with a broken patella.
And yet, the Hoosiers have still looked deep. That's scary for the other teams in the Big Ten and around the country.
3. But…: As talented as the Hoosiers are, they are still very much a work in progress. They can play so much better, and they know it. They've been fantastic at Assembly Hall as they usually are, but it may take a few more games for them to figure out how to play away from home.
All three of Indiana's games away from Assembly Hall this season have been close games, and the Hoosiers lost to Butler at Bankers Life Fieldhouse earlier this month. Even thought they have plenty of experience on the roster, they still play several young players — namely Ferrell, Perea and sophomore Remy Abell — and there are quite a few brutal road environments in the Big Ten.
4. Victor Oladipo is playing at another level: I hate to state the obvious, but Oladipo is the Hoosiers' most improved player. And I don't think it's close. With some of Cody Zeller's early season struggles, it's even possible that Oladipo is Indiana's best player.
Oladipo has become one of the best finishers in the college game, and he has shown the ability to play defense in another gear when he wants to. As if that's not enough, the junior guard is also improving his outside shot, something he's shown off on multiple occasions during the first 13 games. Oladipo is 10-of-22 (46 percent) from 3-point range this season.
Oladipo continues to climb NBA draft boards, and for good reason. If the Hoosiers are going to compete for a national title in March and April, they'll need Oladipo to continue to play at the elite level he has so far.
5. Cody Zeller isn't perfect: The Big Handsome is human, go figure. Zeller hasn't always looked like a national player of the year candidate so far this season and he has shown some of the inconsistency he seemed to bypass in his freshman season.
But Zeller should be OK in the long term. He has seen a variety of different defenses this season, he has dealt with illness, and he's still young. To be fair, he's leading the Hoosiers in scoring at 16.4 points per game. Expectations for Zeller were impossibly high before the season, so it was inevitable that there would be some disappointment when he struggles.
Filed to: Cody Zeller, Jordan Hulls, Victor Oladipo, Yogi Ferrell