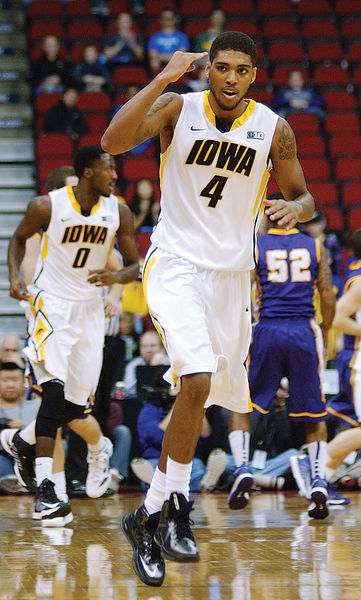 For the first time in sixteen days, the No. 5 Hoosiers will face a challenging opponent as they go on the road to face the Iowa Hawkeyes. Fran McCaffery's team finished up the non-conference schedule 11-2 and is coming off a win over Coppin State on Dec. 22.
The game will be broadcast on ESPN2 with Jim Barbar and Dan Dakich on the call.
After what felt like countless drubbings with a few formidable opponents mixed in, Indiana has finally arrived at the Big Ten portion of its schedule. And the Hoosiers, winners of three straight following a loss to Butler at Bankers Life Fieldhouse on Dec. 15, will be entering what should be a raucous environment in a soldout Carver Hawkeye Arena.
Iowa City hasn't been kind to IU in recent seasons as the Hoosiers have dropped four straight on the road to the Hawkeyes. That said, it's a different season and this is a different IU team with great expectations. Those expectations include contention for a league title, which makes tomorrow's game the most important one on the schedule so far.
PERSONNEL
In the aftermath of the failed Todd Lickliter era, McCaffery has done a solid job of assembling the talent necessary to challenge for a spot in the NCAA Tournament. A solid nucleus (Roy Devyn Marble, Aaron White, Melsahn Basabe, Eric May, Zach McCabe, Josh Oglesby) returns and reinforcements have arrived in the form of a strong freshman class that includes guards Mike Gesell and Anthony Clemmons along with big man Adam Woodbury.
Marble is off to a solid start to his junior season and is the only Hawkeye averaging more than 30 minutes per game. He's averaging 15.7 points per game with a solid effective field goal percentage (52.0). He's taking nearly four 3-pointers a game compared to just 1.6 a season ago and is shooting close to 40 percent. But as he's shifted to more of a scoring role following the departure of Matt Gatens, Marble's assists are down and his turnovers are up. It would be a shock to see anyone other than Victor Oladipo draw the Marble assignment.
White has built on a surprising freshman season with a sophomore campaign that has been highlighted by a parade to the free throw line. In 13 games, White has taken 87 free throws, which gives him the highest free throw rate in the Big Ten, and his field goal percentage on 2's is close to 57 percent. White has also continued to hit the offensive glass hard which is evident by his offensive rebounding percentage (10.1).
Woodbury, a consensus top 50 recruit, has modest offensive numbers at 6.6 points per game, but is making an impact on the glass and defensively by altering and blocking shots. That means Basabe, who is coming off an ankle injury in the win over Coppin State, will continue to come off the bench as a source of energy.
In the backcourt, Gesell has slid right into the starting lineup and is Iowa's third leading scorer (9.4). While he was recruited as a point guard, Clemmons has actually taken over those duties and is the Hawkeyes leading assist man at 3.8 per game. That means Iowa is starting two 6-1 players, so both teams will have similar size in the backcourt.
POMEROY PREVIEW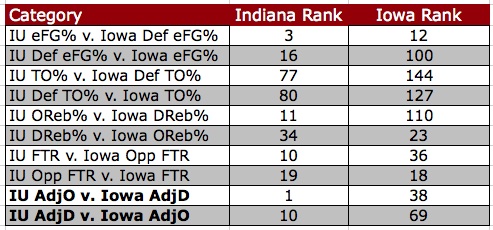 Just as many have questioned the improvement of Indiana's defense against a light non-conference schedule, it's fair to do the same with Iowa given the fact that they've played an even lighter slate this far. The Hawkeyes gave up nearly 1.09 points per possession in league games a season ago and their defense will be tested against the nation's most efficient offense.
For Indiana, limiting second chance points is going to be pivotal when you consider just how average of a shooting team Iowa has been against a very suspect schedule. The Hawkeyes are shooting below 32 percent on 3-pointers, which is down from 37.3 percent last season. On the flip side, Iowa has been allowing opponents to rebound 30 percent of their misses and IU has been fantastic on the offensive glass (41.5 OR%) thus far.
WHAT IT COMES DOWN TO
The numbers favor Indiana almost across the board, but there are reasons for optimism on both sides. For the Hoosiers, there's finally returning talent that has experienced winning on the road in the Big Ten. IU did finish just 3-6 in the league road games last season, but the performances seemed to improve as the season moved along.
As for Iowa, this is a chance to get a signature win at home, which the Hawkeyes won't get against Michigan or Ohio State, who they only play on the road. They'll also have the advantage of playing at home in front of their first sellout crowd of the season against a team who has yet to be tested in a true road environment.
Pomeroy likes the Hoosiers by nine. For Indiana to win that comfortably, it must avoid the slow starts that have been a problem at times away from Assembly Hall.
TIM BUCKLEY ON IOWA
"Iowa is a another team that plays 94 feet of basketball. We not only have to put an emphasis on scoring the ball but also getting stops and not letting them get out in their transition game. Aaron White is one of those under the radar guys who has improved in so many areas, as a ballhandler, as a rebounder, as a shooter. He is very athletic and long. [Roy] Devyn Marble is kind of the same way and he has come in a developed into one of the better players in the Big Ten. He is a matchup problem for every team he faces because he is so versatile and can play three positions. Now they have added some good, tough, competitive freshman who have talent and skill and I think that has improved their program."
MCCAFFERY ON IU
"What's important is that we play well and that we play the way we are supposed to play against a really good team. Obviously we really want to win, and obviously if you can make a big impact, you can win. But we recognize who we are playing and we recognize that we are going to have to play better than we've played up until now. With all due respect, the opponents that we've beaten and some of the great games that we've had, we are going to have to play mistake free basketball, shoot it better.
"They are a phenomenal rebounding team and for a team to average 13 offensive rebounds a game and if they are shooting 52 percent, that's an incredibly impressive number. It's not that many misses and they are going back and getting them and keeping you on defense. We are going to be challenged on the glass, at full court, at halfcourt. They are changing defenses a little bit more. They are going to make our young guys think."
(Photo credit: Times-Republican)
Filed to: Aaron White, Iowa Hawkeyes, Roy Devyn Marble