Class of 2015 duo leading hot start for Paul VI Catholic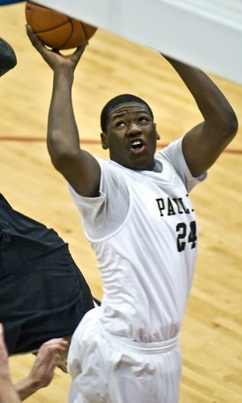 Indiana's recruiting prowess in the DMV area has been well-established for much of Tom Crean's tenure in Bloomington. Crean's second recruiting class included Maurice Creek and his third included Victor Oladipo.
But more recently, IU's efforts in the area have ramped up to a higher level with the addition of assistant coach and recruiting coordinator Kenny Johnson, a native of Oxon Hill, Maryland and formerly a high school coach (Paul VI Catholic), college assistant (Towson) and AAU director (Team Takeover) in the area.
Shortly after Johnson's hiring in Bloomington, the Hoosiers added Stanford Robinson, another DMV area recruit, to the fold and several recruiting targets in the 2014 and 2015 classes have emerged from the area.
Two of the early 2015 targets are Paul VI Catholic duo Marcus Derrickson (pictured) and Franklin Howard. The Hoosier staff has already watched Paul VI Catholic, which is off to a 4-1 start, twice this fall.
Despite losing Robinson, who transferred to Findlay Prep in Las Vegas for his senior season, Paul VI already owns a win over Oak Hill Academy and the Panthers are up to No. 17 in the latest USA Today Super 25.
A big reason for their ascent is the play of Derrickson, a 6-foot-7, 250-pound forward with an IU offer and Howard, a versatile 6-foot-4 guard who has drawn interest from IU.
"They're basketball junkies. There's no question about that," Paul VI Catholic coach Glenn Farello told Inside the Hall this week. "One of the hallmarks of the kids we have here at Paul VI is they love the game and they love to work at the game. They both kind of epitomize that, no question."
Derrickson, who Farello says has some similarities to Kevin Love in his style of play, is averaging a team-high 15.7 points and is the No. 9 prospect nationally in his class according to ESPN.com.
"He's willing to bang and do the dirty work down low, but also step out and shoot," Farello said. "He's got great range out to 23, 24 feet. He's a tough, physical player. He was part of our team last year, a big time contributor for us last year as a freshman on a team that finished 35-3 and won a championship. He's just a winner."
Howard, meanwhile, is second on the team in scoring at 11.2 points per game.
"Franklin is a combo guard who is skilled, long and athletic," the Paul VI coach said. "He can handle it, can pass it and shoot it. He's got a chance to be one of the special players that I've had a chance to coach."
Farello said he doesn't talk levels of recruiting interest with his young players, but did acknowledge the early IU offer for Derrickson and also talked about the room for growth for both young prospects.
"For Marcus, it's the ability to go off the dribble. And for Franklin, just getting stronger and becoming a better defender," Farello said. "They're both very competitive. They both have very high basketball IQ's. The intangibles are there. It's just a matter now of putting it all together."
(Photo credit: Washington Post)
Filed to: Franklin Howard, Marcus Derrickson