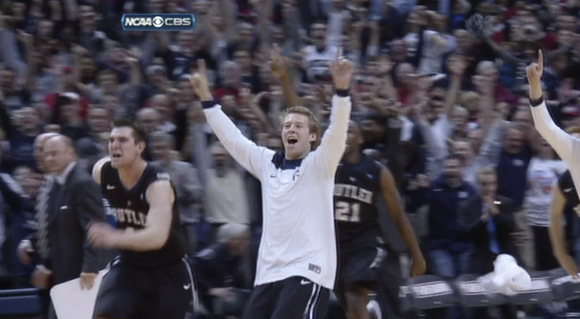 Thoughts on a 88-86 overtime loss to Butler:
I. Welp, it happened: Brad Stevens' crew of lesser talented homegrown Indiana kids took the Hoosiers out of their game for long stretches in this one, and by the time the dust settled on a thrilling final minutes and overtime, the Bulldogs emerged victorious. Butler makes noise in the college basketball world once more — taking Indiana's No. 1 ranking along with it. Tom Crean preached all week about Butler's physicality and it really got to Indiana this afternoon at Bankers Life Fieldhouse. The Bulldogs were able to limit Indiana's fastbreak opportunities, save for Indiana turning defense into quick scores, which meant the Hoosiers would have to make a go of it in the halfcourt. Stevens had his plans there: Butler packed it in, made the Hoosiers a perimeter shooting team with freshman Yogi Ferrell taking a host of shots. Indiana looked out of sorts. Quick long jumpers. One-on-one play. Andrew Smith out-muscling and out-hustling Cody Zeller. The Hoosiers didn't hit a bucket from the 11:17 to 3:43 mark in the second half. They were lifeless, their body language looking of defeat.
But a 1-2-2 press Indiana employed late had them surviving until an overtime period. It helped stop the clock. Victor Oladipo got a steal out of it and a score. And Ferrell, after fumbling a pass out of bounds for what might have been Indiana's last shot at this one, hit a huge 3-pointer to tie it at 76. Butler's ensuing possession came up empty.
The Hoosiers had the momentum in OT. Smith and Roosevelt Jones were on the bench fouled out. Hulls shot faked and hit a shot early. But back-to-back 3-pointers by Rotnei Clarke and Chase Stigall put Butler up two and had the momentum shifting. Zeller — after being a bit lifeless in this one — got a lay-in to tie it at 86.
Yet, walk-on Alex Barlow took Hulls in isolation all the way to the rim and hit the bucket on Butler's last possession. Just 2.5 seconds left for Indiana to do anything.
Hulls' desperation shot at the buzzer just over halfcourt never had a chance. Ballgame.
II. Butler was also able to pull this one off on the strength of their rebounding this afternoon. It evened out a bit by the time the final buzzer sounded, but the fact remains: The Bulldogs rebounded 48.7 percent of their misses to convert them into 27 second-chance points. Time and again, Indiana would force Butler into a miss, only for a rebound to bounce around, Butler to pick it up and score. Sometimes with ease around the hoop — no Hoosier in sight. Butler also rebounded 53.8 percent of Indiana's shots. The rebounding helped make up for the fact the that Bulldogs were sloppy with the ball, turning it over on 24.2 percent of their possessions. The Hoosiers had a rough go shooting it, too. They shot only 42.9 percent from the field. And though they weren't too bad from the line — 27-of-38 for 71.1 percent — some better shooting from the charity stripe could have helped flip this from a loss to a victory.
III. Indiana's games away from Assembly Hall this season: A struggle against Georgia until it finally broke free late. An overtime win against Georgetown. An overtime loss to Butler. With Big Ten season looming at the end of the month — and tough games on the road in more hostile environments to come — it's a cause for some concern.
Filed to: Butler Bulldogs