Notebook: Hoosiers outmuscled on the glass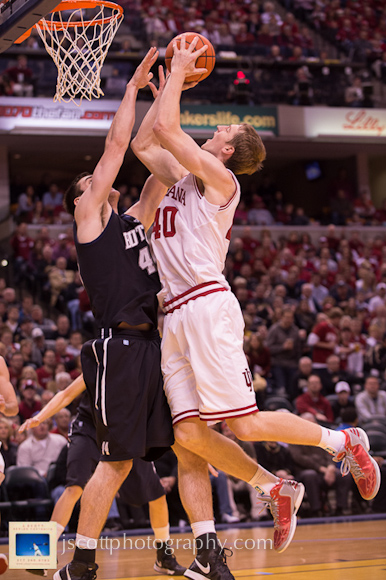 INDIANAPOLIS — Cody Zeller didn't provide much of an answer when he was asked about Indiana's effort on the glass in Saturday's 88-86 overtime loss to Butler in the Crossroads Classic at Bankers Life Fieldhouse.
While the final rebounding numbers showed Butler with just a 40-38 edge overall, the Hoosiers (9-1) allowed Butler to rebound 48.1 of its misses, a season-high for an IU opponent.
Indiana came into the game allowing an offensive rebounding percentage of just 26.4, which ranked 20th in the country.
When asked how he and his teammates allowed Butler to grab 11 offensive rebounds in the first half, IU's star sophomore offered little in terms of an explanation.
"I don't know, we've gotta figure it out," Zeller said.
It sounds like the Hoosiers may begin to figure it out sooner rather than later.
"I'm excited about the rebounding drills we're gonna do," Crean said. "I'm not sure there will be many people that will be sharing that joy with me, but I know I'll be excited about it because, right now, that's an area we've got to really shore up."
Butler's success on the offensive glass led to 27 second-chance points and despite giving up some size across the frontline, the Bulldogs (8-2) won the points in the paint battle 42-32.
Crean didn't point to one area in particular that contributed to the Hoosiers' struggles on the glass, but it was clear that he saw rebounding as a major factor in the outcome.
"I think we're going to be disappointed with some of our contact on the block outs," he said. "Some balls bounced wrong that we've just got to go up with two hands and get 'em. But that's not an excuse for us in the fact that we didn't rebound well enough."
HOOSIERS SLOW DOWN CLARKE … FOR A HALF
For a half, it appeared as if Rotnei Clarke, Butler's leading scorer, wouldn't figure much into the game from an offensive standpoint.
Victor Oladipo smothered Clarke, a senior transfer from Arkansas, for most of the game's first 20 minutes and limited him to three points in the 18 minutes he covered him.
"He's one of the best. He's extremely athletic, and he's real long with his arms," Clarke said. "He can get into you and he can alter shots."
But after in the second half and overtime, Clarke was able to shake free from Oladipo and Will Sheehey for 13 points on 5-of-12 shooting. Clarke said he noticed an opportunity to do more off the dribble against Sheehey than he did against Oladipo.
"I knew that I had an opportunity to probably get by him better than I would be able to someone like Oladipo who's a little more athletic, a little longer, moves better laterally," Clarke said. "When Sheehey was on me, I just wanted to take my chances and try to get into the lane."
One of the key shots in overtime was a 3-pointer by Clarke with 1:41 remaining that pulled Butler to within one at 84-83.
"I think I did a pretty good job on him, but not too good since we lost," Oladipo said of his effort on Clarke. "I've gotta go back to the drawing board, too. I could have played better defense down the stretch."
Etc.
· Oladipo impresses Stevens: The Hoosiers finished with five players in double figures, but Oladipo was the most efficient as he finished 7-of-10 from the field.
A couple of Oladipo's baskets were created by his defense, including a strip of Kellen Dunham and a layup to pull cut Butler's lead to one at 74-73 with 23 seconds left in regulation.
"Oladipo is a heck of a player," Butler coach Brad Stevens said. "As we walked out of our locker room, I turned to [assistant coach] Matthew Graves and I said: 'I've never seen a guy that athletic.' The good news is he was so fast we couldn't foul him."
· Watford ineffective: After leading Indiana with 21 points in last Saturday's 100-69 win over Central Connecticut State, senior Christian Watford again showed inconsistency offensively, finishing with 10 points on just 1-of-5 shooting.
He also tied a season-low with three rebounds.
Filed to: Christian Watford, Tom Crean, Victor Oladipo