Ferrell hits clutch shot, but Butler answers with one of its own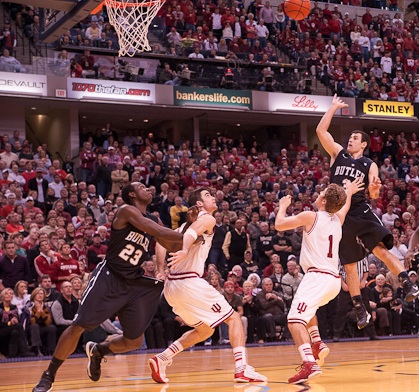 INDIANAPOLIS — Indiana looked dead in the water. Down 74-69 with 38 seconds left in regulation Saturday afternoon against Butler, the No. 1 Hoosiers went to full-court pressure, desperately trying to remain undefeated. They swarmed around and did everything possible to get their hands on the ball. And eventually, they got within three points at 76-73 with 16 seconds to go.
That's when freshman point guard Yogi Ferrell — who had struggled all afternoon — stepped up like a veteran and nailed a game-tying 3-pointer from the right wing.
"That's Yogi," Indiana coach Tom Crean said afterward. "He did the same thing in New York [against Georgetown], he's done the same thing in a couple of practices. He's got great toughness. He really does. He's a 'next play' guard. That's why he's such a special guard, especially at that age."
The Hoosiers surrounded Ferrell at midcourt, celebrating like they had just won the game. They hadn't. They had merely gotten it to overtime. And Butler, with two of its starters already fouled out, refused to go away.
After Indiana (9-1) jumped ahead 84-80 and looked to be headed for its 10th straight win, Butler's Rotnei Clarke and Chase Stigall hit back-to-back 3s to put the Bulldogs back on top. Stigall's attempt was uncontested as there was miscommunication between Will Sheehey and Remy Abell.
"There's no question we cost ourselves at the end of the game defensively," Crean said. "They made the plays and they get credit for that, but we made the mistake in how we guarded it."
Cody Zeller quickly scored to tie the game at 86-86. And then came the final possession of the game.
Walk-on point guard Alex Barlow dribbled the ball up the floor while Clarke and Kellen Dunham ran around screens in an attempt to get open.
"It was baseline screens. We had run it all game," said Butler coach Brad Stevens. "We had a couple of different options. One of the options was the guy on top can drive the basketball, and usually that's Roosevelt [Jones] up there. We had a lot of success in that action we felt like. I didn't feel like we could call a set because I didn't know if we could dribble it around til eight or nine seconds because of the pressure. So let's just get in the movement and then see if we can't figure out a way to get a basket."
Clarke, though, knew there was little chance he would get the ball. Victor Oladipo had blanketed Butler's leading scorer all afternoon, and he was on him again.
On the defensive side, Indiana was intent on switching everything, leaving the 7-foot Zeller on the bench.
"We were in a 55, we wanted to switch on everything because they were in the ball-screen game," Crean said. "In that situation, we wanted to continue to have that switching because it was either going to be a drive or a 3."
The Hoosiers kept the ball out of the hands of Clarke and Dunham, forcing Barlow to make a play himself. With Hulls on him, Barlow dribbled his way into the lane and flicked up a right-handed floater.
"Once it got down to six [seconds], there was no hesitation," Barlow said. "I was gonna shoot that unless Rotnei or Kellen or somebody else got wide, wide open. If I missed it, they weren't going to have time to get a shot off."
But he didn't miss it. The ball hit the right side of the iron, rolled around, and went in, securing Butler's upset victory.
"Nobody really helped off," Clarke said. "He made a tough shot."
Filed to: Yogi Ferrell