What to Expect: Butler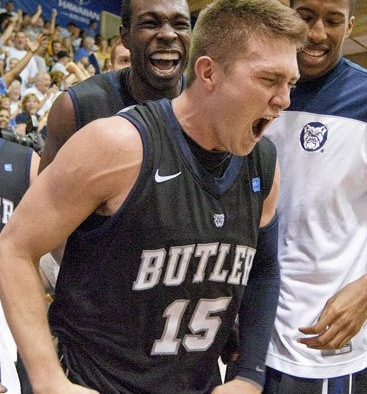 After another week off following a 100-69 blowout of Central Connecticut State, the No. 1 Hoosiers travel to Bankers Life Fieldhouse tomorrow for a 2 p.m. meeting with Butler. The Bulldogs (7-2) are coming off a 74-65 win at Northwestern last Saturday.
The game will be televised by CBS with Spero Dedes and Clark Kellogg on the call.
While they won't enter Saturday's contest playing at anywhere near level of Indiana, Butler looks like a team moving in the right direction with plenty of room for growth.
After two impressive wins in Maui over Marquette and North Carolina, the Bulldogs stumbled against Illinois, but have since rebounded for four straight wins. The last of those four wins came over Northwstern in Welsh Ryan Arena, which could loom large if Butler ends up on the NCAA bubble.
PERSONNEL
The primary piece offensively for Brad Stevens is senior guard Rotnei Clarke, who played his first three seasons at Arkansas, but transferred following the dismissal of John Pelphrey. Clarke played a lot of point guard to start the season, but has shifted to the off guard spot as freshman Alex Barlow has entered the starting lineup at the point.
Clarke is averaging four 3-pointers a game and is shooting 45 percent from behind the arc while averaging a team-high 17.3 points. Victor Oladipo commented after Saturday's win over Central Connecticut State that he's been guarding the best player on the opposing team all season, so look for the Indiana junior to spend considerable time marking Clarke.
Butler's second primary scoring threat in the backcourt is freshman Kellen Dunham, who has five starts but is now in a reserve role. The freshman from Pendleton Heights is a capable perimeter shooter, but is shooting just 30.4 percent. However, he is shooting 97 percent (31-of-32) from the foul line.
Khyle Marshall is off to a strong start to his junior season as he's the team's leading rebounder (5.6) and second leading scorer (12.1). Marshall is one of the better offensive rebounders in the Atlantic 10 (12.5 OR%) and will likely spend a lot of time being checked by Will Sheehey. Andrew Smith, a senior big man from Zionsville, has been efficient offensively (59 eFG%) and is the team's best offensive rebounder (13.3 OR%).
POMEROY PREVIEW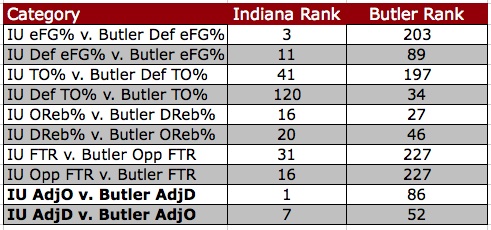 Obviously the numbers are heavily skewed towards the Hoosiers given the No. 1 ranking by KenPom.com compared to No. 56 overall for the Bulldogs, but a couple of things stand out as significant from a glance at the chart above:
· Free throw discrepancy: Tom Crean has long discussed getting to the line as a key to becoming an elite team and this appears to be a situation where Indiana can exploit Butler's tendency to send opponents to the line as well as their ineptness at getting to the line themselves. Opponent free throw rate was an Achilles heel for the Hoosiers a couple of seasons ago, but they've improved even more in that category this year and this game, at least on paper, could have a large free throw discrepancy.
· Not typical Butler defense: The Bulldogs have ranked in the top 50 in KenPom's adjusted defensive efficiency formula in each of the last three seasons, but that hasn't been the case to-date in 2012-2013. Butler is allowing an effective field goal percentage of 49.3 percent and Indiana is third nationally in that category at 58.2 percent.
WHAT IT COMES DOWN TO
On paper, this appears to be a game Indiana should win comfortably, but it's just the third game away from Assembly Hall for the Hoosiers. In their first two neutral games, IU struggled for a while with Georgia and needed overtime to beat Georgetown, so it will be interesting to see how those two games prepared this group for tomorrow.
The other dynamic at play here is that Hanner Mosquera-Perea and Peter Jurkin will be eligible to play for the first time. Integrating two new players into a game on a national stage will have its challenges, as Tom Crean discussed earlier in the week.
"It's not a wholesale, 'well we'll do this now because this guy's back or that guy's back.' It doesn't work that way," Tom Crean said Monday evening on his radio show. "You've gotta blend it in. You don't want to put your players in situations that they're not ready for.
"They haven't had a chance to develop confidence through adversity in games. And they haven't had a chance to play through mistakes in games. They haven't had a chance to get that experience in games. Practice is one thing, games are another thing. And we'll be behind in that."
With all that said, this Indiana team doesn't appear to be affected by the early No. 1 ranking and the pressure that surround all of the attention they've been receiving. As cliche as it may sound, this team truly has bought into the "take it one game at a time" approach thus far and with a week off between games and finals out of the way, the expectation is a team focused on hurdling the last major barrier to another unbeaten non-conference schedule.
Filed to: Butler Bulldogs