Hoosiers high on 2015 guard Richardson's list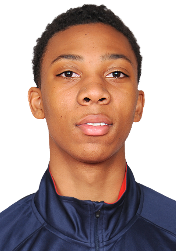 The Indiana staff has had a great deal of recruiting success on the East Coast recently, and they seem focused on continuing to hit that part of the country hard.
After scoring commitments from Troy Williams and Noah Vonleh earlier this fall, Crean extended an offer to 2015 New Jersey guard Malachi Richardson last week. Richardson, a 6-foot-6 prospect from Roselle Catholic High School, is ranked 20th in the 2015 class, according to ESPN.com.
Richardson already has offers from Cincinnati, Rutgers, Seton Hall and Miami (Fl.), and has also reportedly received interest from Connecticut.
Despite the interest from other schools, though, Roselle Catholic coach Dave Boff said Richardson has always had an interest in Indiana. The rising sophomore played his first high school season at Treton Catholic.
"They were always high on his list when he transferred to my school," Boff said. "That was one of the school's that he really was interested in and was hoping to get an offer from. He's pretty in touch with what Indiana's program is all about. I know he spent some time talking to Coach [Crean] over the past few weeks, so I think he has a pretty feel for what Indiana is doing out there and the things that are happening with the program."
The main strength of Richardson's game at this point is his shooting ability. Boff said Richardson has continued to gain more range, and his shot has developed remarkable consistency for his age.
"Right now, the only thing I think he has to do is, offensively, just fine-tune a few things," Boff said. "He already shoots it fantastically, shoots out to 23-24 feet at this point. He can take it to the rim and dunk in traffic. His ability to create space off the dribble to get his own shot is as good as I've ever seen.
"And then defensively, he's just got to work on being consistent, in terms of positioning and things like that. But he's way ahead of the game for a sophomore."
Off the court, Boff said Richardson is "as nice a kid as you ever want to see." That would be consistent with what the Hoosiers typically look for in recruits. Assistant coach Tim Buckley said last week that "character" is the first thing the staff wants to see from a player.
"The president of our school referred to him the other day as a 'saint,'" Boff said. I don't know if he actually reaches that status, but he's just as nice a kid as you'd ever want to see. He comes from a very good family, Mom and Dad are involved in his life, and you can tell he's been brought up well. He does all the right things, says all the right things, and is just really a pleasure to be around."
Filed to: Malachi Richardson