Recruit roundup: Davis reaches 1,000-point plateau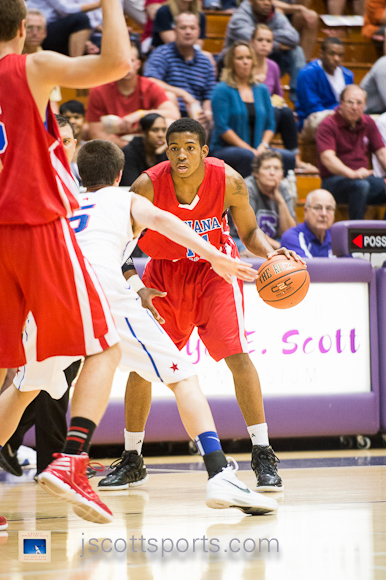 Throughout the season, Inside the Hall will keep you posted on how IU's six 2013 signees and James Blackmon Jr. are performing at their respective schools. (Photo credit: Jamie Owens/J. Scott Sports)
You can send us stats or results for this report at [email protected].
2013 SIGNEES
+ Collin Hartman (Indianapolis Cathedral): Did not play due to a concussion in Cathedral's 67-64 overtime loss to Indianapolis Tech on Dec. 7.
+ Devin Davis Jr. (Warren Central): 28 points and nine rebounds (video below) in a 57-54 overtime win at Fishers on Dec. 6 and 10 points in a 58-49 win over Avon on Dec. 8. Surpassed 1,000-point mark in the win over Avon.
+ Luke Fischer (Germantown, WI): 13 points (in limited minutes) in a 76-42 win over Grafton on Dec. 7.
+ Noah Vonleh (New Hampton Prep, NH): With Tom Crean in attendance, Vonleh scored 14 points and grabbed 15 rebounds as New Hampton snapped a 46-game home court winning streak for Brewster Academy, 66-58, on Dec. 5. Did not play in an 88-55 win over Proctor Academy on Dec. 8 as he reportedly returned home for personal reasons.
+ Stanford Robinson (Findlay Prep, NV): 15 points (in 16 minutes) in a 77-33 win over Las Vegas High on Dec. 7.
+ Troy Williams (Oak Hill Academy, VA): 14 points, nine rebounds, three assists, three blocks and a steal in a 58-50 win over Flora McDonald Academy on Dec. 4. Game-high 24 points and 15 rebounds in an 82-45 win over Kecoughton on Dec. 6. Fourteen points in a 56-54 overtime loss to Paul VI Catholic on Dec. 8.
2014 COMMITMENT
+ James Blackmon Jr. (Ft. Wayne Luers): In front of Tom Crean, Blackmon Jr. poured in 44 points in a 79-63 win over Ft. Wayne South on Dec. 7.
Filed to: Devin Davis, James Blackmon Jr., Luke Fischer, Noah Vonleh, Troy Williams