Etherington out for the season with fractured patella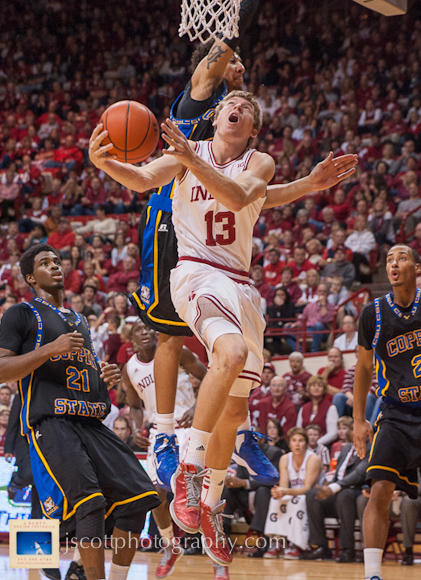 Indiana sophomore guard Austin Etherington underwent surgery this morning to repair a fractured patella he suffered late in the first half of Saturday's 100-69 win against Central Connecticut State.
Etherington will miss the remainder of the season. He was averaging 1.9 points and 1.7 rebounds in 6.7 minutes per game so far this season.
Etherington went down in agonizing pain while attempting to take a charge late in the first half Saturday. He was immediately surrounded by the Indiana medical and coaching staff, and was eventually taken off the floor on a stretcher.
Etherington, an Indiana native, held up one finger to the crowd as he was wheeled off.
"Anytime you lose a valued member of your program it not only hurts the team, but also everyone's hearts," Indiana coach Tom Crean said in a release. "Austin has been doing an excellent job improving and now we have to help him overcome this setback and move forward.
"Our players have experience in this area and everyone is looking forward to helping him recover. As serious as his injury was, we are thankful that it was not worse. We have such an outstanding medical team I could not imagine going through something like this without them. We are fortunate to have them."
Filed to: Austin Etherington