Notebook: Zeller has a big night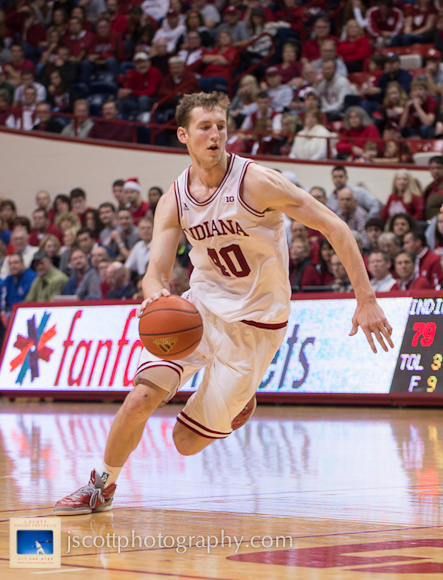 After a week without a game, Cody Zeller's legs were certainly very fresh. He attacked the boards like a madman against Central Connecticut State on Saturday night, and his effort showed on the stat sheet in No. 1 Indiana's 100-69 win.
Zeller finished the game with 19 points and a career-high 19 rebounds, including eight on the offensive end. Zeller's previous high of 13 came in an NCAA Tournament game against Virginia Commonwealth last season.
"I think 19 and 19, that's nothing to sneeze at," Indiana coach Tom Crean said afterward. "That's a big-time night. He was very, very aggressive. He was on the attack. It wasn't like he was given any benefit of the doubt at the rim when it came to the way the game was called in that area. But 19 and 19 is pretty impressive."
Added Central Connecticut State coach Howie Dickenman: "We didn't have any answers for him."
The Hoosiers (9-0) also attacked the glass well as a team, outrebounding the Blue Devils 53-31 in the contest. Junior guard Victor Oladipo, as usual, was everywhere. He finished with 15 points, nine rebounds, five steals, three blocks and two assists in 22 minutes. He also tied his own Indiana record with 20 deflections, set last Saturday against Coppin State, according to Crean.
Oladipo had four big dunks on the night, including a posterization of Central Connecticut State forward Terrell Allen in the first half.
"He got me into the game too," Dickenman said. "Where did you get this guy from? Fantastic athlete. We tried to find weakness with the Hoosiers and we had a tough time."
Hoosiers' defense shuts down Vinales
Much of the talk leading up to Saturday's game was the fact that Central Connecticut State guard Kyle Vinales was the nation's leading scorer at 25.9 points per game.
But Vinales had yet to see an opponent like Indiana. When he did, well, it wasn't all that pretty.
Vinales finished with just seven points on 3-of-15 shooting and four turnovers in 37 minutes. That's 11 points fewer than his previous season-low of 18.
The Hoosiers sent a host of defenders at Vinales, but mostly it was Oladipo and Will Sheehey who were responsible for locking him down.
"It was a team effort," Oladipo said. "Will [Sheehey] was on him, Remy [Abell] was on him. We all did a pretty good job of not letting him get comfortable out there, getting to his sweet spots, making him use his off hand and things like that.
"I pretty much guard the best player on the other team every game. I've been doing that for awhile now. It's a challenge every game. And Will does a great job of coming in and guarding them, too."
Dickenman said he knew Vinales was going to struggle before his team even stepped foot inside Assembly Hall.
"When you have the leading scorer coming into this game, and you're Indiana, you're going to make sure he doesn't get anything," Dickenman said. "He really had some bad looks, got a little frustrated and took a couple of questionable shots."
Indiana did give up 40 points to Matt Hunter, however, Central Connecticut State's second leading scorer. Hunter entered the game shooting just 11 percent from beyond the arc, so the Hoosiers willingly allowed him to shoot from deep. But Hunter broke out of his early-season slump on Saturday, hitting 6-of-11 from long range and 13-of-25 overall.
That's unacceptable to give a guy like [Hunter] that many points," Crean said. "You don't wanna take away the leading scorer in the country and have someone else become that guy inside the game. That's not good."
Etc.
· Watford breaks out: Christian Watford also had a big offensive night for the Hoosiers, recording 21 points on 8-of-12 shooting in only 20 minutes of action.
"He's coming off his best practice of the year," Crean said. "He's had a good week. Yesterday he was unguardable because nobody could score on him."
· Oladipo goes on a rant: After talking about shutting down Vinales on Saturday, Oladipo was asked by a media member who is toughest competition is in practice. That led to a pretty interesting rant.
"I guard everybody in practice, even Cody," Oladipo said.
He was quickly interrupted by Watford, who said: "He don't do too much."
"Don't let him fool you," Oladipo replied. "I think I do a pretty OK job. I guard Christian, I guard Cody, he's 7-feet, then I'll guard one of the smaller guards like Remy or Yogi. So I can have different feels of who I can guard and who I can't guard, but I can't really 'not' guard anybody."
That, my friends, is vintage Oladipo.
· Yogi continues to impress: He may not be putting up big point totals, but freshman point guard Yogi Ferrell has been solid for the Hoosiers through nine games. He looks like a savvy, veteran leader who almost always finds the right man at the right time. Ferrell had eight points, six assists and only one turnover against the Blue Devils.
Filed to: Cody Zeller