Etherington leaves Saturday's game with "significant" knee injury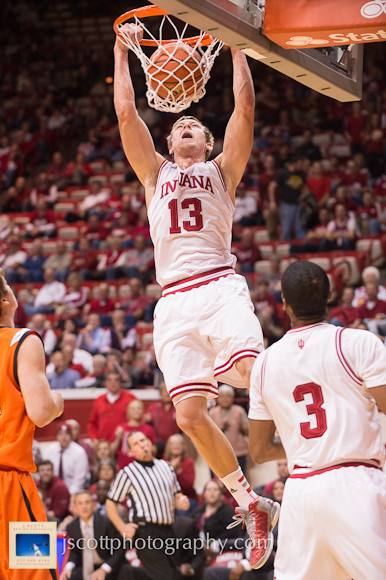 Indiana sophomore guard Austin Etherington suffered a left knee injury late in the first half of the Hoosiers' 100-69 win against Central Connecticut State on Saturday evening.
Etherington attempted to take a charge under the basket, and then went down in agonizing pain as the Indiana medical staff quickly surrounded him.
Indiana coach Tom Crean called the injury "definitely significant" after the game, but said it would probably take until later Saturday night to learn just how significant the injury is.
"It's gonna take a little time to make that determination," Crean said. "They're fully in the process of that. He was in a lot of pain when it happened, so it takes a little time for that to settle down before they can get to the degree of where it's at."
After Etherington was loaded onto a stretcher, his teammates surrounded them and shared words of encouragement before he was taken off the floor.
Etherington, an Indiana native, stuck one finger up in the air and received a standing ovation as he was wheeled off.
"When you have a close-knit group, it affected everyone," Crean said. "And I'm proud of the way that they bounced back because they were really bothered. It wasn't as much about the win or anything, they were just really concerned for their friend. They're all close friends."
Filed to: Austin Etherington