What to Expect: Central Connecticut State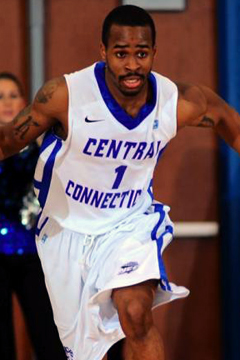 After a week off following their convincing 87-51 victory against Coppin State last Saturday, the No. 1 Hoosiers return to Assembly Hall on Saturday for a 6 p.m. meeting with Central Connecticut State. The Blue Devils (4-3) are coming off an 87-84 win against New Hampshire on Wednesday night. 
The game will be televised by the Big Ten Network.
On paper, Central Connecticut State just looks like another easily beatable non-conference opponent on Indiana's schedule. And mostly, it is. The Hoosiers shouldn't have much of a problem at all cruising to their ninth win. But unlike some of the other non-conference opponents up to this point, the Blue Devils are very capable of scoring, and scoring in bunches.
They have the nation's leading scorer in guard Kyle Vinales (25.9 ppg), and they average nearly 77 points per contest. And while the competition hasn't exactly been the greatest, CCSU has lost its three games by a combined seven points.
So what should you expect to see on Saturday night? Well, the Blue Devils don't run many set plays. They play more of a pickup style where they push the tempo, set screens occasionally, and try to create their own shots. They also don't pass the ball all that often, averaging only 12 assists on their 28.6 made field goals per game.
"We've really focused on personnel with this team," Indiana associate head coach Tim Buckley said Friday. "They're not really about their plays, they're about their players, and they go and make plays. That stuff's more impromptu than it is orchestrated."
CCSU only goes seven or eight deep, and it has five players that average 30 or more minutes per contest. Buckley said he's yet to see the Blue Devils get tired in a game when watching them on tape, but they're up for a whole other challenge on Saturday.
"We'll see how good of shape they're in tomorrow," sophomore Cody Zeller said. "We're definitely gonna push the tempo and see if we can wear them down."
Vinales is a volume shooter, but he's also been fairly efficient in several games this season. He's averaging 20.4 shot attempts per game, shooting 46.2 percent from the field and 41.7 percent from beyond the arc for an eFG% of 53.1. Vinales hits about three 3-pointers a game, and he also gets to the free-throw line about five times per contest.
Don't expect to see Vinales come out of the game on Saturday, either. The 6-foot-1, 180-pound guard has played all but five total minutes in seven games this season (285 out of 290 minutes), including the additional 10 minutes from the Blue Devils' two overtime games.
"He can score in a variety of ways," Buckley said. "He can beat you off the dribble, he can go right or left, he can shoot the pull-up, he's got a step-back to his game. He does a terrific job of getting angles. When he gets an angle, he's very difficult to stop."
Added Zeller: "He's so quick on film. He was just driving right around guys. He shoots, he gets it off quick. … Not many people can say they're averaging 26 a game. Actually, nobody. That's saying something right there."
The Blue Devils' other main weapon is 6-foot-5 forward Matt Hunter, who enters Saturday's game averaging 17 points and 7.7 rebounds per outing. Hunter also shoots it often — 14.6 times a game — but he rarely scores from beyond the arc. He's made only two 3-pointers all season, relying mostly on mid-range jump shots and driving to the basket.
"He's a little bit different in that he's kind of their power forward," Buckley said. "He doesn't post up a lot, but he will post you up depending on what the matchup is. He will take some shots that are very tough that he will also make. What you have to tell your defensive players is, 'if you make it a difficult shot and he still makes it, you can't let that bother you.' If they're tough shots and you make them make tough shots, it's tough to do that for 40 minutes."
What it comes down to
This one, like the previous few games, is not going to be much of a game after the first half. While it's true that CCSU does have two big scorers, it's probably worse for the Blue Devils that Vinales is leading the nation in scoring. Why? Because that gets the Indiana players' attention, specifically that of Victor Oladipo and Will Sheehey. Those guys will get up to shut down a guy putting up numbers like Vinales unlike they probably would if it were just another subpar non-conference opponent.
It should be fun to watch the Hoosiers get after it defensively in this one. They're certainly chomping at the bit to play another opponent after a week straight of going against one another.
(Photo credit: Northeastconference.org)
Filed to: Central Connecticut State Blue Devils