NBA scout weighs-in on Zeller, Oladipo and Watford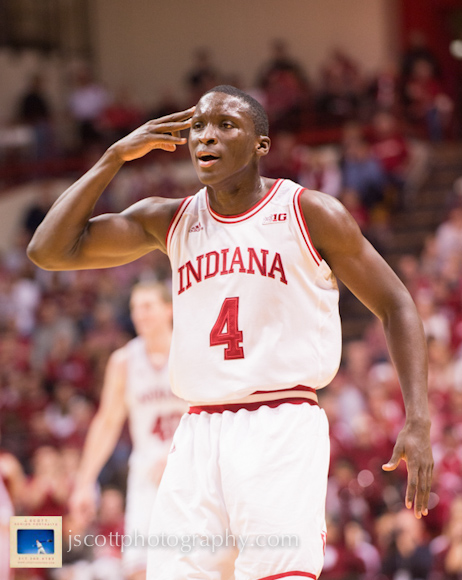 (Editor's note: This story originally appeared Saturday morning on the Inside the Hall premium forum. The forum features an exclusive weekly insider report and additional content, weekly live chats with the staff, advanced notice of blog content, discounts on IU apparel and an active message board community for less than .10 cents a day. Sign up here.)
I spoke to an NBA scout this morning about his thoughts on Indiana's Cody Zeller, Victor Oladipo and Christian Watford, and their stocks for the next level.
First, on Zeller. Even though some early mock drafts put UCLA's Shabazz Muhammad and Kentucky's Nerlens Noel ahead of him, the NBA scout doesn't see it going that way. Assuming, of course, that Zeller exits school after his sophomore year.
"I don't see how Zeller isn't the No. 1 pick," the scout said. "He's the best all-around player for a big guy, and the NBA is desperate for big guys. He's a good kid, the NBA is totally desperate for good kids. I just can't see that guy not being the No. 1 pick.
"I saw Nerlens, and he is going to be an NBA player. He's extremely long, he has a good jumper, but no he's not as skilled as Zeller."
The scout said he doesn't know whether Zeller can be a franchise-changing player when he comes out, but he believes he'll be a productive NBA player.
"He runs the floor, he can play center and power forward," he said. "He's not gonna have a major impact as far as scoring, but he's going to have a major impact as far as being a team player because he's got it all. He can block shots, he runs the floor, he's got pretty decent moves, he can shoot a little bit. I think he's going to be a really, really good player immediately for an NBA team."
There has been some speculation — mostly because of Indiana's complicated scholarship situation for next year — that Oladipo may put his name in the hat for the NBA Draft after this season. Oladipo has certainly improved a lot early this season, but he's still not a consistent shooter from the outside.
The NBA scout I spoke to sees Oladipo as an NBA talent, but he doesn't see him leaving early.
"He's going to make it through Indiana," the scout said. "That's just my own personal opinion. But I think he will get drafted. His defense is something people appreciate, and he can drive that ball and shoot the ball a little bit. I would say probably late first or early second. But he's got a good chance to be a first-round pick if he stays."
I also asked the scout about Watford, a senior forward who flirted with the NBA after last season but opted to return to school. Watford seems to have hurt his stock for the next level early this season, struggling to shoot it consistently from the outside. But as we've seen during his career, Watford usually gets hot at some point during the season.
"Here's the thing: He's gotta shoot from the outside," the scout said of Watford. "He's gotta show people that he's a good 3-point shooter. That's the commodity that they're looking for. He's got length, but if he had that range to go along with it, he's gonna get drafted by somebody. But if he has like a shooting slump, then it ain't gonna happen. He's not athletic enough to make it if he's not a 3-point shooter."
Filed to: Christian Watford, Cody Zeller, Victor Oladipo