Recruit roundup: Vonleh dominates the glass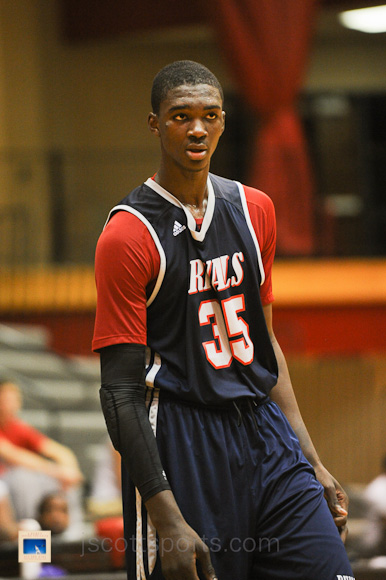 Throughout the season, Inside the Hall will keep you posted on how IU's six 2013 signees and James Blackmon Jr. are performing at their respective schools. (Photo credit: Jamie Owens/J. Scott Sports)
You can send us stats or results for this report at [email protected].
2013 SIGNEES
+ Collin Hartman (Indianapolis Cathedral): Did not play due to a concussion in Cathedral's 61-60 loss at Warren Central on Nov. 30 or Cathedral's 61-45 win at Indianapolis Broad Ripple on Dec. 1.
+ Devin Davis Jr. (Warren Central): 30 points and 15 rebounds in a 61-60 win over Cathedral on Nov. 30 and 17 points in a 61-55 win at Franklin Central on Dec. 1.
+ Luke Fischer (Germantown, WI): 28 points in a 78-62 win over Homestead on Nov. 27. Followed that effort up with 15 points in a 107-65 win over Whitefish Bay on Nov. 30 and 22 points in a 66-64 win over Brookfield Central on Dec. 1.
+ Noah Vonleh (New Hampton Prep, NH): Nine points and 15 rebounds in an 83-80 loss to St. Thomas More on Nov. 28. New Hampton bounced back from the loss with a 66-62 overtime win over Kimball Union on Nov. 30 and Vonleh had 17 points and 16 rebounds. On Sunday, Vonleh once again had 17 points (four 3-pointers) and 16 rebounds in a 60-58 win at the St. Andrew's School.
+ Stanford Robinson (Findlay Prep, NV): 13 points in an 85-48 win over ABCD Academy on Nov. 27 and eight points, eight assists and three steals in a 103-80 win (also over ABCD Academy) on Nov. 28. Robinson had 15 points, five steals and four rebounds in a 118-55 win over Walnut Grove in Langley, Canada on Dec. 1 and 19 points in a 108-40 win over White Rock Christian Academy on Dec. 2 in Langley, Canada.
+ Troy Williams (Oak Hill Academy, VA): 11 points, eight rebounds and four assists in a 92-59 win over New Hope Christ on Nov.28. At the Marshall County Hoopfest in Benton, Ky., Williams had 16 points, five rebounds and two steals in a 72-39 win over Chicago Curie on Nov. 30 and nine points, nine rebounds and five assists as Oak Hill defeated Memphis Southwind 83-73 on Dec. 1.
2014 COMMITMENT
+ James Blackmon Jr. (Ft. Wayne Luers): In his first game since tearing an ACL last season, Blackmon Jr. scored 38 points in a 79-74 loss at Marian on Dec. 1.
Here's a video interview with Williams from ChicagoHoops.com at the Marshall County Hoopfest:
Filed to: Devin Davis, Luke Fischer, Noah Vonleh, Stanford Robinson, Troy Williams